June 13, 2016
The numbers for Pinterest couldn't be more compelling.
The platform is now seeing 2 billion searches per month and has over 100 million active users. It serves a whopping 1.5 trillion recommendations annually and over 14 million articles are pinned per day.
Add the fact that the most recent Mary Meeker Internet Trends Report shows that 55% of Pinterest's users use the platform to find / shop for products, and the business case for using Pinterest for B2C is strong.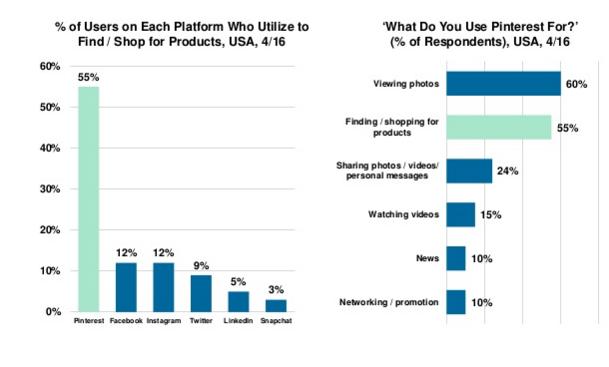 But what about B2B?
Pinterest is still a contentious point in the world of B2B marketing. There are a wealth of articles published about why B2B companies should be using Pinterest, but if you hold them up to any kind of scrutiny and ask hard a few questions about whether or not Pinterest is actually affecting ROI, you'll find more stats supporting vanity metrics than you will actual leads generated.
Still though, some B2B companies are using Pinterest with a high degree of success, so, in no particular order, here are some pros and cons to consider should you wish to use Pinterest for B2B marketing.
PRO: Attractive numbers
Again, the following stats from Hootsuite paint a rosy picture of Pinterest for B2B.
A staggering 70% of its users actively engage with the content
66% of all Pins are from business sites. The audience is used to branded content and comes to the platform expecting it
In the past six months, 93% of Pinners shopped online
Pinners are 45% more likely to be introduced to new brands vs users on other social platforms. The effect this has on brand awareness cannot be underestimated
87% of active Pinners used Pinterest to help them decide what to purchase
What emerges from these stats is the picture of a platform where the user base is highly engaged and have come ready to find ideas plan and, more importantly, purchase.
Which brings us neatly to the first con on the list…
CON: Are they buying what you are selling?
We get the message. Pinterest is flooded with brands creating more boards than the Lord has sheep, but take a closer look at the stats and you'll see that:
300 million of those boards are dedicated to fashion
180 million are dedicated to food and drink
How many million are dedicated to enterprise software solutions?
How many million to accounting packages?
Clicking the "Buy" button after seeing a sexy Pin featuring the newest piece of wearable tech is one thing, but committing to a purchase that will have far-reaching consequences in terms of how your business is run seems highly unlikely.
Having said that though, there IS a way to package and make B2B content sing on Pinterest…
PRO: Whitepapers, eBooks, Infographics
This kind of content is great re-Pin fodder. The key for making it work is to have an intriguing topic that appeals to your audience and offers value or a solution to a common problem that your audience typically battles with.
Infographics especially lend themselves well to Pinterest. The channel is optimised for long, tall graphics and the combined effect of them on a board is a thing of visual beauty.
Company blog posts are tasty content for Pinterest, but as with all of the formats mentioned above, they will only work well on the platform if accompanied with eye-catching visuals.
Which brings me to the final con…
CON: Next-level Visuals
Like Instagram, Pinterest is packed to the gills with beautiful photography.
Users have come to expect a certain level of professionalism and visual appeal in the pins they share. In fact, one could argue that the way pins look almost outweighs the content itself.
If your marketing department has built a workflow around the content you create that allows for time and resource to be dedicated to designing beautiful visuals, then you are quids in!
If not, it's highly unlikely that your typical Pinterest user is going to share a screengrab of your software package in action.
Of course all of this is meaningless unless you have a clear strategy in place in terms of tracking traffic generated by Pins and directing that traffic to a landing page where you can capture form-fills.
Only then can you start to get an idea of whether or not the platform is driving ROI in the instance of not having a product that can be easily sold through the platform's "Buy" pins.
In conclusion, before jumping on the Pinterest bandwagon, ask yourself the following questions:
Is our audience there?
Do we have the resources to effectively manage the channel?
What are the key metrics for success and how can we effectively track them?
Provided you can clearly answer these key questions, you should be well on your way to realising real ROI through Pinterest.