December 13, 2016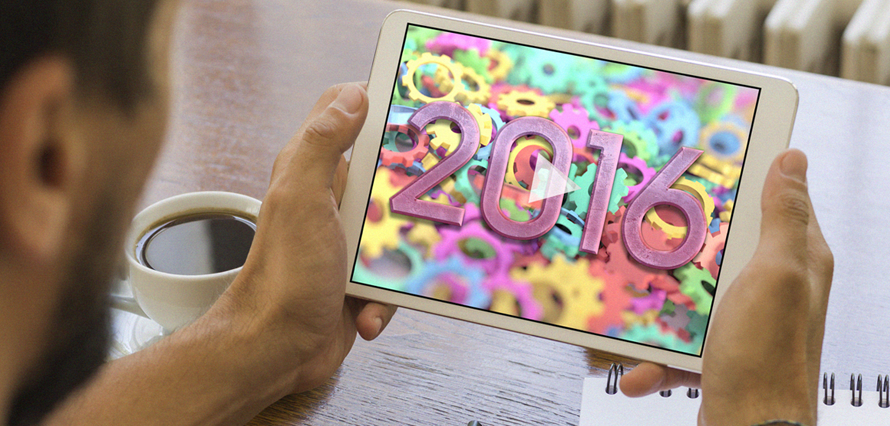 2016 right? It's been a crazy year. Aside from the politics and the entire world being different now, social has notably evolved – particularly when it comes to video. Here are some of the ways social video has changed:
Facebook Live
Despite being launched in August 2015, this was the year that Facebook Live truly took off, both in personal usage and in marketing. People spent three times longer watching Live videos than pre-recorded – no doubt helped by the notifications pushed out by Facebook to encourage adoption. However, it's also due to the fact that it shows a more personal side to the user. As Facebook Live isn't edited, it feels more authentic, and more intimate too. It's more of a conversation than an advert, which is much more engaging.
Instagram Stories & Live
Stories are just the beginning in the ongoing Snapchat-ification of Instagram, and it should be noted that it's had no real effect on Snapchat's usage. Adoption has been huge though, and after two months the platform already had 100 million daily active users. Brands should be aware that Instagram Stories provide a better reach than Snapchat, but Snapchat users watch for longer.
Now, Instagram has launched Live Stories, which rolled out to US audiences yesterday. The differentiator between this and Facebook's Live is that Instagram's version is truly temporary. Videos are accessed through the stories tab, but can only be watched while it is being broadcast. They're not stored in your stories after, so this is the only time viewers can access them.
WhatsApp Stories & Video Calling
Apparently also jumping on the Stories bandwagon is WhatsApp, who is rumoured to be in the testing phases of its own version of stories, 'Status'. Status allows users to share video updates, overlayed with custom elements such as text and emojis. It also recently rolled out Video Calling, helping it to compete with Facebook's video calling function.
VR Gear
Given Facebook's acquisition of VR company Oculus, it's highly likely that this is something we'll be seeing a lot of in 2017. Zuckerburg himself said that VR would give users the opportunity to "share unbounded spaces and experiences with the people in your life. Imagine sharing not just moments with your friends online, but entire experiences and adventures". How brands will use this is an exciting thought, but with over 1 million hours of video already watched on Samsung's VR technology we know it's going to take off.
So, what do these developments say about the changing face of social? Firstly, that viewers want more authentic content. What Live, Snapchat and Stories have in common is that they give you an insight into the user that's more personal than the over-filtered feed.
Secondly, that in the ever-growing noise of social, platforms are having to offer new ways for content to cut through. Video content is one thing, but the rise of disappearing content is the real key here – blink and you'll miss it clips encourage active users as you can't come back to watch it later. Plus, it guarantees users fresh content with every visit, that doesn't saturate your news feed.