December 8, 2020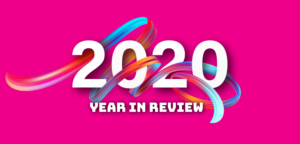 Many of us will be happy to see the end of 2020, but it's still important to reflect on the happenings in social media from the last twelve months.
Facebook year in review
Unsurprisingly, a major theme for Facebook/Instagram this year was Covid-19. The Instagram Stay Home sticker was used more than 100M times globally in the first week it launched. Video chatting time doubled week-over-week in March, live Facebook live views jumped when lockdowns hit and group video calls saw a particular boost during holidays throughout the year.
Facebook has released a year in review infographic, here, which delved into stats but also looked at the cultural shifts observed within the platform. Spending habits moved towards supporting black businesses, with more than 3.5M people in the US joining newly created Facebook groups for just that purpose. Facebook fundraisers focused on the wildfires across Australia, California, Oregon and Washington – the number one fundraiser in 2020 raised over $35M towards relief efforts for the Australian Fires. Global politics was, of course, also a major focus point, with discussions around news sources, millions of posts around nominations and 4.4 million people in the US registering to vote through Facebook's Voter Information Center. For more insight, make sure to delve into the year in review infographic.
Twitter's top hashtags
Over on Twitter, we've received figures for the top performing posts across 2020. The most retweeted was posted by the late Chadwick Boseman's account, announcing his death in August. It has become the most retweeted of the year and the most liked post of all time.
The other top retweeted and liked posts listed by Twitter, here, reads like a highlights reel of the year, with memes, music, jokes, political thoughts and more. Twitter also broke down which topics were most discussed, such as TV shows (Big Brother Brasil took the top spot here), sports teams (the Lakers were at number one, of course), and the most Tweeted about people, which had Donald Trump in first place. Make sure to read the full breakdown here, with a further look at important causes that were put forward on Twitter, emoji usage and more.
The power of voices
While LinkedIn hasn't posted its yearly figures yet, it has released a list of the top marketing professionals of 2020 – based on engagement and follower growth. The list excludes LinkedIn and Microsoft employees and looks at the meaningful, insightful contributions, seeking to give help and whether their content reflects the world we live in today. So, who topped the charts for Marketing & Advertising?
In number one was Mayur Gupta, a Chief Marketing & Strategy Officer, who posts daily on topics like marketing challenges, leadership and brand purpose. For an insightful look at what constitutes a leading LinkedIn account in 2020, click through to his profile here.
Next up is Steven Wolfe Pereira, CEO & Founder at Encantos. He's best known for a Spotlight Series on LinkedIn highlighting Black and Latinx talent – see an example of the series here.
Rounding out the top three is Mita Mallick, Head of Inclusion, Equity & Impact at Carta. After leaving her role at Unilever, where she was head of cross cultural marketing, she is now an advocate for developing inclusive leaders. Head over to her profile here.
The list is a great starting point for people looking to better understand the type of content that will be rewarded by LinkedIn – the topics, assets and writing styles that take a post to the next level. Giving back seems to be a major theme, which makes sense, giving the year we have all had. See the full list here, which also looks at leading voices in Education, Design, Data and much more.