March 4, 2013
I was quite surprised by our recent social media and the law report that showed 19% of companies didn't have a social media policy. I did think that wasn't too bad.
But last week, we conducted a Mock Tribunal looking at the impact of social media on employment law. What was clear, as I talked to brands in the break, is that whilst many had a policy in place, it was either out of date or still in draft. More importantly, it was not well communicated to employees.
Getting a policy or employee guidelines together can seem daunting. And whilst you must involve a legal team in finessing the documents (after all it will matter when it comes to potential litigation), you can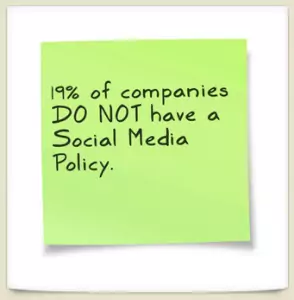 do a lot of the legwork by looking at the structures and content of other policies.
So I have pulled together a list of 30 policies written for the UK or Europe. There are even more if you include the US, but I find that the legal premise is different enough to make them a bit misleading for those of us in Europe.
Reading through this selection of policies I am struck by the diversity. Some policies are very legal speak and rule driven, whilst others are softer and focused on communicating the core principles of social media engagement to staff. And a few of them are brilliantly creative.
Either way, I hope the list proves useful and that you get your policy up to date, take it off draft and lift it off the page!
And if you think I have missed a publicly available policy off the list please comment and I will add them on.
__
After discovering the diversity of company policies if. decided to go one step further, and has created a best practice paper for social media and the law. You can download it for free and refer to it at any time. It can help you to make sense of common UK laws with easy-to-read tips that are well worth knowing.