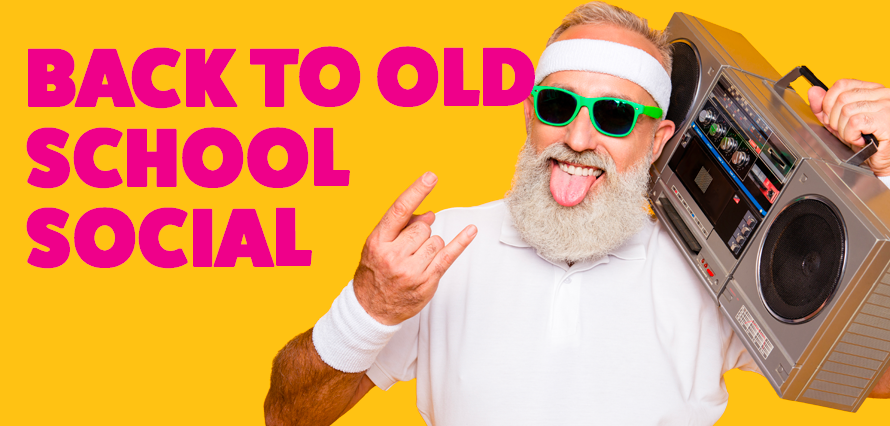 Back before social media was even called social media, brands were part of the conversation. Whether it was on Myspace, Flickr, Blogs, Habbo Hotel or the plethora of message boards – marketing comms was experimenting with talking direct to the customer.
Now, 20 years on, the world has move to a very different ecosystem of platforms. Yet some of the old techniques have resurfaced. Partly because consumers are demanding more from brands on social. They expect authenticity, transparency and more than just a sales message. And partly because old social marketing is based in the strong foundations of marketing. And that has fundamentally not changed.
So here are 5 approaches we need to put back in our toolkit right now:
Different content on each channel
When social first came into being, each channel was very different. They didn't share similar appearances and the formats, and the user experience were never alike. The consequence was that you just couldn't post the same content across all the networks.
Whilst today the channels all copy each other's formats and look and feel so similar, they are not alike. Audiences have different mindsets; they behave differently, and they act in ways unique to each channel.
It is important to have a channel strategy. To know what the purpose of each platform is for your audience and build out behaviours, preferences and attitudes. You just cannot get away with posting the same homogenised content on every online space you can find!
Upweight UGC
There was virtually no opportunity for paid social back in the day. It meant a reliance on influencers, UGC and advocates.  Today, research shows that non-celebrity social media users are ten times more likely to influence in-store purchases than celebrities.
90% of people want the brands they support to be authentic and 79% of people say UGC highly impacts their purchasing decisions (Stackla). UGC and authentic, genuine content is back in play.
Reviews matter more
The first online reviews made an appearance in 1999. Now they are ubiquitous.
91% of 18-34 trust online reviews as much as personal recommendations, and 93% consumers state that online reviews influenced their purchase decisions.
Reviews are on the up. As lockdown lifts it seems we want to support businesses. We need to be asking for reviews, responding to them, be transparent and open with them, and most importantly share them.
Personality will get you attention.
By 2008 brands realised they just couldn't be part of the social mix if they talked, behaved and acted like corporations. Audiences wanted more. Businesses got serious about personality.
In the noisier social of 2021, you need personality to even hope to achieve stand out. This means defining the character, values, tone and language of your brand and then differentiating – creating a voice.
Merriam-webster taps into puns, wordplay, wit and a wicked sense of humour. Bringing the dictionary to life.  Research shows 72% of consumers are more likely to purchase from a brand if their social media image is humorous.
"That's not a word." https://t.co/c9TWciRhXH

— Merriam-Webster (@MerriamWebster) June 29, 2021
But they also want friendly, they want genuine, and they want an honest personality. So work hard to grow your brand personality to give it shape that goes beyond an avatar or a collection of words.
Entertain not bore
Right now, for many brands there is a desperate need to be interesting, entertaining, intriguing and of the moment.
Back in 2004 Burger King nailed the pop culture of the moment. The idea was new. It was interactive, it was hilarious. Subservient chicken caught the buzz of the internet. At its height it received 8 million visits a day. OK not wholly on social, but at its core, had the wow factor, the interest and the shareability.
The most popular features in social ads are entertaining content (41%) which beats discounts (37%).
We need to get back to producing content that our audiences actually want to see – not a just shouting about products. Tell those stories and the sales will happen.
The smarts are in marrying the old ideas to the modern day. Follow the data, find your personality, encourage your customers to post and write reviews, and create content that your audiences actually want to see.