December 14, 2020
Next year is going to be a challenge on social. Activity is already up over 40% this year on the big networks and the platforms we never heard of before, like TikTok, are now mainstream viewing. Competition for attention is going to be harder than ever. And success is going to sit squarely on the shoulders of your social media manager.
After all, they're your experts. The folk with skin in the game and an eye firmly fixed to their mobile screen. They know every algorithm change, every new format, every trend, every opportunity and every troll. They will make sure your social is a success next year.
But only if you, as a boss, as a board and as a brand, look after them properly. That means…
1. Give them the tools to do their job
For too long now, social folk have had to duct tape together data and stats to glean insights. The reality is that there is just too much unstructured data on your audiences for anyone to pull out meaningful stats.
And you want them to see your audience's behavioural changes, you want them to spot opportunities for your brand to be relevant and motivate a purchase, or a booking, or a download. This latest Brandwatch survey shows how desperately data and good tools are needed.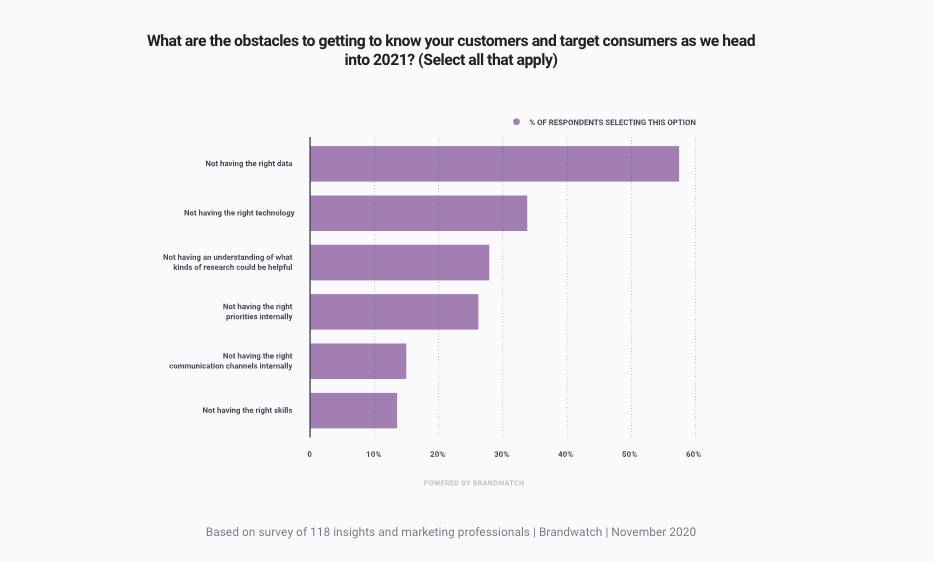 So, stop hamstringing your social team and get them access to the data. It will pay back tenfold in optimising your social performance.
2. Take time to understand
If you take a look at the anonymous posts on Sipping Social Tea from social media managers, it becomes apparent that too often social managers are directed to do things that have no impact, set the wrong direction or even, damage reputation. Get to understand, at a top-level at least, how social works for business. You don't need to know how to post on Twitter, but you do need to know how to set a direction.
And stop chasing vanity metrics like followers and likes. Fans are not a measure of commercial success, and it frustrates your social team no end.
3. Integrate the hell out of social
Think of social like the oil in the engine. It touches all your marketing, perception of your business, heck, it even impacts employees. Integrate it with your business and it can amplify the positive and work exponentially to support targets. But only if you don't treat social as a silo. Collaborate across functions. Let your subject matter experts have a say, allow customers support, sales teams and operation to share their direction and goals.
You'll see your SEO get better, your employees happier and your brand more trusted.
And whilst you aid in integration, you will learn too. It's a win-win.
4. Move social up the creative food chain
Simply bring your social thinking in on all marketing activity from the beginning. If you are smart you might even bring them into planning around HR or customer care. It is the most fantastic way to ensure that social becomes part of your process, but more importantly, it means your social reflects your organisation and your brand – and it is not a siloed out of touch noise in the background.
In other words, bring your whole self to social. It works so well and takes little investment other than time.
5. It's always better when you're not alone
The days in which you could have a single social media person are over. A bit like the idea you can succeed with just organic social (for clarity, if you're not doing paid social, you are no longer serious about social). The reality is that the social skills required are so diverse that not many can be top of their game in it all. To manage social, you need to be an outstanding writer, create and design visuals, write scripts, create video, plan and execute paid, understand social data, analyse the data, be able to report, and help customers.
Wow! I've been doing social for 20 years and marketing for almost 35 years, and I can't do it all! You need a team. People who can excel in core areas and can stay on top of every algorithm change and every trend.
Support your social team and they will ensure you are fighting fit to deliver results through social in 2021.
Oh! There is one last thing. Social media is divisive. It's polarised and warriors and trolls abound. Do take care of your team. Look after their mental wellbeing and make sure they get offline when they can. It will matter. You don't drive a high-performance team into the ground, you let them have rest days and you give them time to learn. It will stand you in good stead throughout 2021 and beyond.
And make you feel all warm and fuzzy too. Something we all need for next year after 2020.