January 15, 2015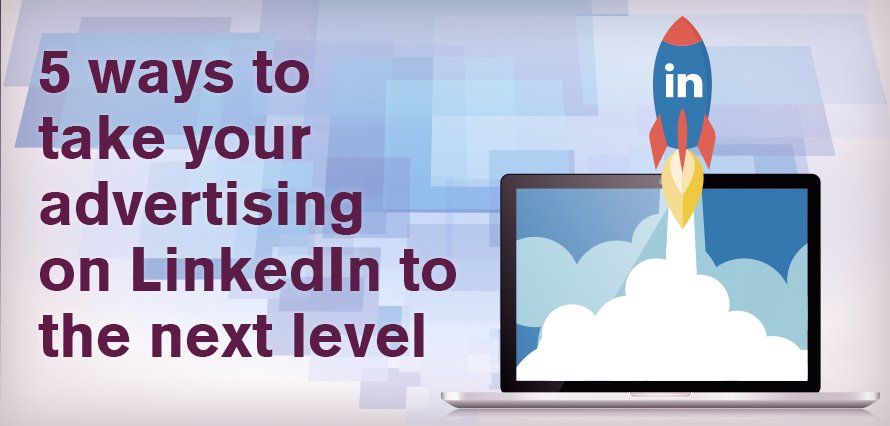 We use the LinkedIn paid platform for clients on a daily basis. Despite its rather dated layout and reasonably thin set of features (when compared with the big boys like Google and Facebook), there is no doubt, for me, that LinkedIn still very much has the edge when it comes to B2B social marketing. The very fact that people can be identified and targeted based on their professional demographic data makes finding relevant prospects and putting the appropriate content in front of them very easy.
Over the last year, working closely with LinkedIn themselves and some great world leading B2B brands, such as Orange Business, Motorola Solutions and IBM Silverpop, we have uncovered many new ways to make the best of LinkedIn's paid platform and optimise your campaigns for increased success.
Here are 5 top tips for getting the most out of your hard earned marketing budget on LinkedIn
1) Use Sponsored Updates (this might seem obvious)
In our experience, the old media-buying ways of advertising online with banners and ads just don't work as well on social. The benefit of use Sponsored Updates is that you can take the brilliant high-quality content that you have already created and push this to an audience outside of your ordinary company page following. These are really easy to set up and LinkedIn creates a button under all of your posts with the words 'sponsor update' – simply by clicking this button you can select one of your LinkedIn campaigns that you have previously created in the paid engine and promote that content to whichever market you choose.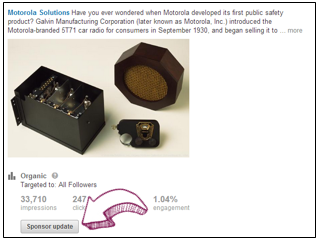 So this is a basic step, now let's look at how to make the most of these updates…
2) Widen the net, then tighten up!
Getting the right number of clicks/traffic/leads as well as the quality that you desire can be tricky. One thing we have found that really helps with this is to build a number of different sized campaigns in the paid engine.
Firstly, you want some 'wide net' campaigns – these have a looser set of parameters than you would want in your exact target prospect (you may drop company size, location or widen job titles). What this will do is allow you to have a far bigger pool of people to go after. Although the quality will be slightly reduced the campaign will still contain the correct people as well as many related and relevant folk who will take an interest in the content and, therefore, 'share' and 'like' thus increasing your reach and free, attributed media spend.
Then, create the 'tight net' campaign which have much small numbers but are focused on your exact target market. Once some reach and swell has been created with the wide-net campaigns using these and small campaigns and ramping up the spend will allow you to attract the attention of the key targets.
The key lies in playing with bids between the campaigns and testing, monitoring and switching campaigns on and off as your see some working better than others. It's an art not a science.
3) Target by groups
The obvious targeting to use is company size, industry, job title etc. However, we have seen really great results targeting people by the groups that they are in rather than by these more basic demographics.

This has a lot to do with the behaviours of the market that you are looking to reach. For example; we have seen great success here within the Public Safety industries where the B2B buyers have a vast array of job titles and caveats to how they may define themselves online, however, it is likely that they will belong to the Public Safety related groups. By finding and identifying key groups we saw an engagement rate increase of over 0.32% by changing our targeting in this way.
4) Target by skills
I am not afraid to admit that this is actually a relatively new trick for me within my targeting best practice. Sometimes finding the correct people by job titles, industry and even group can be tricky. Using skills can be a great solution to this!

A recent example of this for us was when we were trying to target users of specific CRM systems and software. The job titles associated with this were quite varied and the industry was pretty much irrelevant. We started by listing terms like 'CRM' in the skills box to find a more relevant audience. This worked to a degree but once we gathered from the client all of the specific software platforms that we important to them we saw a 25% lift in the quality of leads that we were generating.
5) Bid, bid and bid some more!
A small final tip – as with all CPC you need to bid slightly over the suggested range in order to make sure you beat the competition when you are competing for ad space. However, firing well above the line (somewhere in the 50-100% range) should help you secure even more of your competitor's space. This is increasing important at times when the competition is especially fierce (i.e. the run up to xmas). This also works with your maximum daily bid amount, it helps to 'trick' the system slightly into thinking you are a high roller and therefore favours your ads! It's a bit sneaky but as a word of warning make sure you keep an eye on the budget when you are playing these games and switch things off manually or you could find yourself in hot water when you spend all your money in 2 days 😉
Happy hunting!!