By if-admin | November 11, 2016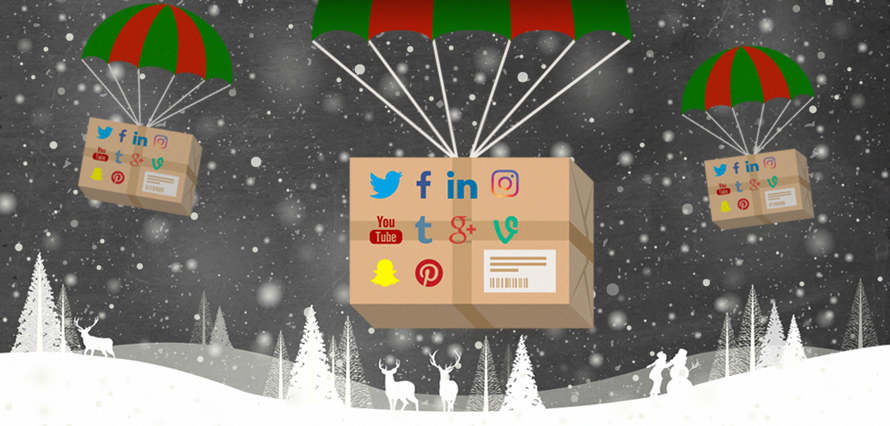 Everyone knows that marketing planning for the holidays should be finished long before October rolls around and be ready to roll out as soon as the Halloween decorations come down. However, for those who didn't plan their Christmas campaigns in July as they should have here are some useful last minute tips for social media this holiday season.
1) Identify Relevant Hashtags
Identify trending/relevant hashtags on each platform. For example here is a list of the top hashtags for Instagram during the holidays last year. Hashtags should be incorporated into all paid and organic social media posts.
2) Create Shareable content
Whether it's a greeting card or an animated Xmas video, make sure your content is snappy and shareable at this time of year as the competition is fierce. Put a little extra time and thought into your creative as research shows consumers are likely to share videos, posts, photos, and other more during the last three months of the year, than at any other time.
Facebook data claims that photo and video content is shared 26% more during this period, 80% of which is mobile.
3) Use shopping holidays correctly
Let's face it, if you try and hijack Black Friday or Cyber Monday on social you are going to end up paying an awful lot of money if you want to be seen. As much as these super sale days are incredibly popular you need to be very smart to run a paid campaign successfully in tandem with them.
Research from 2015 tells us that last year social played a huge part in Black Friday, with the #OptOutside campaign from REI getting over 300k tweets in a week.
4) Festive User-Generated Content
Starbucks had a very successful campaign last year launching red cups in-store and asking people to design their own cups and post them on social. As Starbucks put it "within the first 48 hours of red Starbucks cups launching last year, a photo of a Starbucks holiday cup was shared on Instagram every 14 seconds." They have re-launched this year with an added twist, releasing cups designed by users from last year.
5) Not everything is a gift
If you are marketing a product or service that can be given as a gift don't forget that impulse buying skyrockets during the festive period, so remember that not everyone is looking for a present for cousin Jimmy, some of them are looking for a little something for themselves.

6) Cater to Multichannel Shoppers
According to Google, On mobile alone, conversion rates jump 30% on Black Friday and 50% on Cyber Monday when compared to November 1st, and that was last year before you could buy directly through Instagram and Facebook without having to leave the platform. Whether you are pushing shoppers to a bricks & mortar location with targeted offers on Twitter or getting a Facebook carousel of products up, keep your mobile, social audience in mind.
Sources:
https://www.thinkwithgoogle.com/articles/marketing-guide-holiday-shopping-2016.html
https://www.inc.com/larry-alton/facebooks-5-social-media-marketing-ideas-for-the-2016-holiday-season.html
https://www.practicalecommerce.com/articles/94777-Sales-Report-2015-Thanksgiving-Day-Black-Friday-Cyber-Monday
https://www.vieodesign.com/blog/trends-in-retail-ecommerce
https://insights.fb.com/2016/07/19/holidays-2016-tis-the-season-of-surprises/