By if-admin | March 11, 2016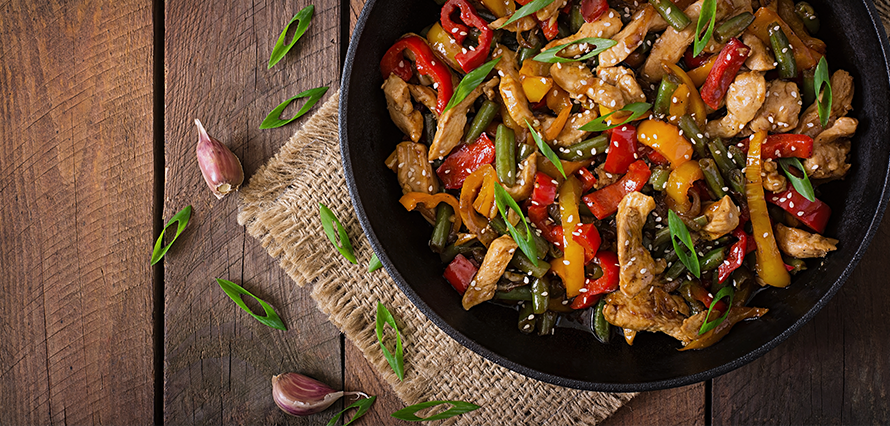 After Christmas, in a bid to get fit, I (like many thousands of others) bought the Joe Wicks book 'Lean in 15' and have been avidly testing out his healthy 15 minute recipes ever since! (I've even done the odd work out or two). But what interests me the most about this self-confessed foodie, is the way in which he creates such successful social content!
Here's a little back story in case you haven't discovered him yet. Joe goes by the alias 'The Body Coach' and has made a big name for himself by posting amusing, nutritious and tasty recipes along with high octane workouts onto Instagram. In 2014 (when the platform started to allow video content), he got really serious about sharing his content. He relentlessly posted three videos a day for six months and accumulated a whopping 500,000 followers! Fast forward to 2016 and he has just announced hitting the 500k mark of book sales in the UK alone. He has over 300 new clients per day signing up to his 90 day fitness program and has close to 900,000 followers on Instagram. We all know that it is attention, not money that is the real stock in trade of the digital age, but I would surmise to say that Joe is completely smashing it on both these fronts!
So, what can brands learn from his clearly very successful approach to social? Here are 7 tricks to creating social content the body coach way!
The mood that you are in, will affect the content you create!
This seems obvious, right?! But how often have you sat in the office, racking your head for something clever to write for your social channel only to find that you just aren't in the mood for writing witty puns? Joe often creates his social media content when he is buzzing from a work out, so why not try going for a brisk walk or jog before sitting down to produce your social media posting plan?! Your positive vibe will show in the content you create – especially if it is video! And in return the engagement you receive will rocket!
A wacky sense of humour can go a long way on social
Joe's sense of humour comes across in a big way in much of his content. It's pretty wacky, but it's also hard not to be at least, a little amused by him. Here is a sample.
(Image source: Joe Wick's Instagram page)
This certainly won't work for all brands, but it's worth keeping in mind.
Be relatable
Make your brand as human, relatable and open on social as possible and you will reap the rewards. Remember people buy from people who they can buy into on a personal level and social is the perfect place to show off this side of your brand.
Always look to add value
Most of Joe's posts add real value to his followers. They are regular, interesting and can genuinely help to motivate followers to improve their lives either through great exercise and motivational tips or delicious healthy recipes. This keeps them coming back for more and recommending his content to friends. So, whatever your brand offering, make content that provides your audience with more than just bland product based marketing. Give them something they can consume and that leaves them hungry for more!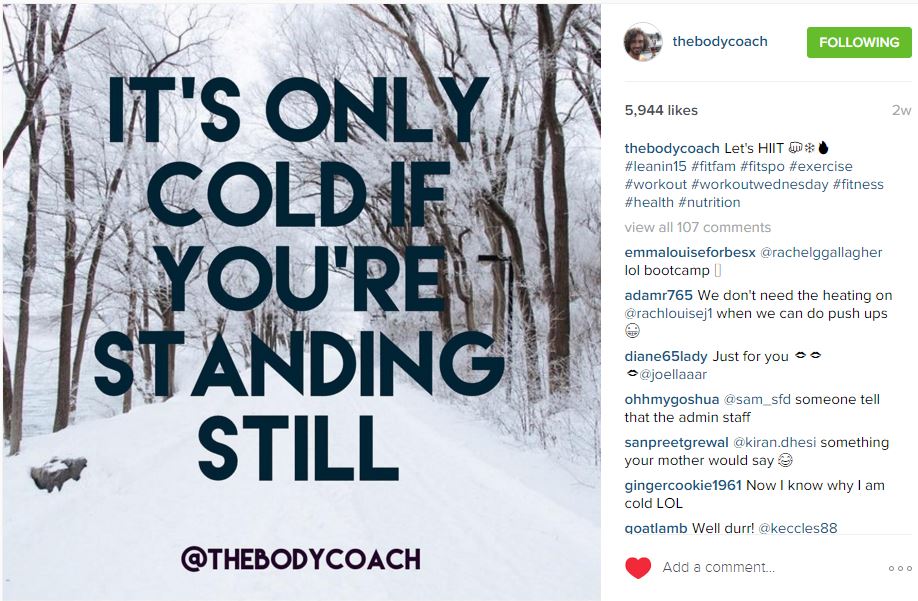 (Image source: Joe Wick's Instagram page)
Cracking images
This is a key principle to any marketing communication, but it is particularly poignant in social. A great visual asset can really fly in social, so it's worth spending that extra time and budget in getting this right. This is a breakfast bagel image from Joe's Instagram page is a great example…
Hashtags galore
Joe is not afraid to work those hashtags! This Instagram post has no less than 20 related hashtags and it has received over 7,800 likes. Attracting inbound traffic from relevant hashtags will inevitably serve to help increase your engagement. If you need some help with finding key hashtags, check out this fantastic Gramar app. (Remember, the maximum number of hashtags you should use will vary from channel to channel).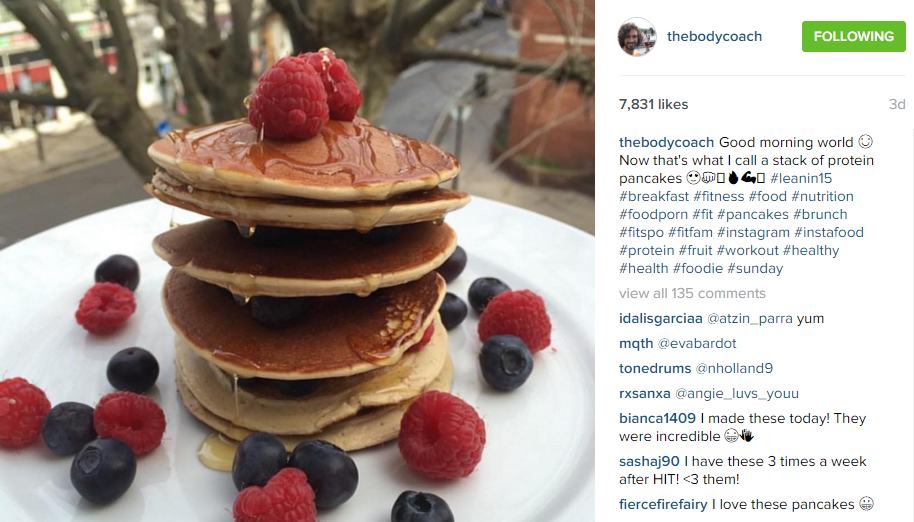 (Image source: Joe Wick's Instagram page)
Tap into topical events happening in your industry
When planning your content, be sure to research around the wider events taking place in your industry, then include relevant mentions of them in the lead up, during and even after the event. There will be heightened social traffic around the event during these times so it pays to tap into these wider industry conversations. For example, this week is British Pie Week and this of course features in Joe's social content around Pie making!
If you think this approach could work for your brand, then what's stopping you from applying these handy tricks to your social content? You may just give it the workout it needs to start packing more of a punch with your audience.