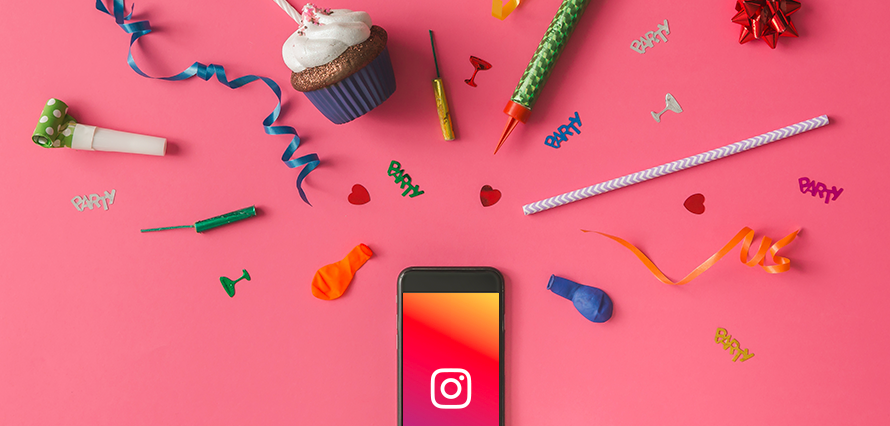 It's been a whopping ten years since Instagram launched and changed the face of social media. Feel old yet? WE DO! So, first things first, HAPPY BIRTHDAY Instagram!
From the selfie revolution to the rise of the influencer, IG has helped shaped the digital revolution and has been there to shine a light on some of the past decades' biggest moments. Think Beyonce's pregnancy reveal , Steven R Swanson sharing the first space selfie or how about that time a humble little egg became the most liked photo on the gram!
Love it or hate it, (we know you love it) IG is here to stay and will continue to evolve daily. And what better way to celebrate the 10th birthday than announcing a global expansion of its shopping service across IGTV. The product, which allows users to watch videos and check out with a tap or two, offers influencers and creators a more direct way to monetise their user base on IG. And on top of that, they've also announced that they will begin testing shopping within its newer feature on Reels!
These new announcements and all of this reminiscing over the past decade got us thinking about the year ahead. There's no getting around the fact that 2020 has been straight-up crazy. Amongst the chaos brought on by big shifts in our society, the digital marketing world has evolved and adapted to fit the new normal. With more potentially crazy and unpredictable months ahead, how will social and indeed Instagram evolve to fit these challenging times? Here are some trends we think we'll see moving into 2021.
UGC content to be crowned QUEEN.
Since influencer marketing has risen, UGC has become a vital part of brands marketing strategies. Although this isn't a new trend, you can expect to see brands leaning on UGC more and more as they wrestle with potential new restrictions and limitations. Expect brands to ramp up campaigns, competitions and collaborations which encourage the creation of UGC.
Brand activism set to explode.
With the rise to political activism surrounding more and more social and environmental issues across the globe, we're seeing the rise of brand activism in a big way. 2020 saw many big brands bravely share their core values and beliefs. The likes of Netflix stood in solidarity with the BLM movement, using platforms such as IG to show their support. Consumers who support activism themselves now expect brands to take a stand too, with many consumers boycotting brands who don't align with their own values. Expect brands to be bolder and louder in 2021 and watch out for brands funnelling activism into branding and even product.
Nostalgia Marketing is a go.
What is nostalgic marketing? Well, instead of looking ahead to the next great thing, nostalgic marketing focuses on the familiarity of the old and comforting to sell the innovation of what's new. It's nothing new, but with people spending more time indoors and the increased strain on mental health, nostalgic marketing has soared in 2020. Studies have proven that nostalgia not only has a strong effect on our mental well-being but also makes customers more willing to spend money. Expect to take many more trips down memory lane in 2021.
It's time to go live.
Live video usage has skyrocketed over the past year. 1 in 5 Facebook videos are now live streams and over 1 million Instagram users watch. All of the other major platforms have upped their live game too with Twitter, LinkedIn and YouTube all jumping on the bandwagon. Let's face it, live video has become a necessity in this current climate. In 2020 Glastonbury was cancelled but 'the show' had to go on, with live streams connecting their audience to experience the show remotely. Here at IF we switched out serious social from pre-record to live, as we offered tips and advice on how to navigate the pandemic in a more authentic, engaging and meaningful way. Expect more and more live streaming in 2021 across all of the big platforms. After all, if you didn't see it live, did it really happen??