October 23, 2023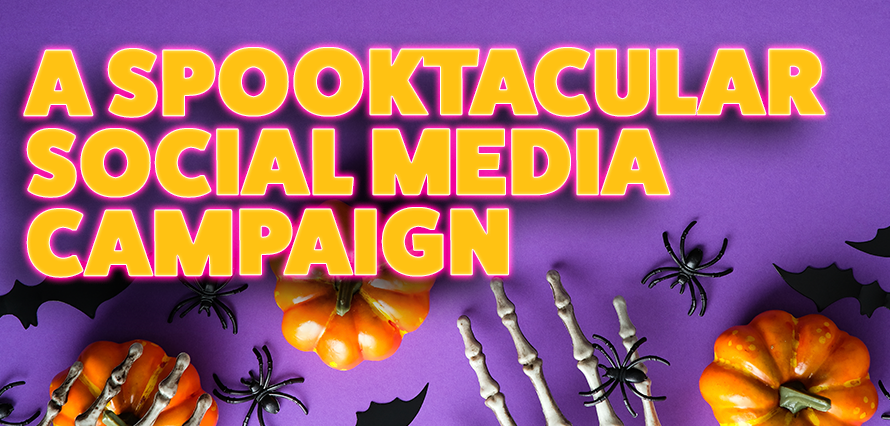 Halloween is just around the corner! And it's a golden opportunity for social media marketers to engage with their audience in a creative way. This blog will guide you through the steps of creating a spooktacular social media campaign that leverages the Halloween season to increase brand awareness and connect with your followers.
Halloween themed content:
Halloween is all about getting into the spirit of the season, and your social media content should reflect that. Consider creating animations, graphics, videos, and images that incorporate Halloween themes while staying true to your brand's identity. For example, Cadbury has consistently produced Halloween-themed content that engages their audience by creating video recipes showcasing spooky chocolate treats.
Competitions and giveaways:
Holding Halloween-themed contests and giveaways can be a fantastic way to engage your audience. Encourage your followers to participate by sharing their own Halloween-themed content, whether it's costume photos, spooky decorations, or creative pumpkin carvings. Offer tempting prizes, discounts, or exclusive experiences to motivate participation. Take inspo from Old El Paso, which recently launched a giveaway linked to the Day of the Dead, staying relevant to both the brand and its audience.
Spooky Storytelling:
Stories have the power to captivate your audience. For Halloween, consider creating and sharing spooky narratives or stories that are related to your brand. These tales can be shared as part of a series of social media posts or even as part of a video campaign. The goal is to keep your audience captivated and eager for more, just like Burger King, which has shared a series of Halloween-related posts to keep its audience engaged and wanting to come back for more.
Halloween Hashtags:
Halloween hashtags are trending for a reason—they help your content reach a wider audience. Utilise both popular and custom Halloween-related hashtags to ensure your posts are seen by those who are actively engaging with Halloween-themed content on social media.
User Generated Content:
Encourage your followers to contribute to your Halloween campaign by creating and sharing their own Halloween content related to your brand. Feature this UGC on your social media profiles, which not only boosts your engagement but also builds a sense of community around your brand.
Cosmetic retailers like Boots and Superdrug are a great example for this, as they have been featuring users' Halloween makeup looks using specific products.
Themed challenges:
Get your audience involved by creating Halloween-themed challenges for them to participate in. These challenges can range from costume contests to pumpkin carving competitions. Encourage your audience to share their challenge entries using a dedicated hashtag to increase visibility.
Interactive polls and quizzes:
Create Halloween-themed polls and quizzes that not only entertain your audience but also educate them. For example, if you're a food-related brand, you can run quizzes about popular Halloween recipes or food pairings.
Decorate your profiles:
Show your commitment to the Halloween season by giving your social media profiles a Halloween-themed makeover. Update your profile and cover images with Halloween visuals that resonate with your audience.
A Halloween-themed social media campaign can be a spooktacular way to connect with your audience, increase brand visibility, and have some fun in the process. Be creative, engage with your followers, and have fun! If you want to know how to create themed social media campaigns, contact us!