September 15, 2015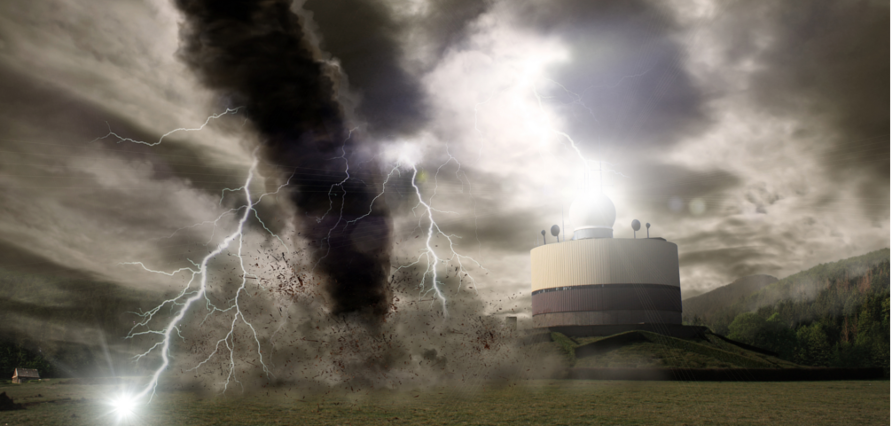 What are your main objectives when your company attends an event? Leads? Awareness of new products and service? Positive brand interactions?
Whatever your ultimate end goal is, more often than not, the marketing activities that I see, especially across digital and social, do not tie together with a clear 'line-of-sight' objective in mind. Talking to a lot of companies recently it seems to me that whatever your ultimate objectives are, there are two key things that social can do to help you meet them:
1. Drive footfall to the stand
2. Own, control or take a share of the online conversation
However, social is not a one way street, and an event presents incredible opportunities to grab a captive audience and to integrate online and offline.
So what the heck is a 'cyclone' – well despite being another made up marketing buzzword, it is the outcome of the theory that the social opportunity at events needs to be cyclical – a 2 way street of revolving opportunities.  By creating two of these cycles a 'social cyclone' can be created that can help you meet any business event goal.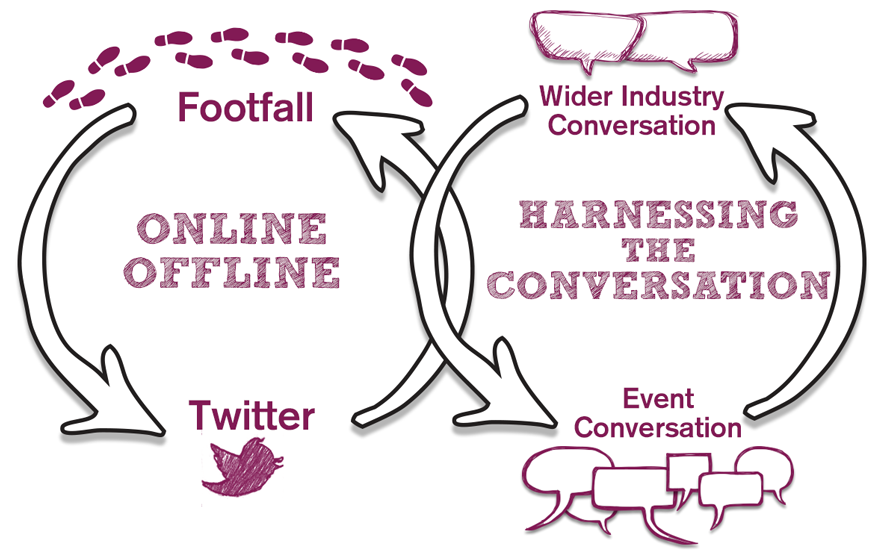 Here the cycles are in a nutshell:
Cycle 1 – The Online/Offline Cycle:
Driving people to your stand by geo-targeting, tracking the event hashtag and using great content to publicise stand activity will help you harness the online event conversation and turn that into a physical presence that your sales team/reps can interact with.
On the flip side of that when people are on stand you want to drive them online to share their experience on social. Having your company handle or event hashtag printed on the stand is one way to make this easier for folks, however, having your reps actively drive people online to share their experiences with your brand on the stand is a far more effective way to achieve this.
The outcome – a cycle of online and offline interactions that promote the stand, drive footfall and encourage people to share their positive experiences – in turn driving more footfall…and so the cycle continues.
Cycle 2 – Harnessing the Online Conversation Cycle:
During an industry event the working world outside does not stop turning. There is a whole world of conversation relevant to those at the event happening and your brand can be the vehicle for facilitating the sharing of that information.
By bringing key news, real-time updates and relevant stories from the outside world into the event conversation and using key figures and hashtags to pull these messages into the existing and thriving event conversation you can provoke 2-way conversations and meaningful (sometimes provocative) online engagement.
Equally, by grabbing the key takeaways from the event, announcements by key note speakers etc and pushing them out to the wider market on social and into relevant online communities, you can harness and facilitate a cycle of relevant interactions and sharing of information – with your brand right at the heart of the conversation, driving the engagement and taking the share of voice.
What does it all mean?
Now, you may think "this sounds good but it doesn't meet our objectives" – supposing those objectives are driving traffic to a web page, gaining leads or making people aware of products and services. However, creating the cyclone above opens the doors to all of this. Once you own the online conversation, you have pricked ears up, you are engaging with attendees, having 2-way interactions with brands and individuals and driving footfall to your stand and your sales teams you can do whatever you want with those people – acquire, nurture, educate – whatever your goal!