September 4, 2019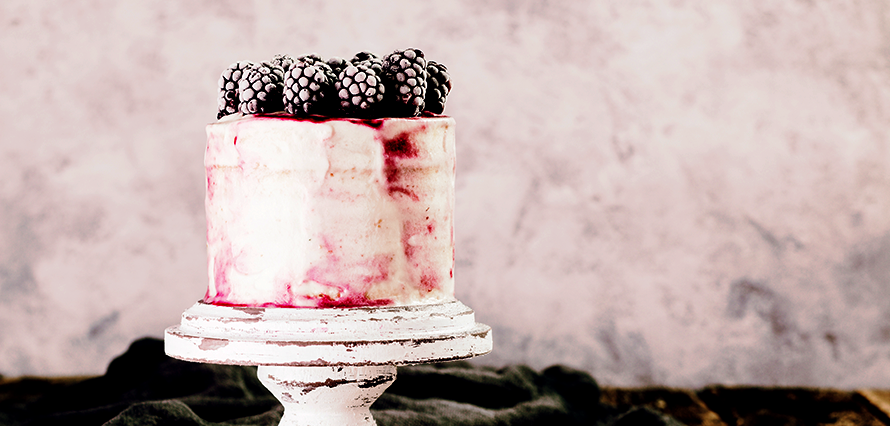 Episode 2 *spoiler alert* don't read unless you've watched!
Since its move to Channel 4, Bake Off has offered advertisers the opportunity to be part of this cake obsessed community for 8 weeks of autumn. After the initial move to a commercial station (which came with some negativity), advertises embraced the chance of reaching eyeballs in the millions. Whilst there is no doubt that advertising on GBBO has impact, the question to ask ourselves is does that impact translate on to social media?
So we took a look.
Kettle on, the ads are starting!
Let's start with looking at what happens during the advertising breaks. Whilst we see an uplift on social during breaks (nothing beats the spikes when something interesting happens). What's interesting though is that there is little to no mention of any of the advertising. ebay, Dr Oetker and Kinder get a few mentions, and the Amazon Echo bumpers manage 2 mentions across the whole episode.

It's quite clear that a large number of the social TV audience disconnects again from the big screen and turns instead to mobile to continue to chat about the show. Well to talk about Jamie.
Big screen to small screen
Finding it very clever tactics that the @DrOetkerBakes adverts during the commercials of @Channel4GBBO #GBBO still look more official sponsors than the #AmazonEcho … what were you thinking @amazon !!!

— Stuart McCrone (@stu_art_ist) September 3, 2019
A few advertisers are also active on Twitter during the show. Dr Oetker does a lovely job of getting involved (mirroring the conversations and tying it back into their dancing and singing cakes in the advert). And their competition grabs a bit of attention too.
Win a chocolate dipping tool set and perfect your chocolate dipped bakes and biscuits just like this week's #GBBO contestants! For your chance, just tell us your fave type of chocolate biscuit.
Ts&Cs apply. pic.twitter.com/2Qi9q2Eul9

— Dr. Oetker Baking UK (@DrOetkerBakes) September 3, 2019
But once again, it's those brands that are super relevant that steal the show from the advertisers. Well one brand, Innocent. They weren't advertising this week, but they still managed to corner the market in mentions and comments.
Then there are a large number of small or local retailers that jump into the community. Mostly with sales messages. Occasionally with competitions. They gather retweets and likes and then drift away again. However, several offer a KitchenAid prize which drives up responses, and brings KitchenAid to the fore, without the brand really getting involved. Shame, as there is certainly interest.
We're celebrating the arrival of the KitchenAid Velvet Blue colour range, exclusive to Harts Of Stur. For a chance of winning this stunning mixer, name one of the other items in this colour range on our website. Deadline midnight 22-09-2019. UK Only. Just in time for #GBBO pic.twitter.com/OqfW6MGe6i

— Harts Of Stur (@HartsOfStur) August 22, 2019
Such a simple mixture
It seems a missed opportunity to not integrate social with other activity taking place at the same time. If you are investing in TV, then why not mirror that investment in social. Get people fired up and bring relevancy to your comms. You might not always be a perfect fit for baking, but you will be for that audience.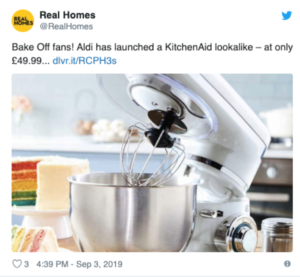 To be fair, Aldi did just that. Pairing a cracking PR story about an alternative KitchenAid product at half the price with a smart high value competition. It worked well for them last year and it is working again.
The lack of brands social chatter was down this episode. Fig rolls were mentioned 6% of the time but most of the usual innuendos came from @BritishBakeOff with a little less participation.
Oh! We're sorry Jamie, you were a terrible baker, but you dominated the social chat (22% of conversations during the show) and you will be missed.
Want to find out how you can bring your brand a bit of fame on Bake off, then download the full report at https://po.st/GBBO19