August 31, 2023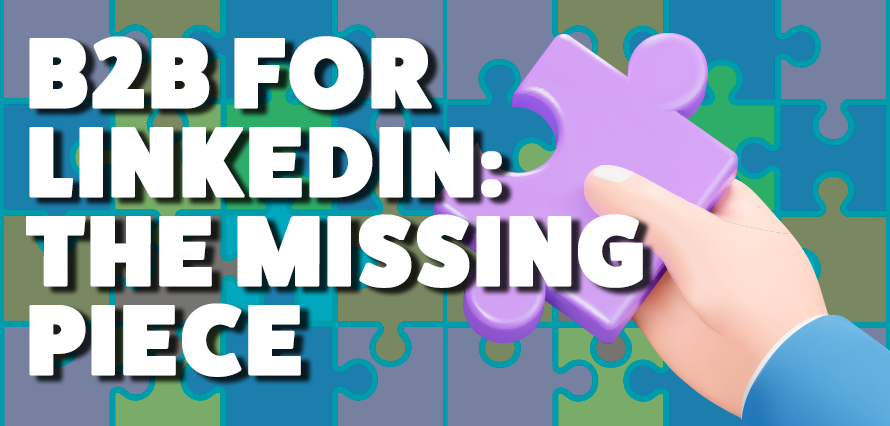 Determining the ultimate formula for effective B2B social media success on LinkedIn remains a subject of debate – but a simplistic approach involving mere infusion of technical terminology into posts isn't going to land. Ever.
You might be sceptical, thinking, "Oh great, another blog advising me to 'push boundaries' and 'take risks,' etc." Well, you're partially correct. Being truly memorable – and not we mean in terms of just being remembered in the subconscious – involves venturing beyond the ordinary. There's no need to forcefully convey the corporate message, discuss your 2023 objectives upfront, or emphasise your sustainability claims within the initial sentences of your posts.
Because, quite frankly, it's really boring – and everyone is doing it. It doesn't set you apart among all the other noise.
Certainly, it's fine to incorporate this kind of jargon in your Call to Action (CTA) link or even later in the customer journey. However, relying solely on these tactics is not going to get you the engagement or link clicks that you want.
These strategies lack intrigue and originality, and they've become common across all brands. They fail to set you apart; instead, they're transparent and make standing out more challenging.
So, what's the recommended course of action?
Now, we're not suggesting you create a TikTok video featuring an employee in branded attire performing a tightrope walk between iconic skyscrapers (though that would be impressive). Firstly, ask yourself if you must rigidly adhere to branding guidelines, taglines, and corporate language. The answer is a resounding no, in reality. Such an approach lacks memorability. Establishing brand recognition is of utmost importance – and if you're not memorable, you're not making progress.
We're not suggesting you 'break the rules', but perhaps look at what the guidelines don't tell you – if it's not in there, assume it's fine to do – seek forgiveness later! Because if it works, no harm done.
A few years ago, we collaborated with Fujitsu on a captivating social campaign. In this campaign, we sent a person plummeting from an airplane at a high altitude, and they glided in a wing suit for an extended period to set a world record. I haven't even revealed the purpose behind this endeavour, yet you might be pondering it, envisioning it, or even considering searching for it – or better yet, wondering, "How does this relate to Fujitsu? How does a person soaring through the air in a wing suit for an extended time promote Fujitsu's services?"
This world record attempt garnered attention from prominent media outlets like BBC and Sky News, demonstrating that social campaigns can transcend conventional norms if they possess sufficient boldness. What better way to enhance brand awareness than securing coverage on national broadcast networks?
Here's some insightful data recently shared by LinkedIn:
In a recent survey, 84% of respondents misidentified a B2B brand. Why might this be the case?
If your posts lack a foundation in 'why' and 'how,' capturing attention becomes an uphill struggle.
63% of companies desire to collaborate with well-established brands. How do these brands attain their status?
58% of technology buyers scroll past B2B ads upon encountering them.
Static imagery is losing its dominance – dynamic elements like carousels, videos, and animations are seizing the attention of social media users.
89% of brands hold a positive view of companies perceived as excellent employers, thereby increasing the likelihood of making purchases from such brands.
Ads incorporating quantitative data and statistics witness a 39% surge in open rates compared to text-only content.
Service ads should be 150 characters or fewer – let visuals do the talking, bid farewell to 'see more.'
Ensure your CTA is crystal clear – consistently employ one and provide a glimpse of what users will discover upon engagement.
Whether you're aiming to promote a service, recruit personnel, or bolster brand recognition – your options are truly limitless. No strict editorial rules bind you. There is no framework to fit or a journalist to nail a pitch to.
The aim is simple: you have mere seconds to capture the attention of individuals scrolling through their feed during a brief respite before their next meeting. They're not seeking you out, nor do they particularly care about you. Yet, on the rare occasion they are interested, your posts must resonate and tell a narrative that keeps them engaged – or better yet, spurs them on to click through and find out more.
Forget the platform's assigned perception of purpose; LinkedIn is the same as the others – you're marketing to humans, not job titles. People want to be entertained, they want to learn and be provoked.
We recently encountered a quote that resonated: "People don't want to buy a drill – they want to buy a small hole in the wall." The emphasis should be on the solution – and we concur! If you disagree or simply wish to engage in a discussion about social media, feel free to contact us here. For more on LinkedIn's latest B2B advice, check out our insights here.