By if-admin | October 30, 2014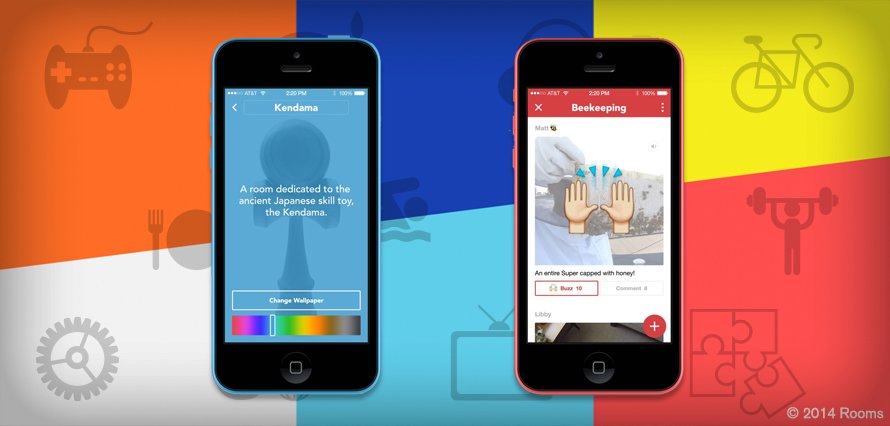 Last week the guys over at Facebook Creative Labs launched a new app 'Facebook Rooms' – the app seems to take inspiration from the 90's style chat room where users can create 'rooms' based on a specific topic of interest. Rooms can be created around themes ranging from skateboarding and baking, to coding and impressionist arts.
After joining a room, users don't have to reveal their identity and can even chose different names for different rooms. This leaves users with the liberty to express their opinions freely without fear. It sounds like a disaster waiting to happen, but Rooms promises to have a moderate level of policing to avoid hate speech and any other sort of anti-social behaviour. This should allow users to express their opinions in a safe environment.
As Josh Miller, Facebook Rooms Product Manager comments on Wired Magazine:
"Rooms is a space for people to talk about their interests without having to be anxious that it could be connected to their real identities," he explains.
So far so good. Facebook Creative Labs seems to have been able to merge a much loved tool from the past with current policing techniques giving you a safe, free space to express opinions and share information all the while staying anonymous. So will this vision materialise?
Well as they say the proof is in the pudding – so we can only just wait and see. In the meantime brands should keep a watchful eye.
Facebook Rooms, if successful, could become a valuable tool in the digital marketer's social repertoire. Product placement could be integrated; branded Rooms could be launched; and Rooms could even become a useful listening tool, able to provide insights into what consumers want and expect. Spotting trends could be another use.
Brand ambassadors could also be deployed to instigate conversations around a certain event/product launch, etc.
The question is will the moderators allow brands to interact with Rooms in this manner? Or allow individuals promoting brands to interact within other people's Rooms? Or does it go against everything the app is trying to achieve?
To answer this, we can only wait and see. For now, Facebook Rooms has the potential to be the solution behind preserving anonymity on the internet — freedom of expression and ideas without compromising the safety of users. It also has the promise of being another channel of interaction and insights for brands. Watch this space.