April 28, 2014
LinkedIn's recent set of proposition from their marketing solutions team again illustrates the focus the platform is placing on content, and being the centre point for your daily fix of industry news and views. After announcing widening the publishing platform up to all users, LinkedIn have launched their own Content Marketing Score and associated trending content to aid marketers and publishers create and plan the most effective, relevant content.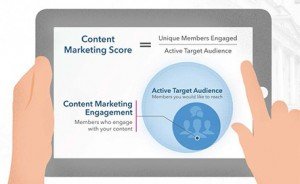 The Content Marketing Score looks at members engagement across Sponsored Updates, Company Pages, LinkedIn Groups, employee updates and influencer posts (if this applies). The score calculates unique engagement across these mediums over the total target audience for your content. This score can then be used to benchmark against your competitor set. Take a look at this infographic which demonstrates Content Marketing Score competitor benchmarking by industry.
In addition, the trending score tool is also very useful for visualising the type of content that trends on the platform. Currently showing the top trending articles through March, the tool allows you to search by audience type so you can understand the content that is resonating by your target DMU. These audience types include:
Auto
CXO
Financial Advisor
Financial Services
Health & Pharmaceuticals
High Tech
IT Decision Makers
Marketing
Mass Affluent
Small Business Owners
If you are in content planning mode at the moment, then I strongly suggest that you head over and look at the Trending Content tool here.
It is also worth thinking about how you might be able to measure a Content Marketing Score of your own (being mindful of the fact that realistically, unless you spend money with the platform, you are are highly unlikely to be able to get this directly from LinkedIn).
Image sources: LinkedIn Marketing Solutions Blog https://marketing.linkedin.com/blog/measure-your-content-marketing-with-linkedins-content-marketing-score/