April 12, 2021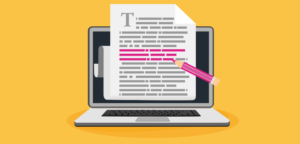 Well, we could simply say… research, plan it, write it, check it, check it again, post it. But there's really much more to writing for social media than many people think. Here are our top tips, and what not to do!
First Thought
What is the first thing, or the only thing, you need your audience to take away from your post copy? That needs to be conveyed in the copy – and while there are character limits on some platforms, you can afford to write longer posts, too.
What you shouldn't do, is throw something out into the social world you haven't fully thought through… the force wasn't strong in this social media manager on this day…

Objective
Are you trying to get your audience to respond, vote in a poll or click through? Is this post about educating them about your product, or inspiring them with relevant language around a key moment? It's important to remember that your audience cannot read your mind – and they are scrolling by super-fast, so if you want them to vote, ask them!
Tone of voice
Now listen, this takes some work. Unless you created the brand, are the brand or you're writing for yourself, and particularly if you're managing several lines of business or brands, you need to take some preparation time to determine the tone of voice.
Laurens Grisel, Account Manager and copywriter at IF, says: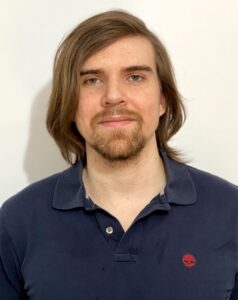 "Voice and tone come from an understanding of the client or subject matter, or yourself. For us, that comes from initial meetings with the client. We create entire PowerPoint presentations that drill down to the audience and the tone of voice, that talk about avoiding specific words, or specific emojis, or all emojis, even as specific as certain hashtags that absolutely cannot be used. If you know your voice, if you know the tone you are going to strike, and if you combine it with a strong first-thought, you can make any copy sing."
Spellcheck!
Well, duh, obviously… right?! Surprising how often we see spelling fails, in fact. Almost every tool available has spellcheck, and by incorporating a program like Grammarly you can be a whiz without really even trying. When you're planning, create a process for checking your work!
No-one wants to see a reply to your post correcting it, usually, it's "*you're" that catches people out. However, even the US Department of Education can get it wrong… twice…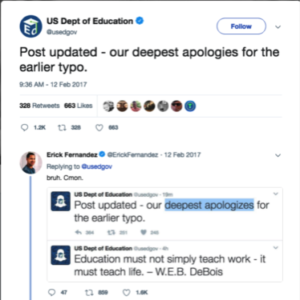 Readability
Did you know that the average reading age in the UK is 13? The majority of website copy should be written for this age (in fact, most Government sites are written for age 9!), and studies show that even if you think your audience will have a higher average age, writing at this level can help the copy be more trusted and authoritative.
There are some key points you can check:
Keep sentences to a reasonable length
Be concise and direct
Check grammar and punctuation
Use words that readers know
Check that language is inclusive
Organisation and layout
If you're using MS Word, we've got a top tip for you – go to your Preferences, select Spelling and Grammar and check the box to Display Readability Score – this is what you'll see when you run spellcheck: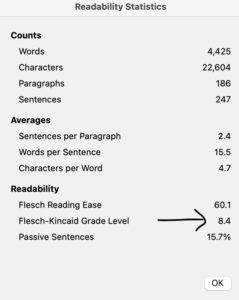 You can read more about writing in plain English in this free guide.
Accessibility
Ensuring your copy is as readable as possible really helps with accessibility for users who may not have English as their native language or those with a sight impairment. One easy fix you can make today is the use of "camel case" or #HumpBackHashags.
Can you see how the use of capital letters makes the hashtag more readable? Now consider what happens to an auto-reader for a sight-impaired user if you don't add the capitals. We implore you, make this change today!
Cultural sensitivity
Probably the most complex thing to approach – I think we all agree that social media managers are heroes, so we know it's a challenge to consider not only all the tips above but how to write for a global audience without any missteps. If in doubt, there are professionals you can engage for this very service – but, much like creating Diversity and Inclusion content in general, your first port of call should be to ask colleagues, peers, network contacts to check your work.
See? We weren't joking around, there's a LOT to consider! if you need our expertise, then we're here to help – just get in touch!