By Katy Howell | May 18, 2021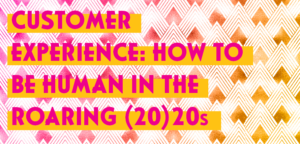 82% of people agree social media is a vital channel for delivering exceptional customer experience. We know consistently delighting customers is a complex task – requiring skills in leadership, tech and a healthy dose of agility. Often, though, the idea of focusing on the customer experience through social isn't shared by leadership, and, more importantly, it isn't fully integrated throughout a business.
Last week, our CEO Katy Howell hosted a webinar with Jen Brown, Regional Marketing Director at Sprinklr, Tracey Finlay, Founder of Business EQ and Catherine Storey, Lead Social Media Manager at Co-op – breaking down the importance of a good customer experience, and how you can ensure your business is set up for success following the pandemic. Read on for some of the many, many takeaways from our hour-long chat.
What are we even talking about?
For the uninitiated, let's break down the role social media should play in the customer experience. Customers want to be respected, and more importantly, they want their time to be respected. Whatever channel a customer is on, they want to know that the business they are talking to sounds the same, and that they care. Jen had a great comment on this, saying "People are looking for conversation. They're looking for engagement. And more than anything, they are looking for kindness."
So, the customer experience on social media is about driving information to the customer, quickly and with empathy. It's about consistency across all social channels, even as new ones crop up (looking at you, TikTok and Clubhouse). And it's about flexibility, not just for the customer, but also for the marketing side, requiring an organizational structure built around empowering your customer care centre.
That may sound intimidating, or even near-impossible, especially for businesses that are bogged down by processes and rules of engagement with customers – but when brands get the customer experience right, then it is an absolute delight for a customer, and they will become advocates for your business overnight.
Recent proof
Nothing has highlighted the need for good customer care on social media more than the pandemic. In a world where everyone took to social media for comfort, conversation and information, why would a business ever think to avoid contacting their customer base there?
Catherine had some great insight on this, stating, "The pandemic has revealed that (social media) is one of the first places people go to get answers, and then it's the place that people go where, if they don't get the answer on a different customer channel, they will then go to social media to say, 'I am trying to e-mail you, I am trying to ring you, I just want help, I just want your answers to these question'."
It's clear that a healthy and relatable social media presence is key to keeping customers happy – and with how visible it is, good customer care only reflects well on the business. We know this is important. Four fifths of customers place the same emphasis on flawless engagement as they do on product quality. If the demand is so clear, why is a good CX so hard?
We just want you to be human
Customers desire marketers to be human, but to do that, we have to break through years of formality, years of thank you for your query messages, through a maelstrom of whilsts and therefores before we even get to the juicy centre of customer care; humanity. Tracey had some wise words for this, adding: "95% of brands that I see are still too formal and sound like a contact centre."
After all this time, broadcast marketing is still the norm. Most businesses fail to go beyond a half-hearted clap on the back about the great work being done, without a care for their customers' perspective or engagement. In the digital world of social media, every account represents an actual living, breathing human, and as soon as brands drop their formal façade, people will engage so much more easily, and with warmth.
So, how do we get there? From Jen, we heard how, "No marketeer sets out to not sound sympathetic to their customers."  The challenge in sounding human is not in attitude or aptitude, but in getting the right data to the right people, at the right time. Marketeers can only communicate what they know, and often hide behind a veil of formality to delay and even avoid answering a question.
To get that data to the marketer, we need to align customer facing people and marketing. When we do that, we get magic. The only thing standing in our way is getting leadership to see that vision.
Getting leadership onboard
This is where it gets fun. We are all painfully aware of the often massive disconnect between management and marketers when it comes to social media. 'Just put the post out' is a common phrase, or something along the lines of 'It's just social media, it doesn't really matter anyway'. The only real solution to that is to prove it does.
We heard from Jen, who revealed you "have to measure it. You have to be able to provide a tangible benefit – literally the ROI of kindness and authenticity. That starts by looking at insights of not just yourself, but your competitors, of the industry, measuring customer sentiment over time, and then using that data in a campaign that clearly demonstrates the uptick in retention, revenue or even NPS scores."
That sounds like a massive undertaking, but in reality, it doesn't have to cost anything. If you can get marketers and customer care workers talking, you can demonstrate results to leadership and get the support you need. You've got the data. You're looking at it every day. Sharing it across the entire organization is key. Catherine let us know that, in her role at Co-op, all she does is "share data with people as much as possible. (Take) all that insight and shove it under as many people's noses as possible at all times."
We're not saying go rogue, but we are saying, test your hypothesis, that social media customer care can be done right, and prove it on a small-scale campaign. Then deliver your results to management. Demonstrate how your posts resulted in higher customer sentiment, and soon enough, you'll see a shift in how the company approaches the customer experience on social media – just in time for the roaring (20)20s.