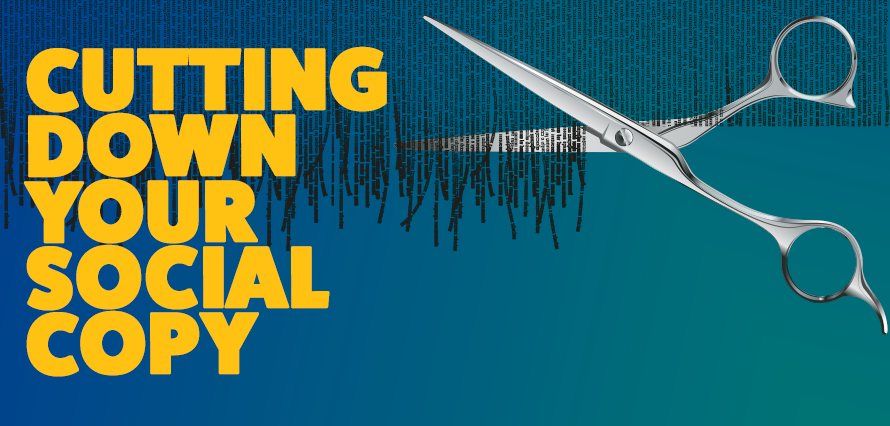 'I didn't have time to write you a short letter, so I wrote you a long one.' – Mark Twain
Writing short copy is much harder than waffling on for pages and this challenge is exemplified when it comes to social. The opportunity to capture your audience's interest is more limited with social users, likely to only read the first few fragments of a post.
To help you cut through the social boring and get your copy trimmed down, let's look at some of the easiest (and most important) editing techniques you can put into practice for your next campaign.
Omit the Unnecessary:
It's common to feel an urge to overload our social copy with features and benefits of what we're trying to promote. But less is often more with social copy.
That's why it's vital to cut out anything that is superfluous. If you lose your reader in the first sentence, they won't read your key benefits three sentences later.
Take this copy exercise by Content Specialist Graham Charlton as an example for trimming down the waffle:
'Utterly astounding, this beautifully crafted gizmo looks like the kind of thing you might find in Diagon Alley. The difference is you use it to control your telly, Sky, digibox, stereo or any other infra-red device via various abracadabra-ish gestures. Simply swish, whirl and flick to change channels, adjust volume and much more. Incredible! What Katie and Peter Did Next? *ZAP* Who cares? Your wish really is its command.'
Now let's go over that with some strict editing. We can cut 69 words down to 17:
'Use this gizmo to adjust your telly, Sky, digibox, stereo or other infra-red device with wand-like gestures.'
The key product message is still there, the post is still interesting, but we've cut the copy length by over a third.
I promise you, people are far more likely to read the shorter version.
Click Here or There
Did you know that Tweets shorter than 100 characters get a 17% higher engagement rate?
That's why anything that isn't directly contributing to your post's copy should be left on the cutting room floor.
One of the most cardinal sins for this is the dreaded: 'Read more here', 'Click here' or 'More information here'. It's promotional, pushy and implies your audience are too absent minded to find the link themselves.
We assure you; your audience knows where to click for a link.
Adding in that short copy is not only an instant turn-off for your readers, it's also a waste of copy. Just pop your links in at the end, your audience will figure it out. Trust us.
Write Quick – Edit Slow
Most new writers write slow. But when it comes to editing, they want to blitz through the process in minutes, furiously scanning copy only for typos or grammatical errors.
When you're writing social copy, reverse this process. As soon as an idea for your next post pops into your head, get it written down straight away, typos and all. While writing quickly, you don't have time to fact check, you don't have time to ensure that the perfect word is in its perfect place, but you gain the opportunity to type out the idea and key message swirling round your head.
Now that you have something to edit, it's time to become a copy mechanic. Carefully omit unnecessary copy or superfluous additions, replace imperfect words with their perfect counterparts while always ensuring that the core message is front and centre.
Most editors will tell you that one minute of writing should require one hour of editing. Now while that errs on the extreme, it's always important to not undervalue the importance of your editing process.
These are just a few copywriting and editing tips that you can apply to the social campaign you're creating.
If you'd like some help in breaking the social boring and cutting down your copy, drop us a line.