By if-admin | July 15, 2014
Last month we were joined by Bettys & Taylors of Harrogate, perhaps better recognised by their brands Taylors Coffee and Yorkshire Tea. Brand Communications Manager Dom Dwight, AKA Coffee Enthusiast, delivered a presentation on creating inspirational social content. The outcome? We all left feeling rather inspired!
Funny and endearing, Dom shared his experiences of social content with us in a light-hearted way that really demonstrated how fascinating the social journey has been for these brands, with some catchy quotes to live by…

Good content can come from anywhere; that much became very clear from Dom's talk. A big advocate for employee freedom to experiment, we learned that some of their best performing social posts were either the brainchild of their trusted staff – or entirely accidental! But in each case, employees had the freedom to try and, in most cases, to succeed. As Dom eloquently put it, "it's better to seek forgiveness than to ask permission".
And here's the case in point to prove it. We all remember that Twitter conversation, don't we? The one that Buzzfeed named the best Twitter conversation.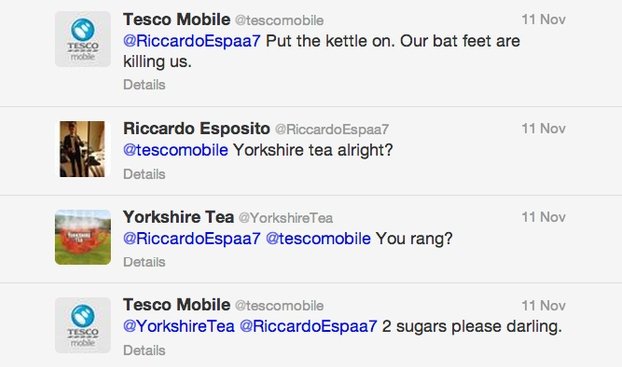 Yorkshire Tea was able to respond in real-time because the employee managing their social account was at liberty to. An opportunity that they most likely would have missed were it not for the trust bestowed on them by the brand, as well as some essential social listening!
Great as this example may be, however, Dom showcased that so much more can be achieved with creative collaboration between teams. Working by the Vanilla Ice mantra to 'stop, collaborate and listen' the Yorkshire Tea team came up with the refreshingly insane #teasong. An excellent foray into social video and one that reaped dividends. Generally speaking, audiences will connect more with images than plain text. So using visual social media content in this instance successfully drove a stronger brand message to their audience. Plus, it's a funny and catchy tune!
Not only is this a shining example of freedom to be creative, and of bravery by the brand, but it is all the more appreciated for the level of authenticity that it shares with the social audience. Rather than actors, real employees took part in the making of the video in a terrific mashup between social and experiential marketing. A great result with 281,502 views and nearly 150 positive comments on YouTube in 8 months!
Even so, Dom gave us a word of caution, as what works for one brand may not be the right fit for another. So don't be swept up by trends that throw the brand identity into conflict, he advised. Know yourself and know your audience. And then you can create brilliant cross-channel campaigns like afternoon tea on the Orient Express or Little Urn travelling across continents to rescue Brits from poor quality tea!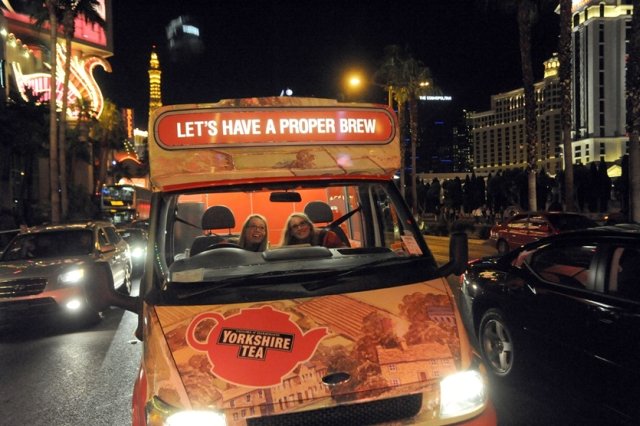 Again, Dom cautioned our audience as to the importance of being clear on ownership in a campaign of this size, applying to both off and online content. Social campaigns like this should be a golden opportunity to deliver an experience that your customers can't get anywhere else. Giving you the opportunity to identify influencers and feed the conversation about topics which your audience are actively interested in. And which fuel enthusiasm for your brand. The key takeaway here being to feed the conversation, not to own it. Social should be built not only into the marketing plan but into the brand framework. As should consistent measurement; make your content evaluation a part of the broader brand tracking.
Following on from the concept of feeding the conversation only what your customers want, Dom advised to moderate the amount of great quality content that you share. Peaks and dips (although small dips) are good. It gives you time to be creative, to reach out to brand advocates like One Direction and Rufus Hound. Or to try new things, like making Yorkshire Tea ice cream! And never ever underestimate the influence of brand advocates!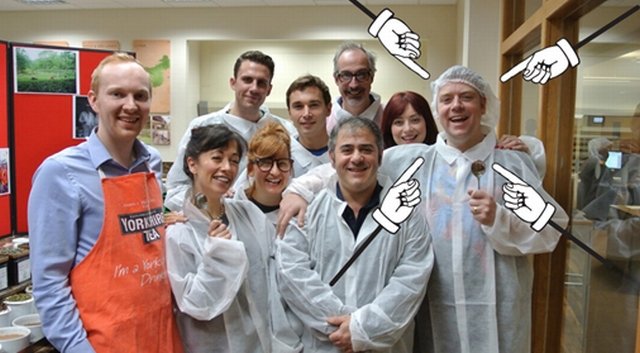 But in every case, no matter what you do; be bold, be loud. Match your tone of voice on social to your advertising on TV and in print. And remain vigilantly aware of the content that you are sharing. This is crucial; demonstrated on the night of our Social Speakeasy as the room discussed the danger of scheduled tweets. Our speaker was quick to express that scheduling your content cannot be relied on, particularly when large global events or natural disasters strike. No one wants to be making headlines for the wrong reasons… But you should equally be prepared to be disliked – at least at first. Something that Taylors Coffee experienced first-hand when their new TV ad hit screens earlier this year: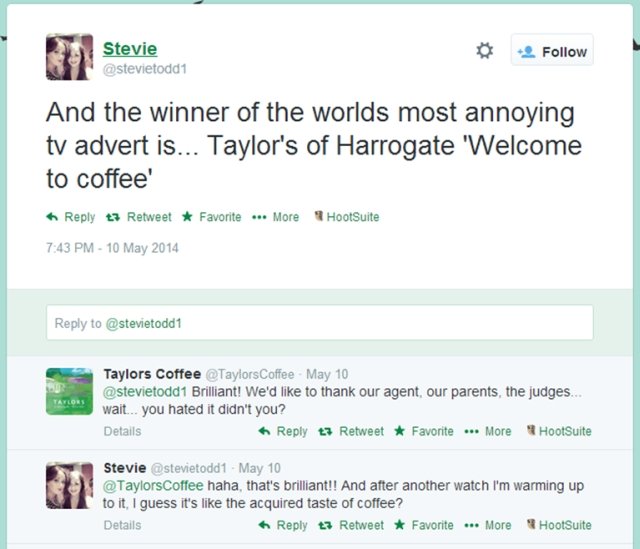 Clearly, you don't need a large budget to build a strong social presence for your brand on social. (Though some may argue that statement) Instead, good content really can come from anywhere. But the ultimate judge of what is good or bad for your brand will come from the people closest to it: your customers and your employees. Customers change brand perception, and a strong internal culture delivers authenticity when you deliver your social content to those customers.
Enjoy Dom's presentation here