August 16, 2021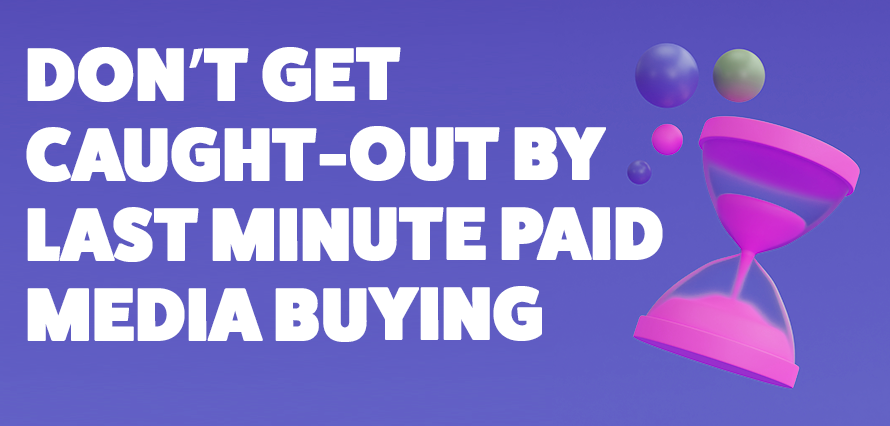 The summer month of August has always been a key month in the Ad calendar. The famous P9 period sees Back to School campaigns appear, closely followed by menu changes in pubs and restaurants, as they flip from lighter evenings to darker nights. At the same time, we start to see Christmas promotions appear.
Each year, the journey to Christmas seems longer. And for good reason: Increasingly, consumers are budgeting for the festive period, coping with the economic challenges resulting from Brexit and Covid. This results in consumers extending the festive shopping period. Brands know this, they see the purchase data, and, in turn, that means their marketing teams impart Ad budgets earlier. The busyness of the consumer calendar is well known.
What gets overlooked is an equally busy B2B calendar for brands, particularly those aligned to the traditional UK fiscal year. September brings the start of H2. It's also the point at which stakeholders realise their proximity to Christmas and the need to get campaigns up and away before Christmas so that there is enough time for demand-gen campaigns to run and deliver results before the year-end cut-off.
Interestingly, few stakeholders realise that the industries wide focus and incremental Paid Media deployment can have a huge impact on their own Paid Media endeavours. Audience data, their demographic and physiographic keywords are eagerly sought by advertisers. From securing the attention and subsequent impulse-to-buy from consumers intrigued by a new lifestyle brand, to fostering C-Suite attention of business-enabling enterprise technologies, the principles are the same. Head-turning awareness content, followed by retargeting with 'nudge nurture' content enabling the consideration phase and journey to purchase or value exchange.
All businesses know the potency of social media and the critical role it plays in helping marketers achieve their annual targets. But, and it's a very big but, marketers are innocently unaware that volume deployments to certain keywords or audiences, drive up the CPMs and CPCs imposed. In short, your Reach and Engagement is more costly. In the tech world, we've seen CPCs swing from £1.00 to more than £25.00, all resulting from the volume of Ad deployments to competitive audiences.
For brands operating on a limited budget, and forecasting against lean CPCs, the realisation that you've only hit a small percentage of expected results is understandably shocking. It's why you need to manage social advertising daily. It's also why you need to have primary, secondary, and tertiary targeting data, allowing you to alternate if costs rise to a prohibitive level.
It's also why, and this is the big one, it's why you need to book your media in advance. Much like the fable of shopping on Christmas Eve will cost you more and give you less choice, the same can be said for last-minute campaign launching. The September to December window is busy. It will cost you more than other times of the year, but if you're planned and, on the ball, you can minimise those cost rises. If you're lackadaisical and unplanned then you're going to get bitten hard.
Paid Media is a science. There are complex algorithms involved that align to the customer journey, and they deliver wonderfully. Each year, more money is imparted as the volume of businesses playing on social increases. At IF we say: "Social is noisy opportunity". It is an undoubted opportunity but, sadly, it is noisy due to a lot of boring content that's not social-first. Without the right knowledge, support and direction, your Paid Media will become noise too, drowned by costly errors.
With the right advice and direction, social media can and will be the fundamental delivery tool for your brands KPIs, but smarts are needed. Know-how is a must. Appreciation of the nuances of the calendar and social media requirements is a prerequisite.
In short, you need a social only agency that puts your brand first!