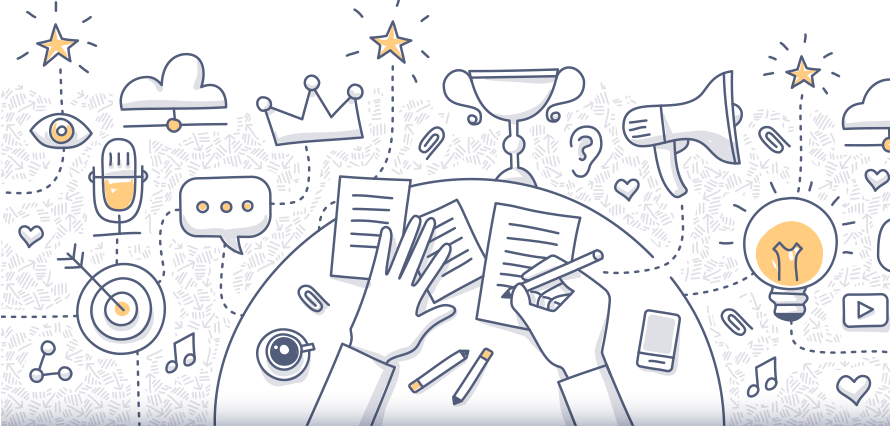 We live in a digital era and there are billions of internet users worldwide. That means there are lots of opportunities for brands to engage with their audience and achieve business growth.
One of the most effective methods for spreading brand awareness and attracting new customers is through content marketing. And while its impact is immersive, many marketers still don't know how to implement a successful content marketing strategy.
Have a look at this round-up of content marketing tips and become a true content marketing expert:
Make sure your content has a clear, measurable business goal – take the time to think about how your content can serve the marketing strategy you've already set up and then create pieces that tie back to that.
Know your audience – start with creating a buyer persona, the ideal customer who's best served by your products or services.
Understand your buyer's journey – while your content should attract new customers to your business, it should also convince hesitant prospects to purchase, and encourage customer retention and long-term brand loyalty.
Solve for the reader – when creating content, there are two primary goals: to educate and to help someone solve a problem. While the objective is to generate leads or drive website traffic, you also want to establish your brand as a trustworthy source of information first. Then, readers/viewers can convert and turn into paying customers.
Adopt the pillar-cluster model – in this model, a pillar page covers an umbrella topic, then cluster pages support that topic.
Write in-depth content – you should include everything your audience need to know in one post about the specific topic they're looking for. No need to write long content with paragraphs upon paragraphs of fluff. Rather, answer related questions and bring up any tips that will help them walk away with all the information they need.
Rely on analytics to track your performance – it's very important to carefully monitor, track, and report on the numbers to identify what's working, what isn't, and what could be working better.
Keep content consistent and up-to-date – when implementing an optimisation strategy, it's critical that you don't update the URL. The URL should remain the same to ensure you don't need to re-earn backlinks. Additionally, you don't want to create unnecessary redirects.
Repurpose your content – you don't want old content to go to waste. If a topic is particularly evergreen, it makes sense you'd put time and effort behind repurposing it.
Ensure your brand voice remains steady across channels – whether you visit a Twitter page, YouTube account, or seeing billboard advertisements, you should quickly get a sense for the brand.
Personalise your content – you don't have to implement personalisation manually. Instead, use personalisation software to trigger certain actions, show certain content, and send personalised emails.
Understanding the importance of an effective content strategy and how to implement that in your brand marketing plan can be challenging. Unless you're tracking your efforts, you'll get stuck between what's working and what's not. To avoid mistakes altogether, work with an experienced partner – like us! Get in touch today!