By if-admin | November 24, 2014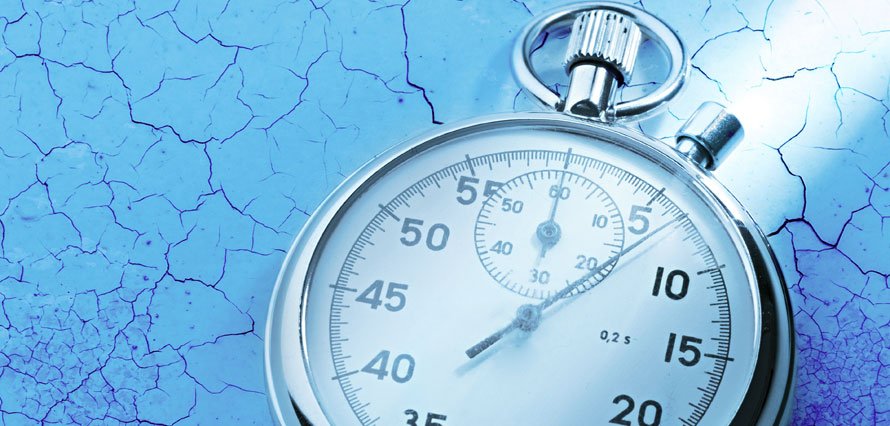 Sharing content that is relevant to your audience at the right time is one of the main facets to success on social channels, but as we heard from Tania Seif at the most recent Social Speakeasy, it is especially important for betting firm Coral.
Learning fast and playing catch up
In the two years since taking over as Head of Social Media at Coral, Tania has seen impressive growth and the channels have become well known for their humour and reactionary campaigns. But it is a stark contrast from when she started.

With roughly 45 fans on Facebook, and 1000 followers on Twitter, Coral was way behind its competitors on social, and there was negligible targeted content apart from odds and offers. So the first step for Tania was to employ a Community Manager – not just so there was someone to manage the channels full time, but so there were genuine insights into who the audience was, how they engaged with the brand, and the types of content they were most responsive to.
Getting to know the audience
With some basic insights and a growing audience, the expanding team decided it was time to change tactics from purely chasing followers and comparing their channels to competitors'. They decided to focus more on content that was relevant to their own audience and customer set – in Tania's words, "the numbers come second."
But for that to happen, more detailed insight was needed. Using the traditional measurement and aggregation tools provided a certain amount, but Tania found that there was no set of metrics that measured the success of every type of content fairly against others. Her solution? A customer survey.
This is more than a standard customer satisfaction survey – it is a quarterly, incentivised review of who the audience is and how they engage with the brand, with 1200 responses a quarter. Tania stands by it as the most effective way of measuring audience engagement, and when challenged explains that the patterns they see in the results match those elsewhere in the industry, as well as giving added value to the metrics given by social measuring tools.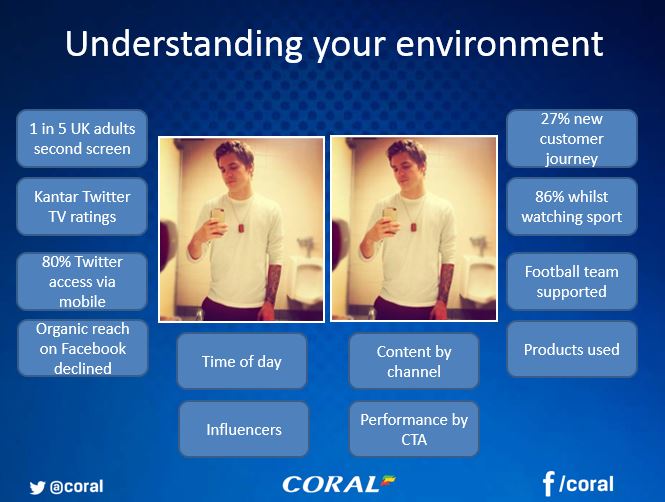 The results have informed the team how and why their audience use social. For instance, they have discovered that 1 in 5 adults use a second screen when watching TV – whether it is sport, X Factor or I'm A Celebrity. And in knowing this, they can then use TV ratings to inform decisions on what content to post when.
Relevant content at relevant times
Roughly 80% of Coral's content output is marketing material – whether that is betting odds, a brand message, or match/episode commentary; the remaining 20% is editorial. Through the learnings from the survey, all of this content can be specifically targeted, and not just through using paid posts.
From different people wanting to know about sporting odds to knowing about who is favourite to win I'm A Celebrity, it is important for Coral not to alienate the different audiences. So they try to reduce wastage as much as possible – while people are second screening the odds on X Factor, there are 'dark posts' being targeted to a different audience altogether.
And it's not just live events that reap results – two of Coral's most successful campaigns have been around current affairs. To quote Tania directly "we are always on – joining a conversation is easier than starting one – and being able to instantly create humorous or arresting images will get you noticed."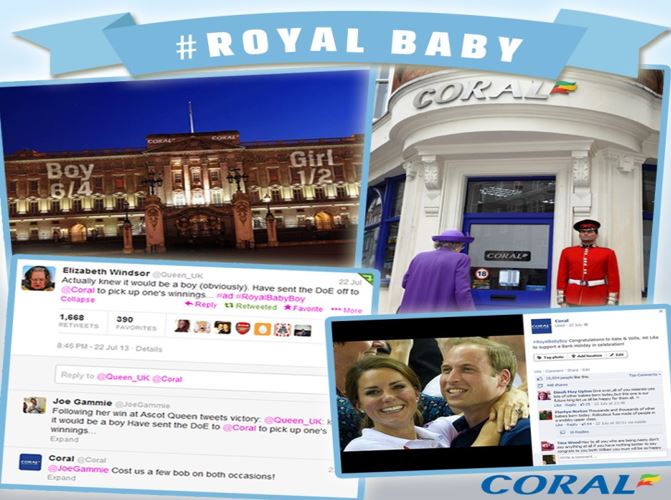 Activity around the birth of the Royal Baby was the most successful alternative betting campaign that Coral has had. Partnering with the @Queen_UK parody account on Twitter, and clever use of imagery using a lookalike, the focus was not necessarily about getting bets on the event, but on brand awareness around alternative betting. And at the same time, taking the focus away from the sporting bets that might have put off the new audience.
But the majority of content is still around sports betting. Reacting to increasing speculation around the future of Roberto Di Matteo, then manager of Chelsea FC, Coral took a London taxi with a branded skin and parked it outside Chelsea's stadium. The resulting coverage from the photo was phenomenal, and the 'Taxi for Di Matteo' campaign is their most successful campaign across both social and traditional media.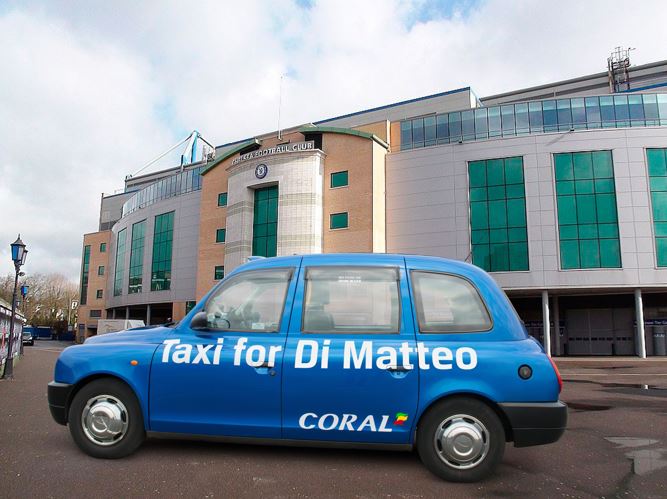 In a highly competitive industry that is based on taking risks, it is difficult to stand out from the crowd. Content has to be real-time, creative, reactive, and targeted to exactly the right audience at exactly the right time, based on real-time data and genuine insight. And from what we heard from Tania, Coral is one of the best brands at doing just that.