By if-admin | August 28, 2019
Episode 1 *spoiler alert* don't read unless you've watched!
Even before season 10 of Bake Off started, social was alive with intense anticipation. By 7.45, according to Brandwatch data, there were over 24 thousand posts on Twitter from 7,898 authors – suggesting that enthusiasm for the show had people posting a few times in excitement. Come 8 pm and Twitter exploded.
No more sleeps!! Bake off starts tonight @BritishBakeOff So excited!! #GBBO2019 pic.twitter.com/mdYjptv0nt

— Lisa Skerratt (@jemima379) August 27, 2019
So how do brands tap into the #GBBO phenomenon? Because being part of the chatter for brands aligned to baking or relevant to the show's audience is a must. Not just because of the volume of conversation (and boy is it noisy), but because there is a sense of community on Twitter. Posts are retweeted en masse. Replies and comments abound. Get it right and your brand will fly across social – driving reach without the paid.
Here are some of the angles and moments that will help you for next week.
It's all about the people – well the boys!
The first episode, like previous years, was all about the people. The judges, the presenters and most of all the bakers. Viewers quickly adopt their favourites with Jamie leading the way, followed by Michael and Dan.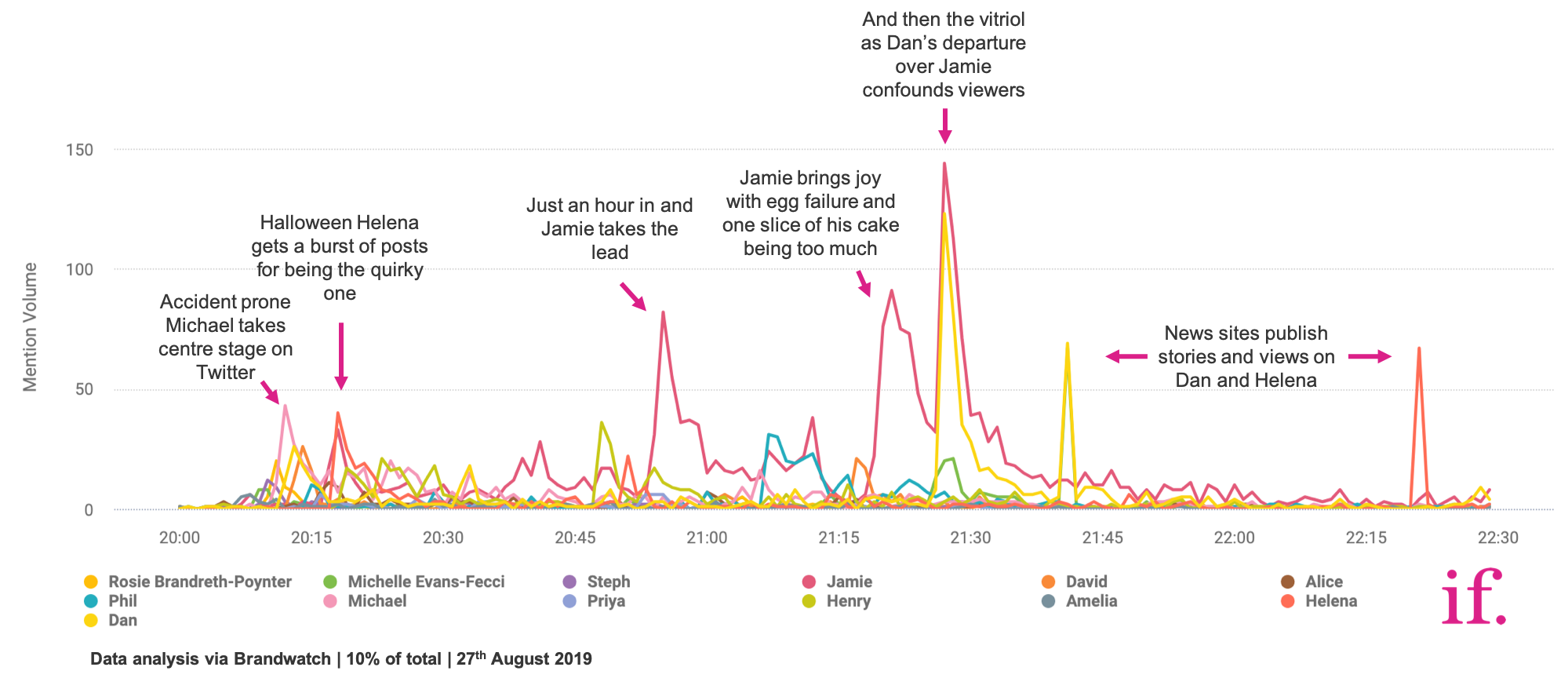 Quickly personalities, quirks and traits are identified. Jamie is young and after forgetting eggs in his cake, considered charmingly daft (the people champion). Michael's endless cuts and accidents garnered a series of pictures suggesting he'll return to the next episode bandaged from head to toe.
Actual footage of Michael by the semi final week #GBBO pic.twitter.com/2rsem2CHoT

— Sarah (@CQEdinburgh) August 27, 2019
For brands wanting to join the conversation, they need to get to know the contestant. Do your homework. Pick up on their unique attributes. Join the banter.
Interestingly, it is the male bakers along with Paul and Noel that get the most mentions. That might be because 66% of authors are female. We saw similar behaviour last year too – it's all about the boys.
Innuendos to beat a good old Carry On film
The teasing and banter bring insane amounts of joy across social. But nothing beats the innuendo. And there are so many. From Furry Garden to gentle stroking of a rocket nose – the moments are too perfect. And Twitter goes into meltdown.
SHOW ME YOUR FURRY GARDEN #GBBO pic.twitter.com/6S5h2dBjSw

— Joshua Sykes (@joshuaksykes) August 27, 2019
And @BritishBakeOff makes the most of it. Ramping it up to drive viewer likes and retweets in the thousands.
Handle with care. #GBBO pic.twitter.com/A9xwRUMAza

— British Bake Off (@BritishBakeOff) August 27, 2019
There are notes of self-effacing sarcasm too. In typical meme style, we see a lot of the "Me; Also me" posts alongside the marvellous "Paul in his head vs Paul says'.
https://twitter.com/jordancarroll_1/status/1166434827047964673?s=20
And this is how Innocent drinks leads the way. They join in the fun. They stole the show again this year by tapping into the Jamie chatter, teasing Paul (which everyone loves) and every now and then pushing the brand.
Everyone: "Right Jamie, you've had a tough couple of challenges, you really need to get this right"

Jamie: "I've forgotten to add the eggs"#GBBO

— innocent drinks (@innocent) August 27, 2019
Most of all they invested in live-tweeting. They got the right tone, the right copy and the right messaging, all at the right moment. They invested time and skills in the right place. And it works. Their reach is superb. People like and retweet and join in the fun.
Us: "Furry garden is the height of Bake Off euphemism"

Phil: "Hold my beer whilst I shape my nose cone"#GBBO

— innocent drinks (@innocent) August 27, 2019
You don't need to be Innocent to benefit from bake-off. It doesn't require a bells and whistles approach. In fact, keep it simple and in the moment and it will pay off in spadefuls.
Keep an eye out for an analysis of next week's episode and download our GBBO report. We take a look at the best times to post, the brands doing well, the place for a competition and much more.
Before I sign off on the first episode of this social bake-off, I would like to say a massive thank you to Brandwatch. Without this amazing social data intelligence tool, we could not bring you all these insights. Thank you @brandwatch