July 10, 2014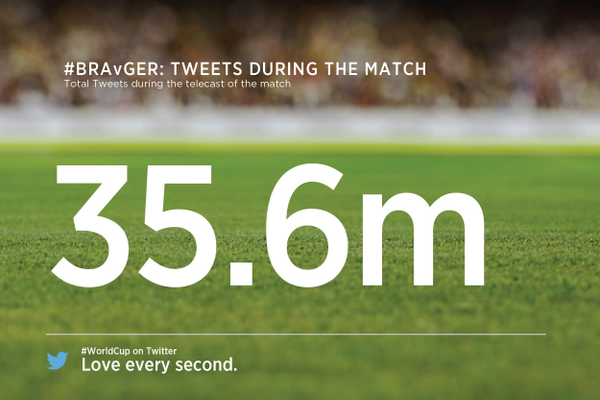 The most tweeted about sporting event in history. The day Germany smashed world cup hosts Brazil in a 7-1 victory. Twitter set out to win big during Brazil 2014 and they continue to excel their own benchmarks in smashing records and taking their event coverage to the limit.
Initial set up around the international event was to increase engagement internationally and drive new sign ups, as well as to expose some of its greatest features of cutting edge updates and exposing new members to some of its richest values; connecting through conversation.
Aside from the ongoing highs and lows of the actual competition, Twitter continues to steal headlines over the event itself and in the most recent highlight where Germany annihilated Brazil in a 7-1 defeat, Twitter stole the press by claiming not only a world record for the most tweeted about event ever but also a record of the most Tweets per Minute (TPM) during the game!  A TPM record of 580,166 when Germany's Khedira scored the teams 5th goal of the match.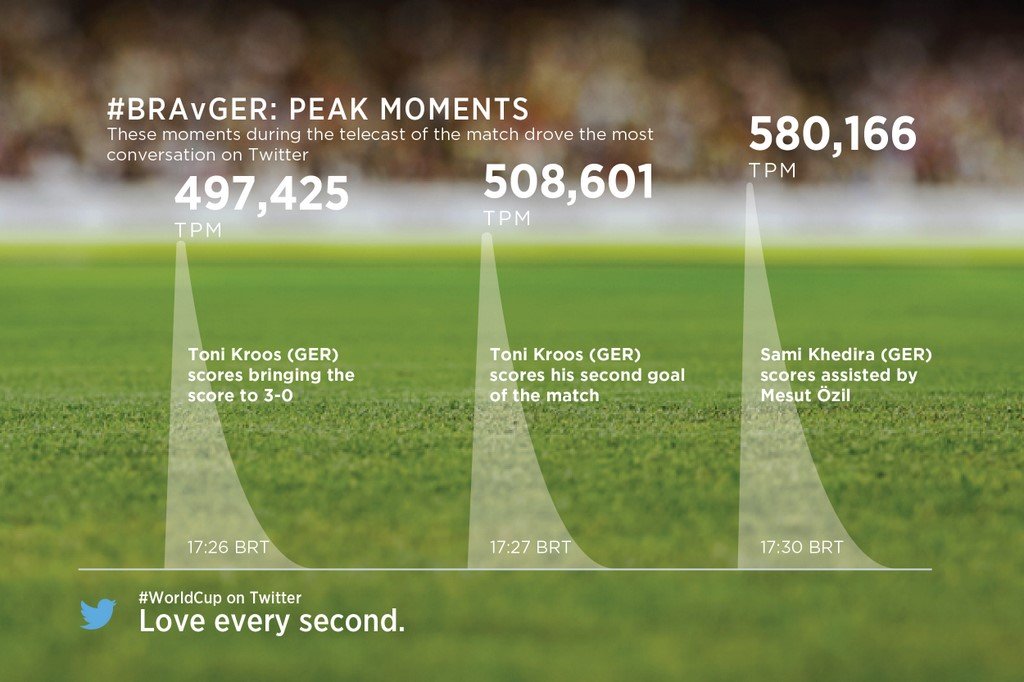 Originally in a bid to increase share value through increasing sign up and engagement (as stated in one of our previous posts) Twitter took to setting up several features specifically targeted at attracting world cup fans, new memberships and highlighting their World Cup features as super easy to discover, follow and engage with.
Its no surprise that Twitter have been smashing records around the event with these features in place and the event itself being a situational goldmine concoction of televised, international, sporting live events with the whole world watching and a huge contribution to activity from brands globally. A key global show to driving social discussion through fan engagement, second screen tweeting and international engagement.
Twitter went all out to make it real easy for World Cup fans, not ordinarily using Twitter, to enjoy the event on the channel with an exclusive World Cup channel feed customised to each users' team following and national hash flags; a simple and engaging visual that makes use of Twitter's emoji capabilities by displaying national flags next to team hashtags.
No wonder then that this kind of sporting event combines almost all of the desired qualities that fuel the best Twitter engagement and continues to produce record headlines like:
'The most Tweeted about sporting event ever' Metro UK
and
'With 35.6 million tweets, Germany's 7-1 World Cup annihilation of Brazil is now the most discussed single sports game ever on Twitter, beating Superbowl 48's 24.9m tweets.
– Huffington Post
Twitter has set up around the World Cup like no other social channel did and has successfully embraced the single most valuable event to its own company goals (pun very, very much intended).