February 14, 2023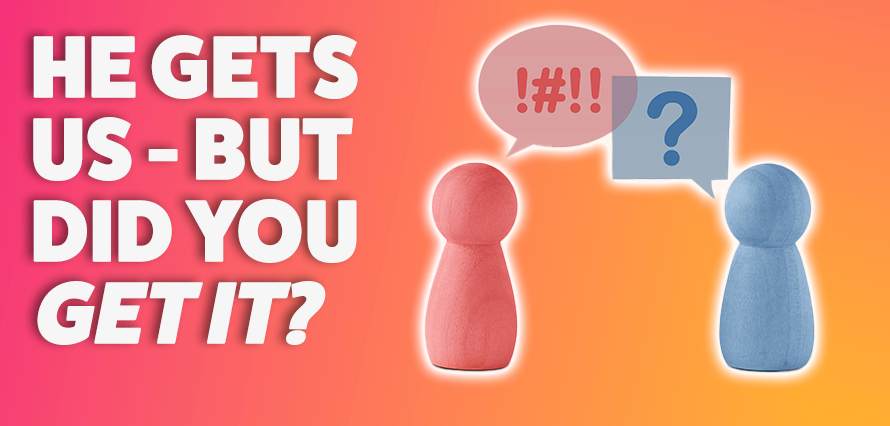 *Super Bowl blog warning* – fear not, we aren't talking about every ad, but one in particular. If you were watching Sunday's Super Bowl, played out between the Philadelphia Eagles and the Kansas City Chiefs, you may have seen the half-time ad 'promoting Jesus'… well, it ended up being the second highest performing ad overall on the day, according to AdWeek. This has surprised many… but not us. It's bloody great.
You can watch the ad here. Black and white poignant photographs of confrontation, assault, fury and controversy spanning back the last few years – reflecting the rise in protests and the divide in people's views (with 'Human' by Rag'n'Bone Man playing over the slow montage – fitting, we think).
That's what the 60 second ad was – no sign of Jesus, no obvious Christian promotion, no bible verses, no hymns, nothing until the final moments that dictate what the ad was actually promoting. 'He gets us', proclaims the ad – 'he loves the ones you hate'. To date, it's not attributed to any specific Christian group.
How did it perform so well? AdWeek.com put its engagement index at 1,418 – which is still well behind The Flash (24x more effective at driving engagement than the median Super Bowl ad for this year) – but certainly beyond some other interesting competition.
The great performance of this ad rests – not just on the brilliant format of its promotion – but how it triggers emotions within the brain. How well it resonates with Christians is up for debate, but because the content matter connects with humans, and digs into our primal psyche – it doesn't matter your background or who you are – it is engaging. If the ad had started with the way it ended, and then gone into the photo montage, there is little chance it would have performed anywhere near as well. That's not a dig at Christian ads, that's just advertising generally.
So many brands go product/service first – problem is, no one knows what's being sold or really gives a toss. People switch off within seconds.
This goes back to the story-telling aspect of advertising. Being bold. Being different. Do it the 'wrong' way. We did a blog recently that talks about his very thing – and how, statistically, these will always perform better than the standard 'service and brand first' ethos of advertising.
Got any views on this ad, or the others, at the Super Bowl? Contact us today