By if-admin | September 24, 2015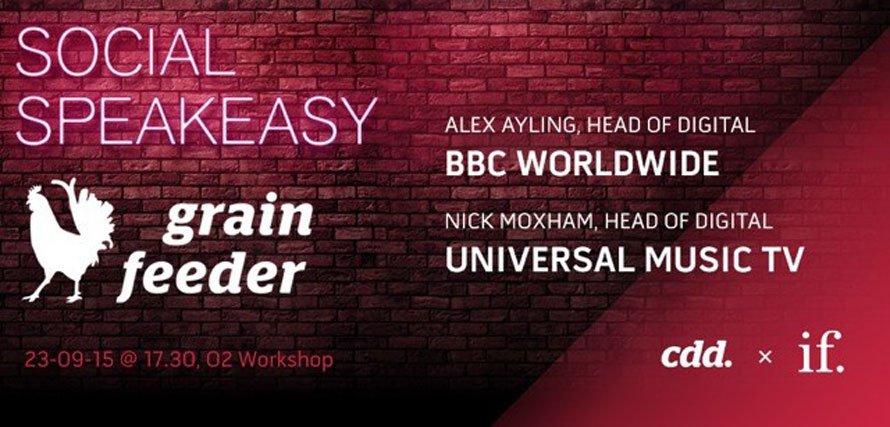 Last night immediate future, together with our friends at CDD, hosted a Q & A with two of the industry's leading digital marketers: Alex Ayling, Head of BBC Worldwide Digital Studios and Nick Moxham, Head of Digital, Universal Music TV.
Alex teed us off; he's a wonderfully charming speaker who takes great pleasure from the job he does. Hearing how he still gets a buzz from passing BBC security of a morning, and how he considers himself to be a small custodian of a 93 year-old, multi-billion-pound institution is incredibly endearing. So are his philosophies on digital, meeting their fluid challenges, cultivating team culture and work ethic, and innovating in a fashion the BBC and its stakeholders demand.
In its formative years, the BBC's mission was to serve brilliant television and radio programming at times they controlled. Today, the mission of quality programming is still at the corporation's heart, but serving the content on platforms and at times demanded by consumers is the significant change.
The BBC Worldwide website receives 95 million monthly visitors. Their programming is served to all continents. So just how challenging is it to engage BBC customers?
Alex shared their wonderful (and recent) challenge of curating and engaging their Doctor Who fandom. Doctor Who, for those unaware, had its latest series premiere on Saturday evening. Within the same 24 hours, the show premiered globally. The Doctor Who fandom spans the globe. A key learning Alex's team has identified is the need to allow consumers to watch the show, whether that is live in London, through iPlayer in Manchester (some hours later), eight hours later in New York and so on. Consumers want the opportunity to see the programme first without spoilers.
Then, and only then, does the mission begin to engage the fans; the BBC arranges a second special airing where they pool their global fans together to watch and live tweet, discussing key scenes and storylines in detail.
First time viewers avoid the BBC-led spoiler; fans subsequently receive the level of engagement and conversation they demand; and the BBC does this for all their elite programs with fans. Staggering, but very clever!
When pressed about the international challenges, Alex shared a point that will transcend to any business that operates internationally, in any sector: "it was important for us to understand our audience is a Sherlock fan (for example) in France, not a French Sherlock fan. You need to use universal language."
Fans of your product or service, whatever it is, are fans of your product or service. They're not fans of the French, Spanish or German versions.
Q: As a British business broadcasting globally, what language do you speak on social?
"At the moment, my team speaks in English. But we're lucky enough to have regional offices that produce content in local languages. With infinite resource, we would have the shows produced with enough time to have local versions made in 10 languages and with subtitles etc. We don't have that luxury.
Talk in the language that your audience wants. Mass appeal only comes from talking in their language. Treat them like they are used to being spoken to."
Q: What key challenges do you face?
"The pace of digital change is so fast, and the amount of time it takes for serious content creators to get people into positions to make amazing content is at odds with the pace at which consumers want to consume it."
Q: What tips do you have for people here tonight, that they can take back to their business?
"My team have an internal term 'Digital Swiss Army Knives'. We all know how many different functions and tools a Swiss Army Knife has – digital budgets will never be as much as you want or need. You need to be able to adapt your role, skill sets, what you try, how you innovate – maybe even doing something on a small scale to prove it works and then taking the results to the business to grow needed investment. Be a Digital Swiss Army Knife!"
Part two of this blog post will be published tomorrow. Within that we'll be exploring how Nick Moxham, Head of Digital, Universal Music TV faces up to his businesses challenges. We will also be including a gallery of photos we took last night, so keep an eye out for it!