July 5, 2015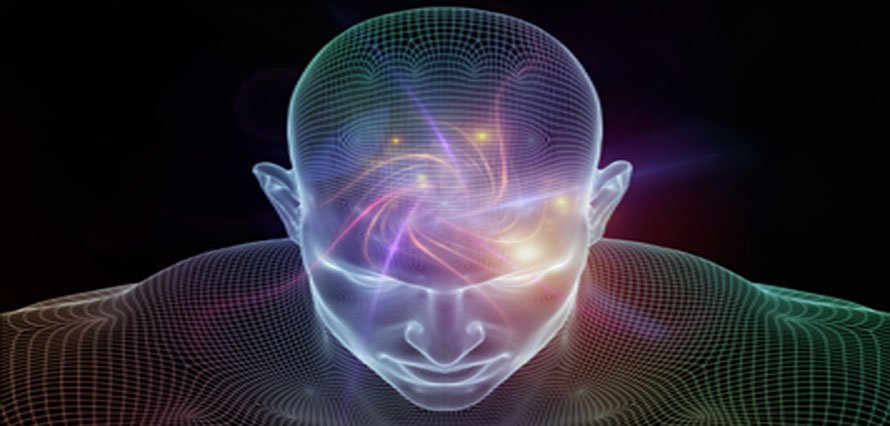 There's endless bloomin' rhetoric on how you make content relevant in social media and beyond. It is after all, the hottest topic in marketing.
It's proven that the greater the relevancy and context, the more content resonates with audiences. The more it resonates, the more likely the conversion (Like, click through, visit etc)
Yet, much content creation is still driven by brand needs (new launches, propositions and messaging) and based on demographic data. This "who, where and when" data is a blunt instrument. The smarts (and the opportunity for ROI) is in the psychographic insight. This is the rather 'touchy feely' insight that connects content to audiences.
Behaviours, attitudes and passions, oh my!
The psychographic factors are often called the IAO variables – standing for 'Interest'. 'Attitude' and 'Opinion'. But in social media, I prefer the "what, how and why" of your customers.
What are audiences interested in talking about
How are they motivated to act on social
Why do they behave in particular ways
It is much simpler, and makes sense to the flow of social conversations that brands want to reach. Psychographic research adds a depth of insight that uncovers audience interests, passions, proclivities, beliefs, values, affinities, predilections and, well, emotions.
For example: brilliant ongoing research by Hedonometer looks at the happiness of people on Twitter. Updated daily it offers an amazing window into broad emotional behaviours around the world. A quick look at the data (below) and you can see we are happiest on a Saturday and saddest on a Tuesday.  No surprises there then!
Happiness it seems is driven by regular events such as Mother's day or Christmas, and sadness from unexpected events and disasters.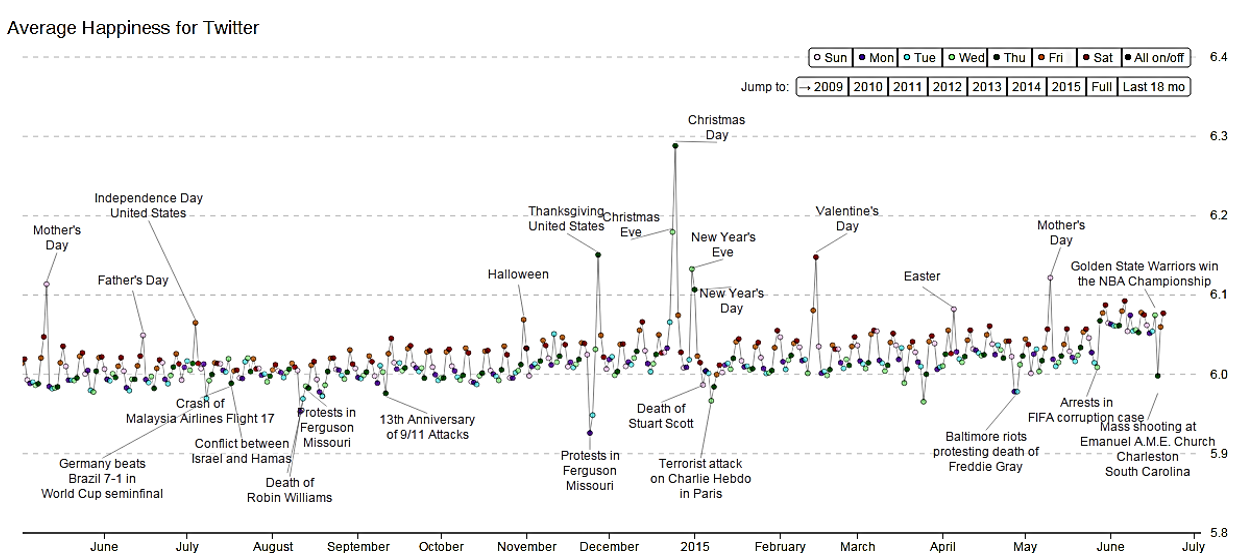 As marketers, psychographic segmentation allows us to deeply understand audience lifestyle, behaviours and habits. To build a rounded, emotional, persona of our customer. One that will inform our content creation and drive conversions by being relevant.
Ah, but gathering psychographic data is a challenge, or is it?
For many, using monitoring (listening) tools in social is a new marketing capability. Getting to grips with shaping unstructured data into the basic demographics is a challenge in itself. And when it comes to Psychographics, the data gathering is subjective. Sure, topics, themes and interests are straightforward. But how do you define happiness? Have the guys at Hedonometer got it right? And is their definition the same as mine? There are many variables that can leave you wandering aimlessly around social conversations unless you know how to look for the answers.
Social media has oodles of psychographic data, if you know how to look.
Just like any analysis of unstructured data, you need to create a framework if you want to extract and filter useful insight. Structure gives you the skeleton by which to hang data points. This starts with a basic template: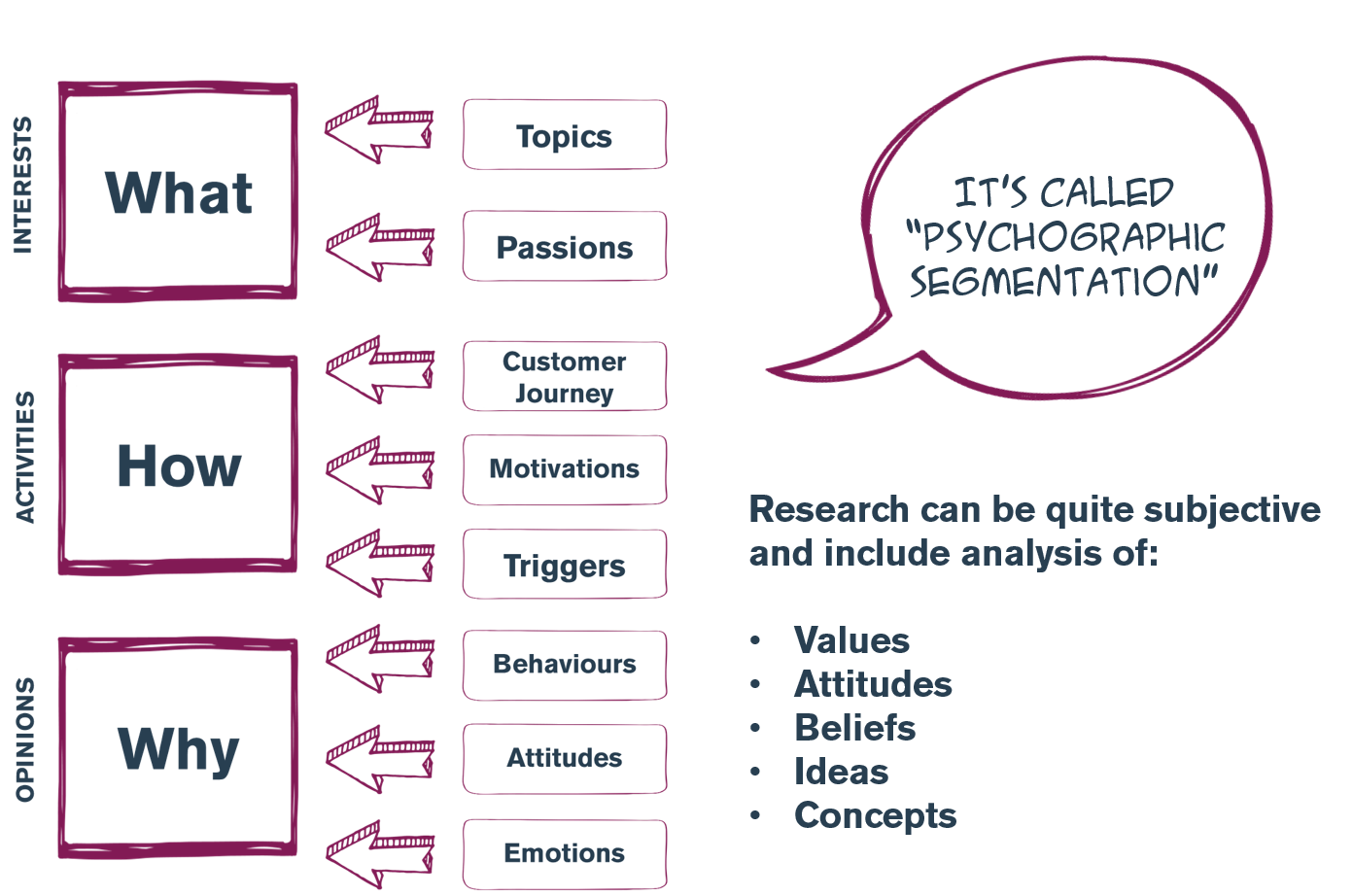 With this backbone template in hand, each brand and each audience segment will need to be considered separately. If you are documenting behaviours, for instance, then you need to identify which behaviours you want to collect data on. It will vary by brand, objectives, audiences etc.
Expanding this template takes a bit of thinking time, but it then gives you the framework to uncover the insight from social conversations. Investing this time up front though makes it easier later.  Armed with the framework, you can untangle messy conversations and segment and categorise data. Use a third generation monitoring tool, and you can train it to do the job for you!
Layering psychographic, demographic and geographic data sharpens your content
Cutting data further gives you tightly targeted segments. Psychographic insight can vary per region, by age and so forth. Layering with demographics or geographic data adds further context. You can go broader too. Layer this data with external and environmental factors such as weather or GDP. The value is in the tight concentrated targeting that by default, increases relevancy and context.
But do be careful. Remember this insight can be subjective, and it is easy to leap to conclusions (and a little cod psychology). Do test correlations and try not to make sweeping assumptions without trialling the performance of your content first.
Ultimately, psychographic insight gives you the opportunity to understand the emotional context that informs your content strategy. It is an investment of both effort and time, but one that saves financial investment later when you create the content. Plus, in my experience, it is jolly good fun too.