November 13, 2015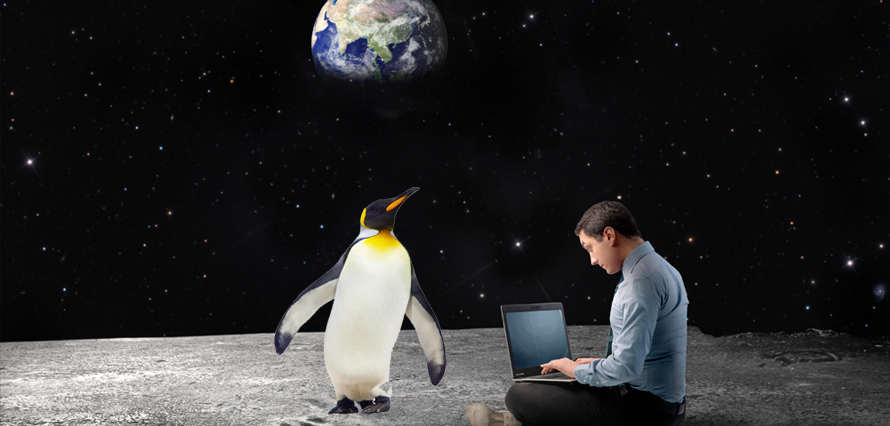 It's like Marmite. And whether you love it or loath it, you've probably discussed it, and potentially even posted online about it. In doing so, you've contributed to the consistent and proven marketing machine that is the John Lewis Christmas advert.
This well-oiled machine triggers divisive debate and motivates consumers to syndicate content online, placing John Lewis front-of-mind and primed to avail of significant footfall and clicks to mobile and online. And doing all of this at the start of gifting season. Smart!
There are 8 billion reasons why John Lewis' approach is right – and that's just the number of pounds spent on mobile last Christmas.
It really doesn't seem possible that it is three years since the partnership of #BearAndTheHare and Lilly Allen's Cover of Somewhere Only We Know grabbed the hearts and minds of the British public. 12 months later, John Lewis served another triumph in the form of #MontyThePenguin. That brings us to this year and #ManOnTheMoon.
Social is the most visible channel. The importance of effective social is evident for all to see. The challenge in today's landscape is reaching your audience. Dwindling organic reach – now estimated to be less than 1% of your community, places greater importance on paid activity (sponsored social). Or, as the Bear, Monty and the Man on the Moon have shown us, create a platform for people to applaud or critique on mass. Right now, John Lewis do that better than most.
Using our listening tool, we analysed the impact on 6 November (the day #ManOnTheMoon was released). A staggering 118,000 posts appeared on this single day, discussing the advert and brand – that's 118,000 posts appearing in community feeds – the 'opportunity to see' is significant to say the least. To put this into context, Debenhams received less than 7,000 posts and Marks and Spencer fewer than 1,000.
Recall the £8billion spent on mobile alone last Christmas, and it is easy to see why John Lewis have stuck with their established Christmas marketing strategy. Whether you're posting messages like this:


Critiquing, like this:

Or being influenced by media through posts like this: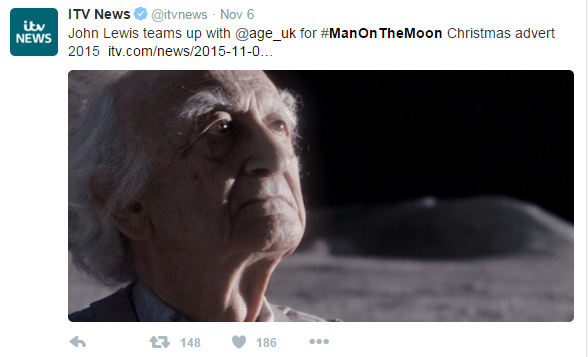 You're all contributing to another booming festive retail season for John Lewis.
Love it or hate it, applaud or condemn it, you're probably missing one key element: when you consider department store shopping this Christmas, John Lewis will be front of your mind. Their costly seasonal investment throughout the last three years is proving to be money well spent.
That just leaves one thing to say: this year, don't leave anyone stuck on the moon. If you know an elderly person who is likely to be lonely this Christmas, take a leaf out of the little girl's book and reach out to them.
Merry Christmas, people (too soon?) – and well done John Lewis!