July 12, 2021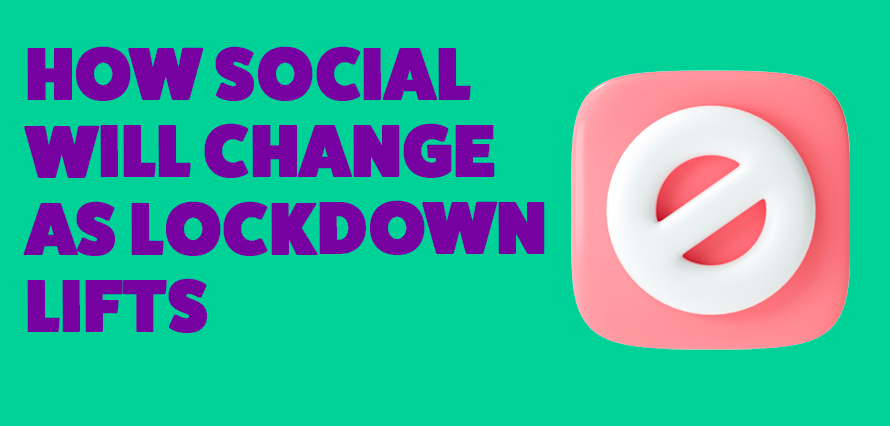 As lockdowns ends in phases around the world, the big question is, will the habits we formed over the last 18 months stay with us or will we return to the way it was before.
And on social media the changes coming in the next few months will keep brands on their toes. What will change? Will the increased attention on social media fade? What new 'moments' will happen, and what will be the impact on promotions as audiences get distracted with the real world?
The reality is, that the lifting of restrictions is both a challenge and an opportunity in social. The challenge will be to stay on top of changes, respond quickly and have a clear messaging as behaviours change. But the opportunity to increase awareness, and the adoption of new products and services is also open to us all. It's known that when life changes occur, brands have a chance to establish new habits, new behaviours and increase brand associations.
Predicting what will happen is not going to be easy. But with a bit of logic, we can put things in place that will ensure we stay ahead of emerging trends, spot what habits will stick around and jump on new interests that align with our objectives.
Keep an eye on what has changed
Some habits formed over the last 18 months are here to stay. 86% of consumers will continue to shop online and PWC says the digital shopper is here to stay. And as the broader online habits changed, we also saw the acceleration of Social Shopping. And the platforms have risen to the opportunity too. They've evolved formats and functions to embrace the social retail experience – with expected revenues of $600 bn.
Whilst social shopping is indeed expected to rise, you will want to keep a close eye on performance. Don't assume it will just increase in a straight path. Look out for changes in behaviours, new formats, and new platforms.
Test and learn the new audiences and segments
With a 66% increase in baby boomers on social, a new audience is now active and connected. Their social behaviours are likely to change as we get out and about. But now they have arrived on social, they are unlikely to leave. Running test and learn campaigns will help you establish the opportunities and widen your reach amongst newer audience segments.
Move with the movement
It is logical to assume that banana bread and sourdough are not going to keep trending now we have other interests. Listen to the conversations and be ready to shift into new interests, topics and trends as they bubble up. You may find a new way to talk about your brand or join a 'moment' that increases your reach.
Movements and causes have left us changed too. Whether it's BLM or climate change; sustainability and diversity conversations haven't ended and there is a greater expectation that brands will align with these values. Watch how they evolve and be ready to join the conversation with genuine and authentic content.
Experimentation will put you ahead of the game
A number of platforms have been ramping up their more innovative formats. Live streaming is catching on as a shopping channel with early campaigns already proving that a QVC style livestream can have a dramatic impact on sales. CoreSight research suggests that in the US alone livestream shopping will be worth $25 billion in sales by 2023.
Beyond the evolution of the livestream, AR is also coming of age. 43.7 million social media users used AR filter at least once a month in 2020 compared to 38.2 million in 2019. The idea of overlaying digital on the real world has enormous appeal to consumers and brands alike.
Now is the time to experiment with new formats and mirror adoption of new ways of being entertained in social.
The behaviour changes we'll see in the next few months present a fabulous opportunity. You'll need to be agile, you'll want to test and experiment, and you'll want to get your brand geared-up for commerce and new audiences. Have fun!