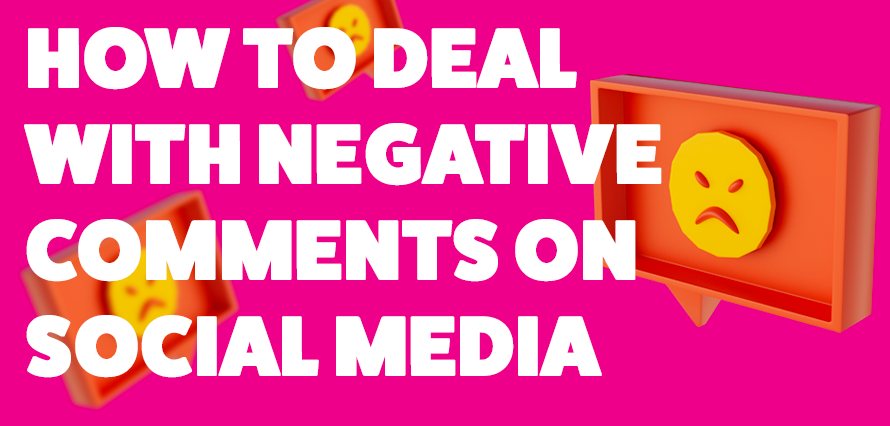 It doesn't matter how well planned your social media strategy is or how good your product or service is; it is impossible not to receive negative comments on social media.
Consumers are becoming more and more demanding, and brands are having a harder time meeting their expectations. So, dealing with negative comments on social media has become a common practice.
Social platforms are a bridge that connects brands with consumers, making them a safe space where consumers will go to ask questions or make complaints, knowing that they probably won't be ignored. How you handle bad reviews will have a direct impact on improving or damaging the brand experience.
That is why, in this blog, we will give you some tips to deal with negative comments or complaints on social media without damaging your brand reputation:
Don't delete negative comments
You may think that the easiest solution is to delete the negative comment. It minimises the damage and prevents you from having to face that situation publicly. But don't do it. This could escalate easily and very quickly, and your action may end up being offensive to the consumer. And they'll likely comment on your posts again.
Making your customers invisible will not help, nor will it improve the situation. Try to see the negative as an opportunity to correct a bad practice, strategy or habit used incorrectly. Negative comments can be helpful. You can learn the opinion of your customers and what they really want, overall helping you correct mistakes or improve your strategy.
Respond in a personal way
Regardless of the negative comment on your post, always respond by addressing the person by name. You can start your response with a 'Hello John! Thank you very much for bringing this to our attention'. Let the customer know that his comment is important for the growth of your brand and that you care about his opinion.
Think about what you want to transmit
When responding to negative comments, you first need to think about what emotions you want to transmit or express. It's normal to be bothered by negative opinions, especially if they are offensive. However, the important thing is to remain calm and be emotionally intelligent by not allowing those angry feelings to dominate you and cause you to make mistakes that you will not be able to fix later. Never offend a customer, even if they did in their comment. This will not help solve the problem and let's be honest… no one wants to buy from a company that publicly humiliates its followers or customers.
Think about giving rewards
If ultimately your company made a serious mistake and the customer expresses it on social, use it as an opportunity to apologise, and if appropriate, offer them a discount on their next purchase or reward. The customer will feel that there was a payoff after all, and their voice was heard. Also, your other followers can see those actions and recognise that you are trying to be responsible despite having made a mistake.
Meeting customer needs is constant learning. If you are looking for adequate management of your social platforms and you want to know more about community management, contact us now!