December 12, 2016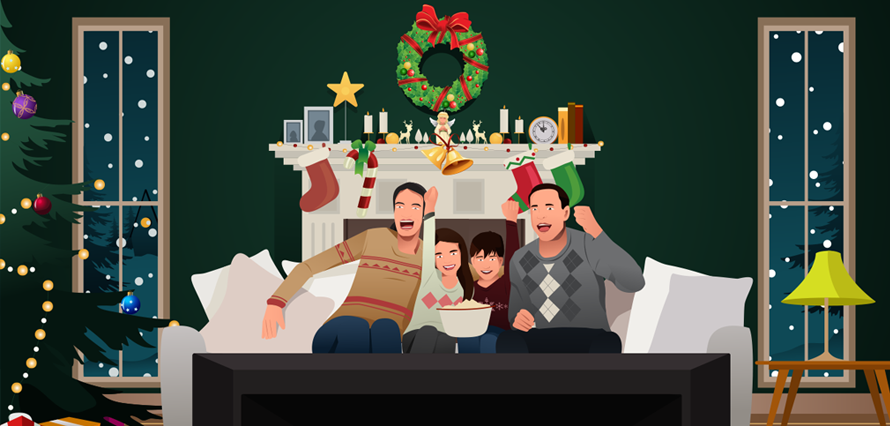 With the darker nights and Christmas programming on the horizon, TV takes a more central role in our UK media consumption. Last year, research showed that Christmas TV viewing was dominated by the TV set.
But TV isn't a channel alone anymore. Social sits hand in glove with TV shows, movies and even TV adverts. We are dual screening like never before. Global Web Index data shows that 83% of us are second screening. And it is now big business for brands. Recently EE partnered with Twitter for its UK TV service to introduce a 'Watch with Twitter' functionality. It allows viewers to see what TV programmes are trending on social media.
The superstar of Social TV is the much beleaguered Twitter. The channel maybe losing ground compared to Facebook, Snapchat and Instagram. However, when Twitter is paired with TV it comes into its own. Tweets referencing programmes and even TV ads are regularly in the millions with a reach that is powerfully tempting for brands to hijack.
There are challenges though. Twitter is a very noisy space. Standing out and getting attention is hard. It can be risky too. If you are not relevant or too salesy, you can expect a backlash. Not good when you might reach 2-3million people during a show.
It takes careful planning weeks ahead to ensure your content is just right. Here are some core elements to consider:
It's not all about the hashtag
Tempting though it is to consider using the programme's hashtag or Twitter handle you need to think bigger if you are to maximise your investment. A Nielsen study shows only 47% of Tweets sent about primetime series programming during the 2015-2016 mentioned an official program hashtag.
© Based on Best hashtags for xfactor calculated by
Start by reviewing previous programmes if possible to uncover key words and phrases. If not previously aired, then plan for flexibility that will allow you to follow new threads and topics as they arise. Look for other trends and a wider range of hashtags too. Think about the actors, locations, period (if period dramas). Ensure your real-time monitoring can be adapted and changed on the fly. Above all think around the programme and learn from each episode.
The programme might be scheduled, but Twitter is real-time
Don't schedule without watching in real-time too. You will need to switch posts off and on whilst watching the programme.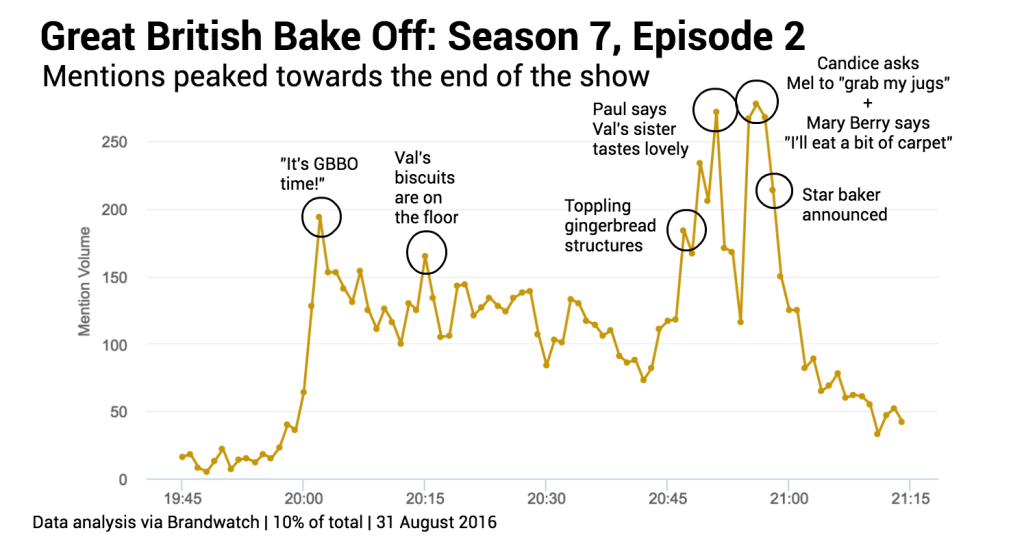 It's the UGC that will take the Twitter chat in a different direction. You need to pay attention to the viewer tone of voice, the memes being shared or the topics / segments that raise the Twitter noise.
The same goes for paid. You can set in advance, but you should be monitoring live. The last thing you need is for your cheerful paid post to go out when a disaster hits the screen.
Participate, direct, but don't sell
It obvious I know, but social TV is not the place to sell. It is the place to participate. The opportunity is to associate a brand with the TV content. At GBBO, ASOS could have pushed product. Instead they took part in the chatter and it served them well as they gained engagements and follows.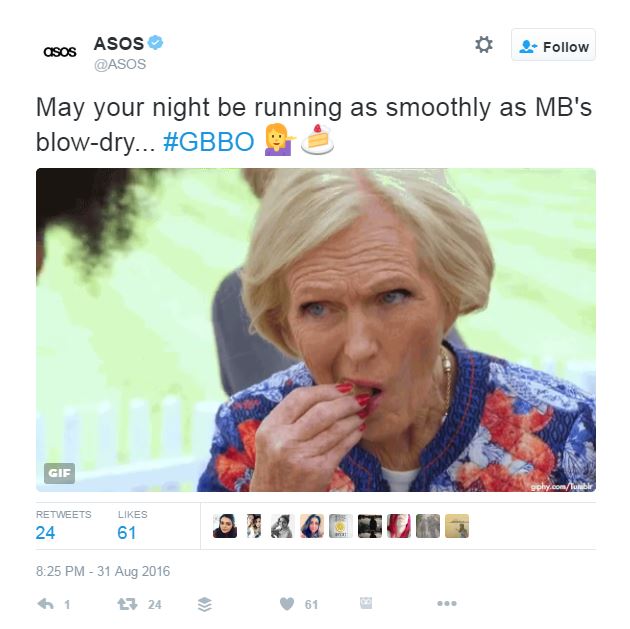 It does mean that the brand must be a fit for the TV show though. the brand and programme needs to be aligned.  If you are not, you will look out of place. When planning don't think popular shows first. Consider those programmes that are a good fit for the brand instead.
Whilst being part of the conversation is paramount, you can gently direct viewers to your website. Create landing pages that are relevant. Include deals that fit the show format and find ways to acquire customers that are in keeping with the tone of the programme. Don't just make it about engagement, but do be clever about the steps to sales. For one of Ebay's merchants, the result has seen a 45% increase in sales with each Great British Bake Off programme.
There is a huge opportunity in social TV over Christmas. But it needs careful thought, alignment planning and real-time execution.