By if-admin | May 27, 2015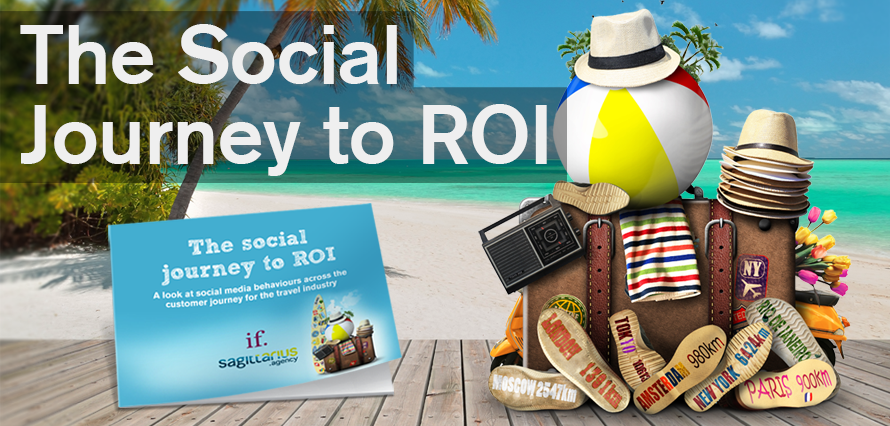 Holidays: the Holy Grail of the working world. The one time each year where you can kick back in an exotic locale and collect a paycheque for lying in a hammock and reading a dog-eared copy of "Zen and the art of Motorcycle Maintenance".
The importance we place on holidays has led to an abundance of emotion being communicated by consumers through each part of the social purchase journey from the initial "I need a holiday. Someone please buy me a holiday. K thx bai." tweet to the inevitable "Summer lovin': Haiti 2015 :D" photo gallery on Facebook.
Understanding and tapping into the emotions being expressed at each stage of the customer purchase journey can deliver more efficient and relevant content that positively impacts ROI for travel brands.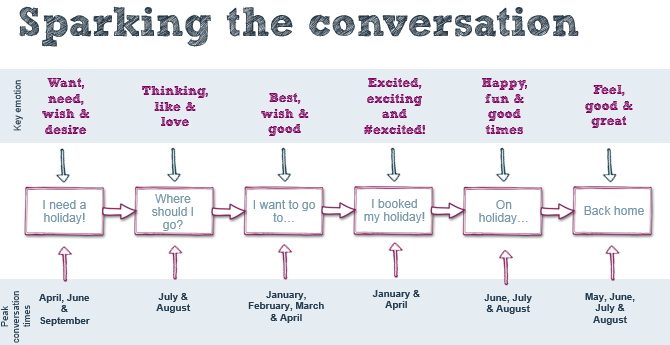 Social triggers in the purchase journey
We analysed over 1 million conversations from March 2014 to March 2015 that mentioned travel, flights, hotels, holidays and other associated keywords and mapped them against six distinct phases of the purchase journey.
We then drilled further into that data to identify both the key emotions that were being expressed and during which months the travel chatter spiked at each stage of the journey, from which we compiled the following visual:
Two things become immediately apparent when looking at the information displayed above – firstly, the emotions and keywords that are used throughout the purchase journey are largely positive and secondly, behavioural triggers in travel are (unsurprisingly) seasonal.
In practical terms, this means that travel brands that hook into the emotional triggers at specific times of the year are more likely to deliver efficient and relevant content, content that is more likely to spur action.
Travel brands need to pay special attention to when customers are on holiday as this is when there is the biggest opportunity to tap into the buzz. Not only are consumers more prolific on social during this stage of the customer journey (23% are posting content on holiday), but the general emotion and sentiment is positive.
A massive opportunity lies in real-life and real-time social to make the most of sharing positive impressions of holidays and travelling online. Keep an eye on hashtags in real-time and look to promote the content holidaymakers are posting to consumers in the first two phases of the journey (ie. Awareness and Consideration) and your content will resonate meaningfully with your audience and influence and inspire their purchasing decisions.
For more insights into how travel brands can use social to deliver a return on investment, download our free Social Travel report here and tweet us your thoughts (@iftweeter): https://po.st/TRBlog3