December 7, 2017
Christmas has come early in the world of Instagram with two new features which will change the face of Instagram as we know it! Pretty huge, right? So, what are the new features?
The first of the two features is Highlights. This new feature will appear directly underneath your bio and here you can share the Stories you've already taken and then group them into a featured post. So, if you've just bought a cuddly new puppy or you've just been on a weekend city break somewhere, you can now group all your relevant Stories into a featured post for that specific event… or animal.
This new feature is just another way that Instagram is allowing its users to customise the platform in their own unique way and develop their personal brands. It's an opportunity for users to really get creative and could have people spending many more hours curating content for their channel. Your Highlights can stay on your profile for as long as you like and there is no limit to the amount that you have, so go crazy!

"Stories Highlights will enable more customization and self-expression on profiles than ever before!" – Instagram.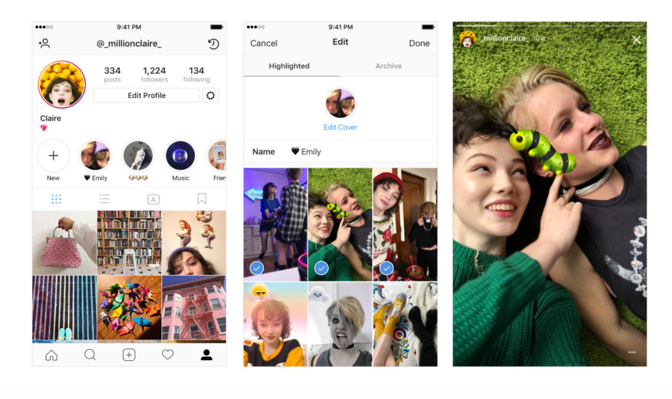 For brands this new update is just as exciting. The fact that Stories only hung around for a mere 24 hours meant that the time and effort put into curating a Story was minimal, but now that brands can bring their Stories back to life with Highlights, they may be tempted to spend more time curating amazing content. It's also a really great way to showcase what your brand is all about, and to provide teasers as to what type of Stories they can expect.
On top of the Highlights update, Instagram has also introduced the Stories Archives. So before when your Story finished, it would disappear into the ether, now it will be automatically archived. Don't worry though, if you like the old school way of doing things, you can easily turn this feature off.
This new update from Instagram comes days after Snapchat's redesign, and with rumours that Instagram are going to introduce a regram button (we're keeping our fingers and toes crossed for this one) these appear to be exciting times for Instagram!