October 26, 2018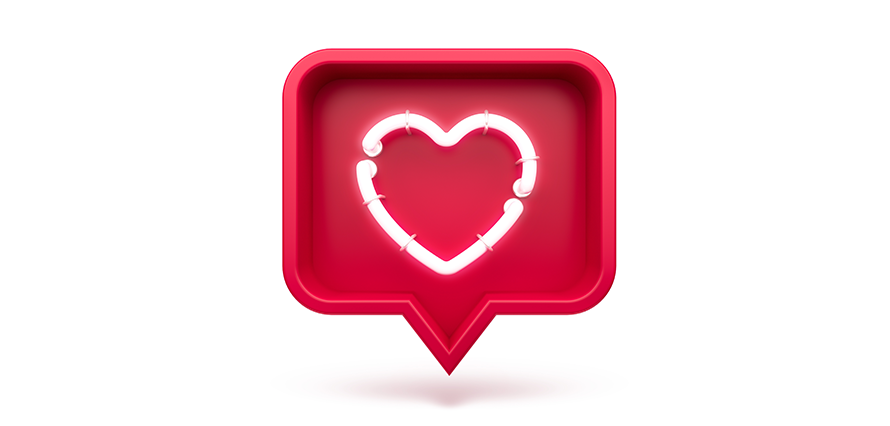 Facebook, Snapchat, Instagram, Pinterest…we could even push it as far as Mumsnet. Your brand could sit on all of those platforms if you truly wanted to connect to ALL demographics. But, which one is right for you?
If you want to hear it from a 23-year-old avid social media user whose interests fit stereotypically in the category of socialising, fashion, beauty, food…then prepare yourself.
A new report by Piper Jeffray*, details that Instagram has accelerated pass Snapchat amongst teen users, whilst Facebook has declined.
I remember when Snapchat first emerged, I found it was Generation Z who took in all this app had to offer before I even blinked an eye. Other than Twitter, which many of my non-professional age mates did not bother with, there was no app allowing users to interact so freely and share their world with. The idea that a story only remained there for 24-hours and then disappeared, allowed me to upload images and videos without feeling guilty and not worrying about the feed placement. Around the time I became a Snapchat expert, brands were not using this app how it should be used. Think about it, the phenomenon that is now Instagram stories, the idea was already thought of by Snapchat before.
Throughout the next couple of years, I saw that news/celebrity biz had an audience on Snapchat, particularly the Daily Mail and their Kardashian obsession. From a consumer viewpoint, I saw Snapchat go through something I would identify as an identity crisis. It was becoming a platform less personal between teen users and more ad-focused. Celebrities took over and the Discover page is Kardashian focused. This is not necessarily a bad thing if your brand targets females between 13-25, whose interests are fashion, beauty and pop culture. In fact, if you're a company that wants to branch into influencer marketing, this still is a platform I would suggest utilising. Plus, here's a tip! Snapchat's 1930 x 1080 video ratio makes images/videos instantly transferrable to Instagram.
It's also a platform that works incredibly well for keeping up with social trends amongst teens, something that platforms like Facebook have struggled with. Furthermore, it remains teens favourite platform to use.

The marvellous advantage you have if you wish to make content for a Snapchat, is that it is completely transferrable to IG stories, which is now currently my favourite platform.
I personally believe that Stories across Instagram have remained one of the best moves for the social platform in terms of personalising brands and allowing users to feel connected. It's also smart at targeting content to elder teens or the generation I comfortably sit in, "millennials". Let's not forget about IGTV, video chat options between users, GIFs, the ability to swipe up to links and the recent new shopping features. It's an exhaustive features list which might explain why the platform is not only the most used by teens, but still remains the most used across people in their early 20s.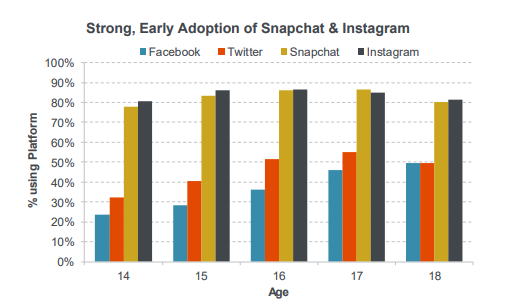 The Piper Jaffray report is definitely one to note, especially if you're working out how to engage with teens. Over 60% believe it's the best way for retailer brands to communicate about new products.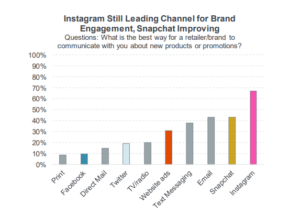 Of course, there is a question as to how much spending power teens really have, but if you're looking to build brand awareness, and reach younger audiences, Instagram is, seemingly, where it's at.
Piper Jeffary Report.