July 19, 2022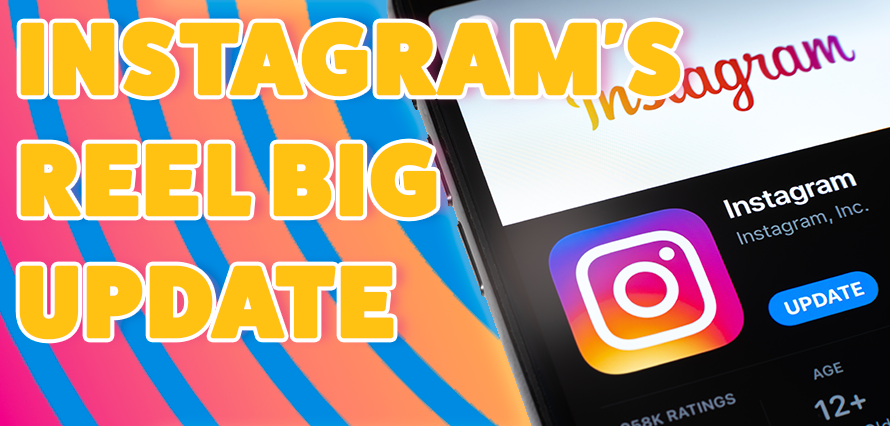 For today's blog I thought I'd talk about some updates that Meta has recently introduced to Instagram Reels, including a new 90 second length.
Up until now, Reels have been confined to a maximum limit of 60 seconds.
According to parent-company Meta, these updates "will not only make it easier to make and edit Reels, but to also get discovered by new audiences."
The three updates are as follows:
New 90 Second Instagram Reels Length
Instagram Stories Stickers Coming to Reels
Ability to Import Your Own Audio
I'll unpack each of these in more detail below, but you can head over to our friends at Later Blog for even more insight and context.
New 90 Second Instagram Reels Length
Meta, Instagram's parent company, has been in a bit of an arms race with its main competitor, TikTok for a while now. So, it came as no surprise that they'd extended the maximum allowed runtime of users' vids after TikTok extended its max runtime to 10 mins.
That's all very well and good, but what does this mean for me?
Well, I'm glad you asked. Now, you have an opportunity to play around with longer reels.
With 90 seconds, you can create longer tutorials, demos, behind-the-scenes, or set off dance crazes.
2: Instagram Stories Stickers Coming to Reels
This is a great one for fans of brand consistency; Instagram Stories stickers — the poll, quiz, and emoji slider — will now be featured in Reels.
This will allow you to further boost engagement, by importing the same interactivity from stories. This will also lead to more avenues for storytelling – something we're very keen on over here at IF.
There are still lingering questions on how it will work, and the good people over at the Later Blog have suggested that this might all be a part of their move to a video content focused platform. You can read more about that here
3: Ability to Import Your Own Audio
According to Meta, with this update you can "import your own audio directly within Instagram Reels — a game-changer for creating one-of-a-kind Reels on the go."
With the Import Audio option, you can use sounds from a video in your camera's library that's at least five seconds long.
Instagram is most likely doing this to become more like its main competitor, TikTok and is hoping for that viral stickiness of an earworm that everyone wants to slap on their vids.
Call me old fashioned, but I think that Instagram should focus on what it does best; letting us display and comment on images. I feel like the approach of emulating TikTok will only lead to its uniqueness being worn away. However, they might innovate in the space and truly usurp everyone's favourite dancing app. Only time will tell.
What do you think? Sound off in the comments and let us know.
Also, stay hydrated out there folks!