August 2, 2017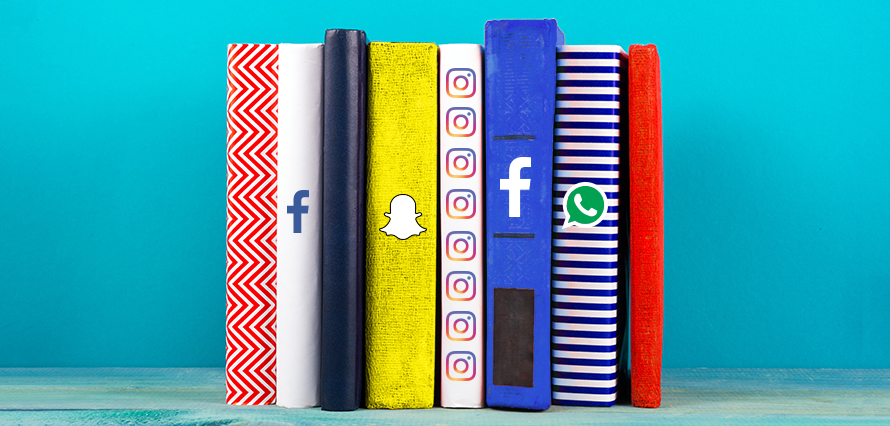 With news that WhatsApp Status has 250M daily users, and that Facebook is allowing users to share their Stories publicly, I'm beginning to wonder if there's enough room in our busy lives for all of these Stories apps? And precisely which platform should I pick to share the intricacies of my daily life? If you're as confused as me, I've put together a very unscientific breakdown of the platforms to help you solve one of life's biggest quandaries:
Snapchat
How to use it: Ah, the original! Take a photo (or a video), use some cool lenses to make yourself look like a fairy princess or a puppy, or a filter to let everyone know you're in Piccadilly Circus or walking at 0.02mph (don't snap and drive!). Upload the snap to all of your followers or choose to send it to individual people.
Who's going to see it: This is exclusively for your friends. Unless you're weird and have your mum on your Snapchat. There must be someone out there who does?
USP: Well, your snaps only last for 24 hours (but that's hardly unique any more) and they used to only be 10 seconds long or less, but now you can make them limitless if you want to). So what's the USP? You're in control of who sees a snap – if something's for your best friend's eyes only then you can make that happen. Added to that, your friends can only see your snaps once – the moment they go over the time limit (or click away from a limitless snap) it's gone and lost forever.
Why choose it: Your snaps can only be seen once and it's still pretty difficult to find people you don't know on the platform, so if you're spontaneous and only like to live in the moment then maybe it's the platform for you!
Instagram
How to use it: See above.. Take a photo (or a video), use some cool lenses to make yourself look like a fairy princess or a puppy. Tag your friends in your stories using their usernames, do your best finger writing, plonk some emojis over your face…
Who's going to see it: Anyone who follows you or clicks on your profile! Chances are they're mostly your friends, but it's a lot easier to discover and follow people you don't know using hashtags and Instagram's discover feature. Also, potentially your mum – my 70-year-old mum sees mine (when she can be bothered to log on), so there's nothing controversial on there! People can watch your snaps as many times as they want to, but like Snapchat, your stories last for 24 hours only and then they're gone.
USP: It's no secret that most of Instagram's stories features are very obviously meant to ape Snapchat (in order to lure users away from the platform). But. Live! You can broadcast live! That's right – go unscripted and let your friends follow you while you make that amazing chilli con carne like you're Nigella. Who doesn't want to see that?!
If you're a verified account (you should be so lucky) you can also add a link to a website into your story – pretty powerful stuff if you're lucky enough to have an engaged following.
Why choose it: If you're a big instagrammer then it makes sense to keep your life on one platform. Your friends and followers are used to seeing your stuff there so will be more than willing to watch your stories. Your snaps only last for 24 hours so if it's a photo you're not sure you want to be on your Instagram profile forever, then you can post it on Stories instead.
Facebook
How to use it: This is going to get repetitive. It's not rocket science.
Who's going to see it: All of your Facebook friends. Every single one, including your aunt and that person you worked with once 7 years ago and haven't spoken to since. If you're feeling extra brave you can make your story public – anyone who clicks on your profile can see it (that means your ex-boyfriend and your boss). Your stories only last 24 hours as with every other platform (I feel like a bit of a stuck record now).
USP: Okay, we lied. Live Stories aren't only available on Instagram, but as Facebook and Instagram become more and more entwined we're starting to see them as one homogenous platform. So, live! You can go live on Facebook too.
Why choose it: Chances are you're logging onto Facebook multiple times a day. It's probably the first thing you open on your phone in the morning, and it's the place where you're probably the most open on social, so maybe it makes sense to add your stories to your profile. Just remember the aunt and ex-colleague rule…
WhatsApp
How to use it: WhatsApp's version is called Status not Stories, but it still works exactly the same as all the other platforms. I'm not going to waste your time.
Who's going to see it: Your status (guess what? It only lasts for 24 hours) can only be seen by your contacts if their phone number is saved in your phone (and vice versa) so it's pretty safe – you normally only have numbers of people you trust saved in your phone. You can choose to send your status to all your contacts or a select few.
USP: You can really vet who sees your status – you're in complete control. You can choose who to show your status to or who to block from viewing it. Are your eyes glazing over yet?
Why choose it: WhatsApp's your main messaging app and you have your best friends on there.  You can send your status to those you really trust without worrying whether someone else can see it.
So tell us, are you a multi Story user or are you loyal to one platform?