By Katy Howell | June 8, 2021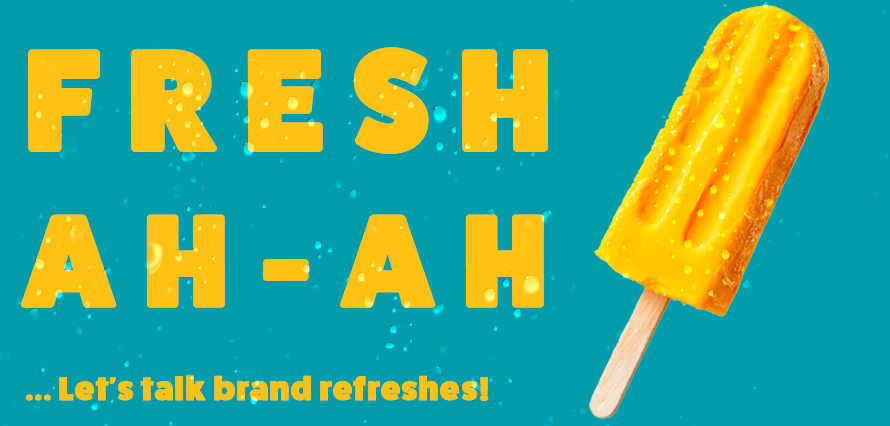 Who doesn't love a refresh? Be it a new hairdo or a colourful wardrobe? In this case, I'll be talking about our brand refresh – a labour of love for almost 8 (yes, e i g h t) months. Taking what we already had, simplifying it, and bringing out the BOLD. Throwing our personalities into the mix and truly highlighting who immediate future is through our creatives.
Let's talk a little about the *process*
Although a refresh isn't a rebrand, a refresh itself is no small feat. There's A LOT of stuff to consider beforehand – small tweaks, consistency, the skill to make things eye-catching but not being obnoxious about it, and most importantly, sticking to brand guidelines (which yes… I may have bent a little, shhh ).
There's a lot of back and forth, making sure everything fits well with what's already established. But when that's all said and done, the end result is satisfying.
We started with something simple, taking the promo stills we create for Serious Social Live and updating them to look a bit more like *us*, making sure to create visual breaks in our feed so our messages don't get lost. And let's face it, we ALL love a colourful and bold feed to scroll through. (Just me? Surely not!)
From there it was all about bringing out the IF personality, having fun with it (also reigning it in a little, I do get carried away where bright colours are involved ).
We know our stuff, we're good at what we do, so let's show it in the creative and be thumb-stopping. After all, we do love to Break the Social Boring, and what better way than to make you stop and go "oooh".
Did somebody ask for tips?
No, you didn't, but I'm in a generous mood so I'll give you a few tips and best practices for creating assets for social media (and in general).
Make it LEGIBLE – Most of what we produce is seen on mobile devices, so we have to keep small screens in mind, making sure the font is easy to read and that the colours don't clash. No one wants to strain their eyes whilst trying to read your message! Space and placements *are* important.
Make it STAND OUT – I know I've been banging on about bold and fresh throughout this blog, but it really is something we need to keep in mind. Attention-grabbing creative is important. Ask yourselves, "how can we stand out in a sea of images all trying to grab us?"
Be INSPIRED – Taking inspiration is nothing to be frowned upon. If you've seen a bit of creative that has made you stop and go WOW, work with that. What about this piece of visual made you stop and have that reaction, and how can you take inspiration and make it something unique to you?
Have FUN – I think this is probably the most important tip for me, if I'm not having fun with what I'm working on, the audience will be able to tell. Enjoy your process and if you're finding it a slog to get through, take a step back, ask for some new eyes to look at it and go back to the drawing-room.
The IF studio team were having a good ol' chat recently about creativity and how much we really enjoy solving a creative puzzle. This ties in pretty well with a refresh and why it was a total joy to work on. Figuring out how best we could demonstrate who we are visually, hearing feedback from colleagues and taking on board the things they noted. And then seeing smiles appear with the final outputs, truly chefs kiss moments. And what most creatives love, seeing things coming together and trusting the process.
'Where are these visuals you speak of?" I hear you say. WELL, I can't just show you everything right away, can I now? That'd be no fun at all. Instead, we leave you with a sneak peek as to what to expect via our blog images.
Keep those peepers peeled for some more brand spanking new visuals that'll be making their way onto a feed near you, very soon.