By if-admin | April 9, 2015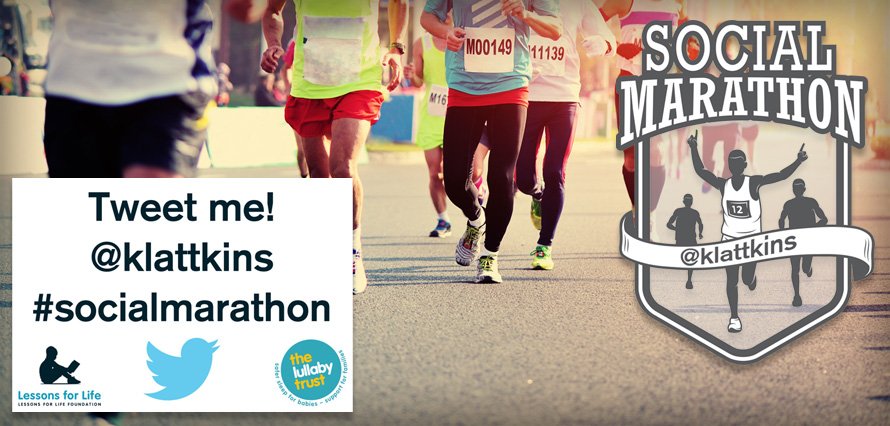 On 26 April, I'll be running the Virgin Money London Marathon for the very first time. My IF colleagues all think I'm completely bonkers, and after 5 months of (barely) training, I'm starting to agree with them.
Why is this blogworthy, you may ask. Well, despite it being my first marathon, and despite not really knowing what I've let myself in for, I've decided to do something a little bit different  – I'm going to make it a social marathon.
What does this entail? Well, apart from the fact I'm making it a lot harder than it already is, my colleagues and I will be teaming up on the day to essentially live tweet my marathon experience. Using photos, videos and (thankfully) a community manager, I will try and give Twitter a first-hand view of the marathon that I, at least, have never seen being done before.
Not satisfied with running a marathon, carrying the sign in the image above, and posting photos and videos on the Internet all at once, I'm also trying to make the experience a bit more fun for myself (ha!). Remember those old I-Spy books that your parents gave you to keep you quiet on long car journeys? Well, I'm looking for help in creating something similar to distract me from the pain of 26.2 miles of continuous running. And this is where I hope you lot will come in.
To make my #socialmarathon (note the hashtag) a truly collaborative experience, I'm looking for suggestions of things to take photos of. Some ideas already mooted include a selfie across the finish line, a man in a yellow hat, and a hippo carrying a fridge. I'm hoping I won't have a chance of photographing the latter, as he's always somewhere near the back!
In return, should I take a photo of your suggestion, I'm hoping you will make a small donation to the charities for whom I am running – Lessons for Life Foundation and The Lullaby Trust. Not too much to ask in return for seeing me suffer, I'm sure you'll agree.
It's a very simple concept, but one that I, and the whole team here at immediate future, think is genuinely exciting.
To nominate a subject, tweet me @klattkins with your suggestions. Alternatively, you could just show some support to the amazing causes, or tell me just how mad you think I am. As not everyone is on Twitter (I know, right?), feel free to email your suggestions to socialmarathon@immediatefuture.co.uk.
If you're just a lovely person (which I know you are) and would like to donate without getting involved in the social aspect, head over to the links below.
uk.virginmoneygiving.com/Klattkins
www.lessonsforlifefoundation.org/