July 23, 2015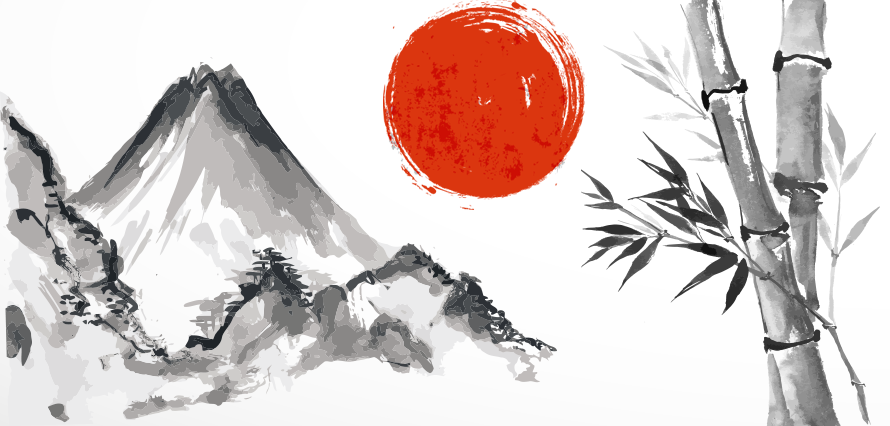 On the 14th September 1987, the first email was sent from China to an international academic network.
"Across the Great Wall," the email proudly proclaimed, "we can reach every corner in the world."
Ironic, considering that the Chinese government has since blocked over 2,700 websites including Google, Facebook, Instagram, Twitter, Soundcloud, Vimeo, BBC and The New York Times.
Despite these restrictions, China currently has twice the number of online users than there are people in the United States – 649 million to be exact, no less than 19% of the entire world's internet population.
America comes in second place with 280m users followed by India's 243m. In comparison, the UK has 57 million, a paltry 0.9% of the total figure.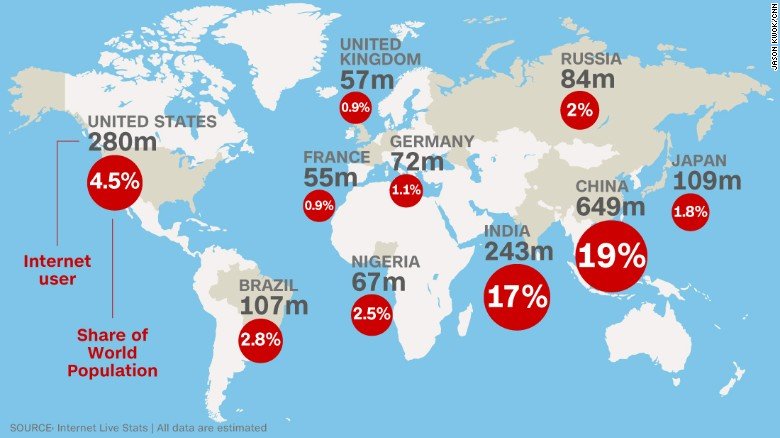 Though there is a high number of online users in China, with 51% of the country not yet connected to the internet, the growth potential is still vast.
It is estimated that China is 10 years ahead of the West when it comes to social commerce. Given this information, it's no wonder that Western brands and companies are showing an increased interest in establishing a presence on Chinese social media platforms.
However, navigating those platforms and securing the right representation for your brand is no easy feat. Here are some key points to keep in mind should you want to build a social profile on Chinese platforms.
Brand Protection is Everything
The Chinese legal system is such that the first person to file owns the Trademark, whether they are the genuine company or not. In a practical sense this means that if you as a brand aren't doing something in China, chances are someone else is, pretending to be you.
Cyber-squatting is a big issue in China and has led to a number of brands having to add suffixes such as "of London" or "of Paris" to their names because the original brand names have already been trademarked.
Paying to get a Chinese trademark back can be very expensive. It's worth using the services of an expert to create a Chinese name that works in all dialects and uses suitable characters. KFC made the mistake of not checking this and ended up inadvertently promoting auto-cannibalism when their famous tagline "Finger Lickin' Good " was translated as "Eat Your Fingers Off".
The heavy hitters in Chinese social
The two biggest social media platforms in China are Weibo and WeChat.
Weibo is basically a Chinese hybrid of Twitter and Facebook. It currently has 198m active users and is part owned by Alibaba, the largest eCommerce company in the world. Like Twitter, it has a 140-character limit and uses hashtags, but like Facebook, users can insert emoticons, music, images and videos into posts for people to comment on.
Weibo is not able to accept duplication of account name, hence, securing your brand first is essential. Weibo's primary user demographic is young and highly educated. It attracts the largest number of companies, public figures, celebrities and government organizations who want to have a voice directly with the public.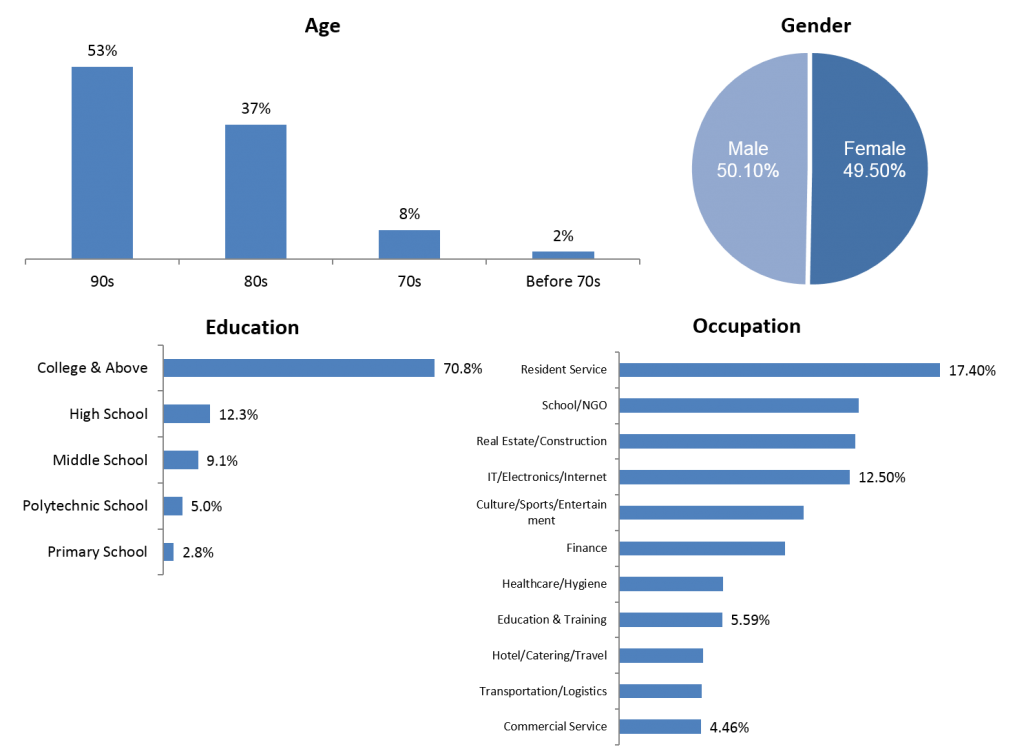 A number of social-savvy Western celebs including Tim Cook, Taylor Swift and Emma Watson currently have profiles on Weibo.
From a B2B perspective, Weibo offers the following commercial opportunities:
On-trend/Newsy topics (frequent but short)
Key opinion leader engagement
Targeted Weibo feed ads
Links to your Chinese website/ landing page
Featured videos and useful content (infographics) for the ease of content distribution
In the land of the Great Firewall…
WeChat is the undisputed King.
Having been first released in 2011, by June 2014 WeChat had already amassed 468 million monthly active users (see infographic below). It currently boasts 549m active users with 180m of them living overseas. It's owned by Tencent, the largest Technology company in China and, with 90% of Chinese consumers using WeChat at least twice per week, it is China's most commonly used social platform.
However, calling WeChat a "social media platform" would be like calling a tablet a typewriter. WeChat is a microsite on your mobile that allows mobile payment, has Facebook functionality, provides text messaging, hold-to-talk voice messaging, broadcast (one-to-many) messaging, video calls, sharing of photographs and videos, location sharing, QR code scanning, (this is especially popular with over 113 million QR codes being scanned every month!), shopping and games.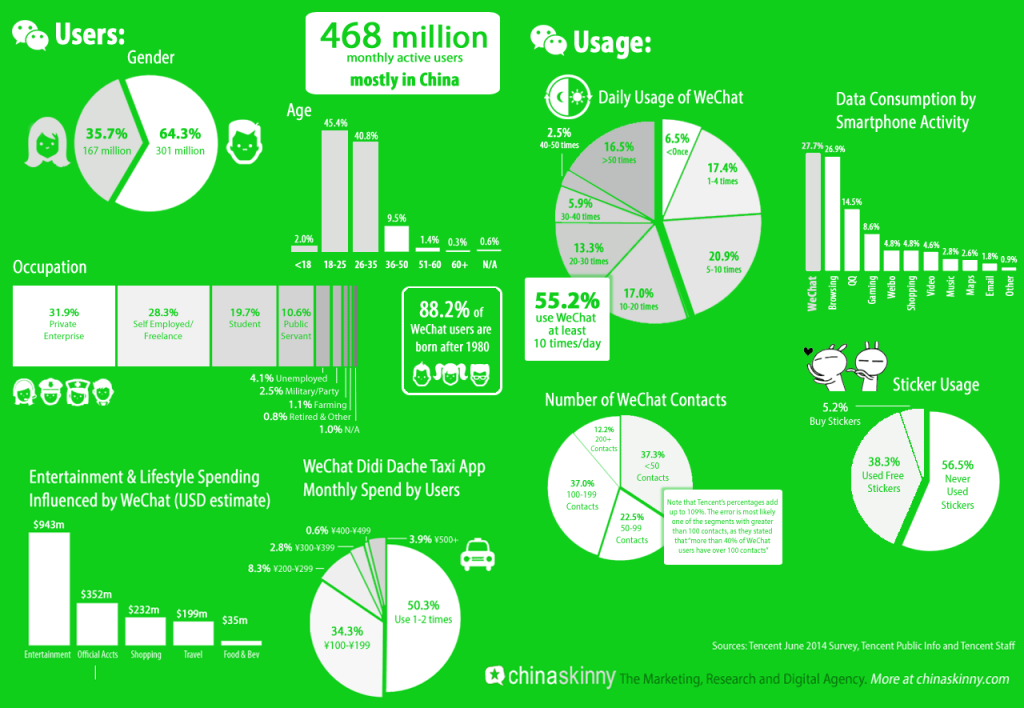 Interestingly, WeChat limits brands to one brand post per week or one brand post per day if brands pay for a subscription. This limits brands spamming followers with content and ensures a quality over quantity approach to branded content.
Due to its vast functionality, WeChat presents a host of B2B opportunities, which include:
Email marketing
Key opinion leader engagement
Leverage QR codes to bring offline experiences online Targeted display advertising
Build WeChat microsites (custom menu) with useful functions
iBeacon technology to push info to users Wechat accounts
Mobile payments
WeChat stores
Real-time Customer services
Once you've mastered the nuances and idiosyncrasies of China's social platforms, the rest should be familiar to anyone working in social. Gather insights to find what topics resonate with your target audience, develop a content strategy based in insights, optimise frequency and content, promote your social platforms through key opinion leaders and targeted adverts, track, measure, test and track again and be sure you have a social crisis plan in place.
China might be able to reach every corner of the world across the Great Wall, but if Western brands and companies want to remain competitive, it's up to them to reach back across the Great Wall, breach the digital divide between East and West and open themselves up to the vast potential that China has to offer.