March 21, 2023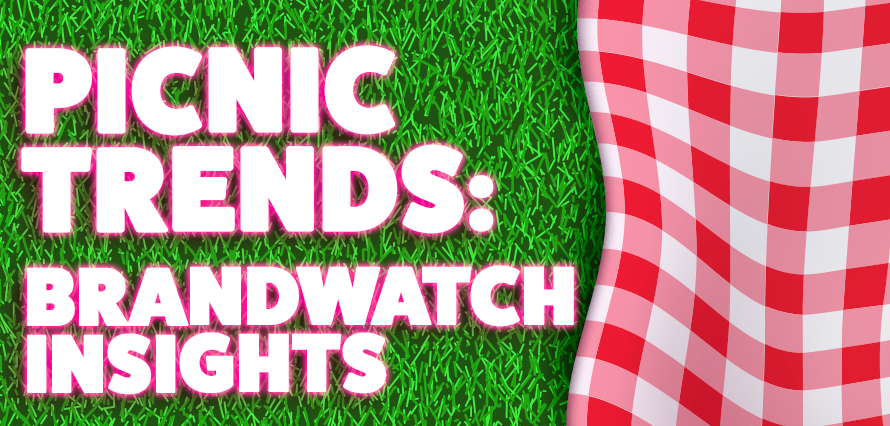 As the temperatures slowly increase and the picnic season approaches, now is the time to start paying attention to the essential picnic trends and plan ahead for National Picnic Week. According to gov.uk nearly half of adults in England report spending more time outdoors than before the pandemic, which can be a big opportunity for retailers this year. In today's blog we are looking into the Brandwatch social listening data to uncover what the customers are discussing about picnics online and what this means for brands.
Premiumisation trend: Experience the Luxury Al Fresco Dining
Picnics are no longer limited to just a sandwich and a blanket. Many people are now opting for more elevated picnic experiences with a focus on high-quality and locally sourced ingredients, as well as personalised and customised picnic baskets and equipment. Some people are even taking the luxury picnic experience to the next level by hiring private chefs to prepare bespoke meals and arranging upscale decor and seating arrangements. This trend is not limited to just special occasions or events but is becoming a popular way for people to enjoy outdoor dining with friends and family.
Twitter frequently talks about gourmet picnic experiences: mentions of gourmet picnics +7%, gourmet meals (+6%) and platters (+3%) up YoY
Homemade or high-quality picnic equipment at the centre of conversation. People are discussing premium baskets (+8%), backpacks (+2%), mats (+70%), and steel and timber picnic units. Premium wooden cutlery mentions +15% up YoY
Some tweets mention picnics with luxury seating and decor (+18%), such as comfortable cushions, rugs, and even chandeliers
 Certain tweets refer to exclusive international picnic spots, like Kirstenbosch and far-off glaciers in New Zealand, as premium locations for indulgent outdoor dining experiences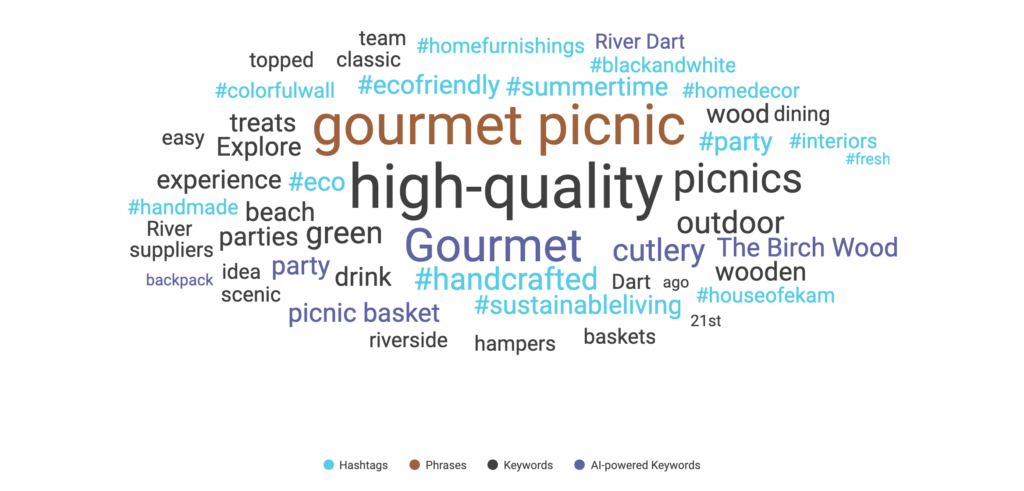 (Gourmet Picnics Conversation, Brandwatch data, Feb 22-Mar 23, UK only)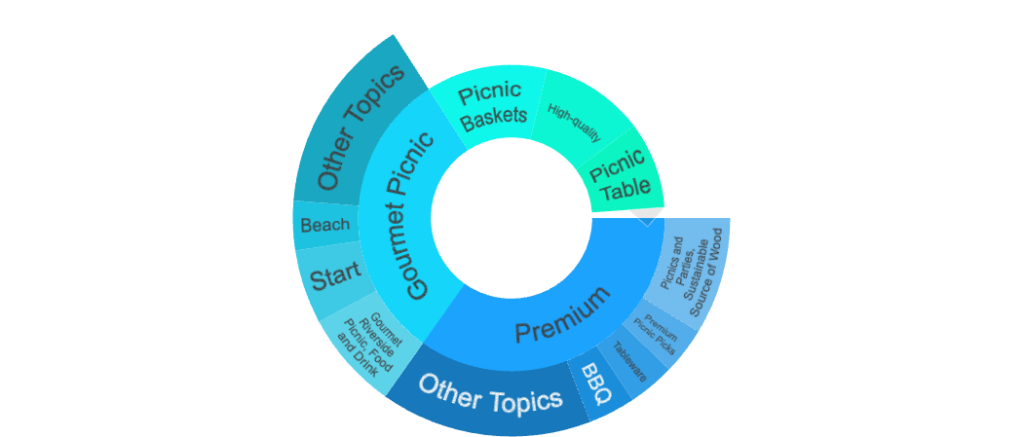 (Gourmet Picnics Conversation, Brandwatch data, Feb 22-Mar 23, UK only)
Green Picnics: Sustainable and Healthy Outdoor Dining Trend
As more people are becoming more health and environmentally conscious, there has been a shift towards healthier and more sustainable picnic options. This has led to more diverse and creative plant-based picnic recipes, including vegan burgers, plant-based charcuterie boards, and other meat-free options. In addition to healthier food options, there has also been a shift towards eco-friendly picnicware and packaging. More people are opting for reusable containers, bamboo utensils, and compostable plates and cups, as they strive to reduce their environmental footprint.
The trend of plastic-free and eco-friendly picnics is growing, with evidence shown by a YoY increase of 13% in plastic-free picnic mentions and a 10% YoY rise in eco-friendly picnic discussions. Additionally, there has been a 15% YoY increase in online mentions of wooden cutlery, further indicating a trend towards plastic-free and sustainable options
The high risk of fires led to discussions on social media about packing a picnic instead of a BBQ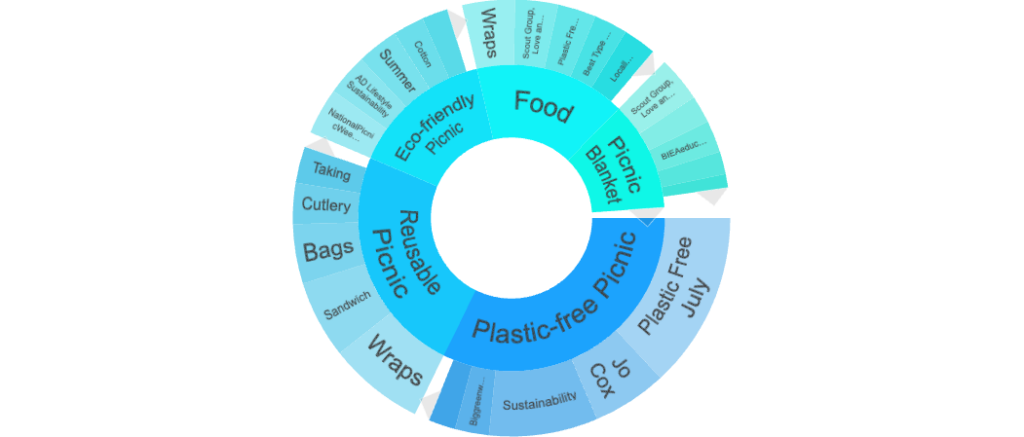 (Sustainable Picnics Conversation, Brandwatch data, Feb 22-Mar 23, UK only)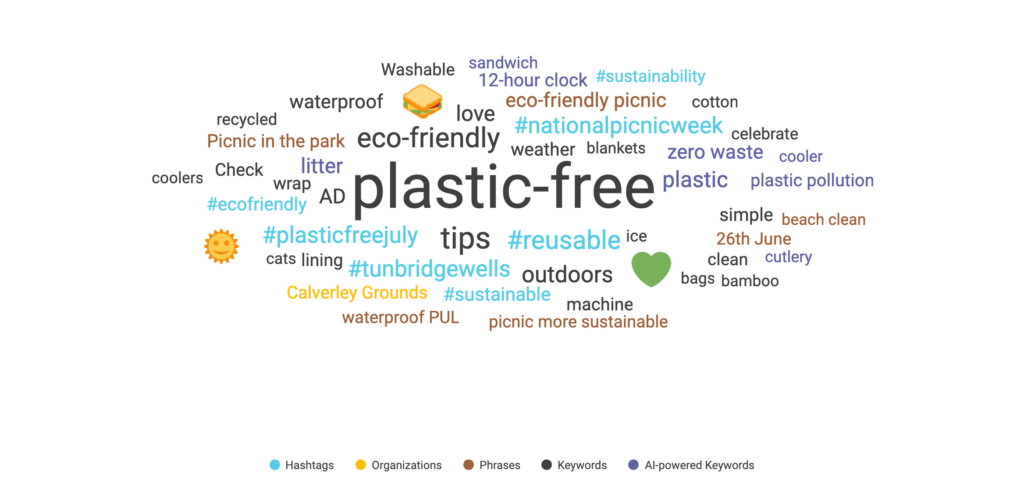 (Sustainable Picnics Conversation, Brandwatch data, Feb 22-Mar 23, UK only)
From Food to Fun: Outdoor activities/events trend
In addition to enjoying delicious food, many people are now looking to add outdoor activities and events to their picnic experience. Social media conversations reveal a growing interest in picnics that include outdoor games, such as frisbee or badminton, as well as group activities like hiking or cycling. Additionally, there has been an increase in the number of outdoor events and festivals that encourage picnicking, such as concerts or movie screenings. As people look for more ways to enjoy the summer sun, picnics with added outdoor activities and events are becoming a popular option.
Online chatter reflects the growing interest in picnics together with outdoor activities: with mentions of concerts increasing by 125%, festivals by 21%, and outdoor activities by 3% year on year.
Online mentions of free events increase by 11% YoY, suggesting growing demand for accessible and affordable entertainment
Interest in dressing up grows as mentions of dress-up in picnic conversation rise by 3% YoY
Themed Picnics Gain Popularity: 4% Increase Year on Year
Picnic-goers increasingly incorporating games into social gatherings as mentions of games in picnic conversation rise by 19% YoY
Photo booths gain popularity as mentions in conversation soar by 120% YoY, indicating the growing importance of capturing memories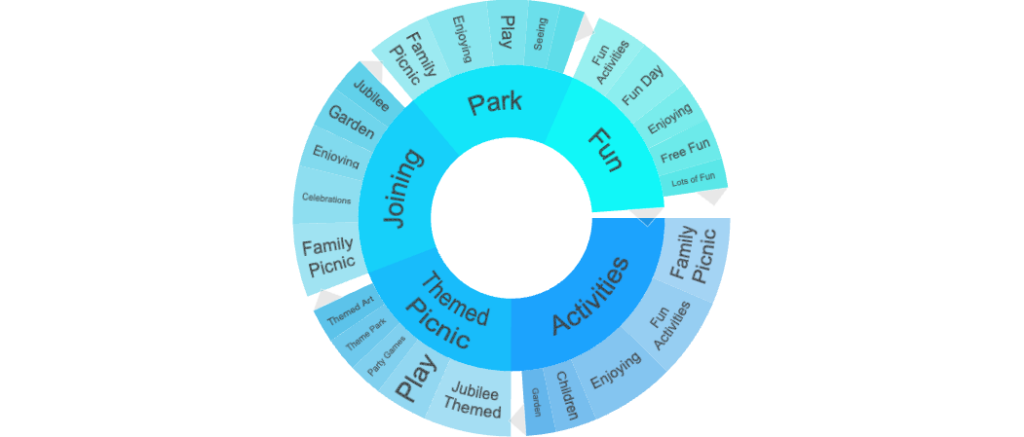 (Outdoor Activities & Picnics Conversation, Brandwatch data, Feb 22-Mar 23, UK only)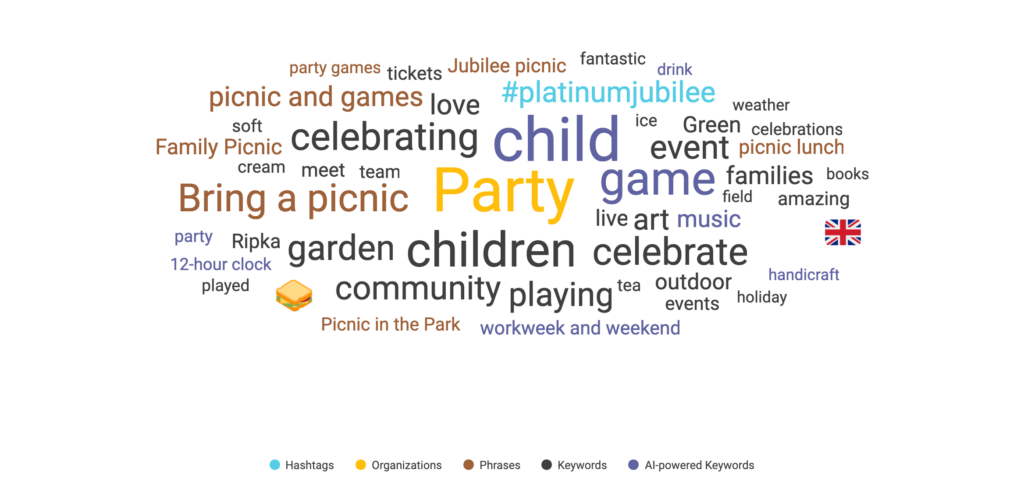 (Outdoor Activities & Picnics Conversation, Brandwatch data, Feb 22-Mar 23, UK only)
Picnic accessories trend
Picnic accessories spark online interest with many users discussing and sharing information about various items such as picnic baskets, blankets, coolers, and utensils. Some brands are fueling this conversation growth by offering accessories giveaways, which are being shared and talked about on social media. As a result, more and more brands are creating and promoting their own picnic accessories, catering to the growing demand for outdoor dining experiences.
Picnic hampers and #MerchMonday giveaways prove highly popular with customers, driving online conversation up by 1053% YoY
Portable picnic coolers +6%, thermos +20%, picnic basket +13%, hampers +3% and towels mentions +4% up YoY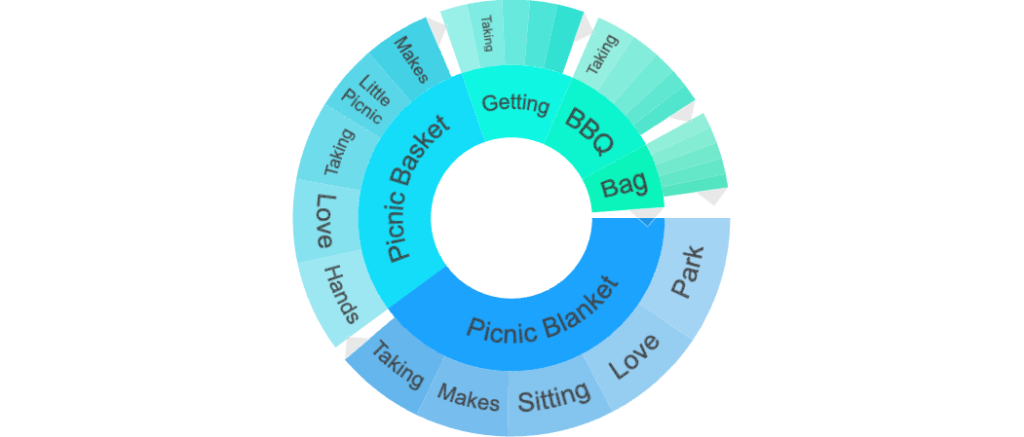 (Picnic Accessories Conversation, Brandwatch data, Feb 22-Mar 23, UK only)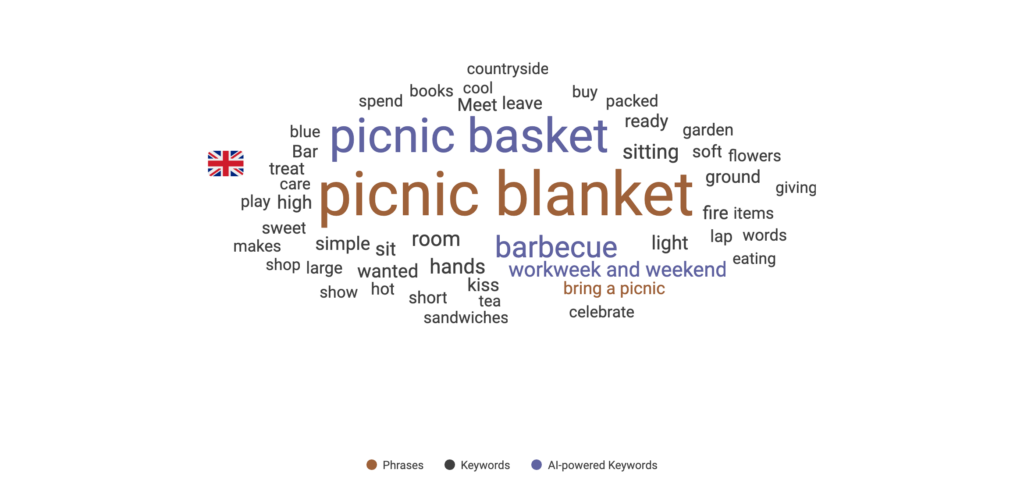 (Picnic Accessories Conversation, Brandwatch data, Feb 22-Mar 23, UK only)
Outdoor Exploration Trend: Social Media Inspires Scenic Picnic Locations
The trend of seeking picnic location inspiration on social media has been growing in popularity, with many people turning to platforms like Instagram and Pinterest for ideas. Users are sharing photos and videos of scenic outdoor locations that are perfect for picnics, such as beaches, parks, gardens, and even rooftops. Some influencers and travel bloggers are also creating dedicated guides to the best picnic spots in various cities or regions. This trend not only inspires people to plan their own picnics but also promotes outdoor recreation and exploration.
National Trust recommendations for top picnic spots 1483% up YoY
People share their experiences of finding the perfect picnic spot: #picnicinspiration has more than 4,4k posts on Instagram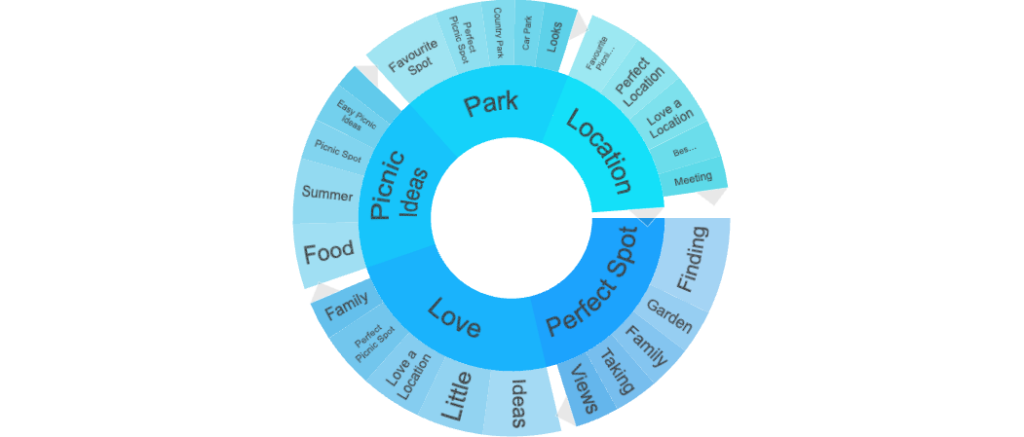 (Picnic Inspiration Conversation, Brandwatch data, Feb 22-Mar 23, UK only)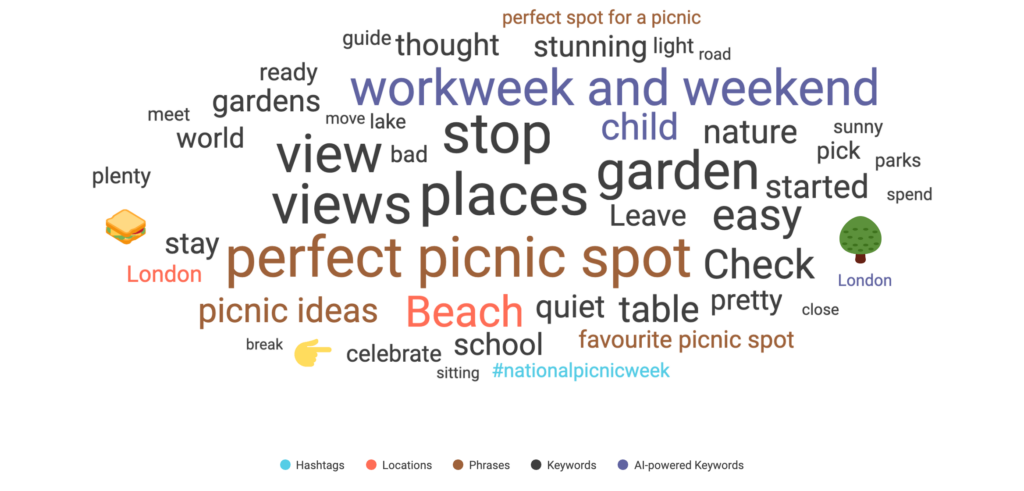 (Picnic Inspiration Conversation, Brandwatch data, Feb 22-Mar 23, UK only)
TikTok Trends
TikTok has become a popular platform for sharing and discovering new picnic trends.
TikTok has quickly become a go-to platform for social media users looking to explore new and exciting picnic trends. With its easy-to-use interface and highly engaging short-form videos, TikTok provides the perfect space for individuals to share their creative picnic setups and food choices with the world.
Spring brings the conversation around picnics as warm weather approaches. Over 3 million views were generated in 30 days as #picnic hashtag surpasses 570 posts on Tiktok

#picnic mentions on TikTok, Interest over time, This trend has been extremely popular in the United Kingdom for the last 193 days in a row.
Romantic picnics are the new date night: #picnicdates is the second most popular hashtag on Tiktok
Tiktok's #picnicchallenge takes food presentation to the next level with mono-coloured foods trending on social
Instagram-worthy picnics: #picnicphotos trend on social media. Picnic photoshoots garnering over 234k views in the last 120 days on TikTok. With the rise of social media, picnics have become more than just a casual meal in the park. People are now setting up elaborate picnic setups, complete with themed decor and trendy food and drink options, in order to capture the perfect Instagram photo
Find your perfect picnic: #picnicinspo trending with over 20k views on social media in the last 120 days
Key interests of picnic enthusiasts: nature's beauty and creative crafts (tutorials and tips)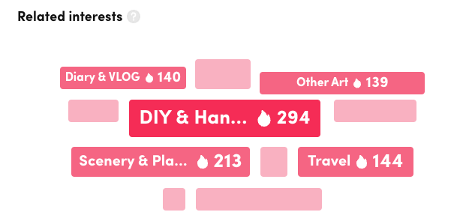 If you're looking to stay in the know about the latest trends and ideas, social media is the place to be. It's a great resource for businesses to stay up-to-date and informed, and social listening can help you make the most of the data and plan a killer digital marketing strategy. So if you want to stay ahead of the game, hit us up today and let us help you unlock the full potential of social listening.