March 20, 2020
Another day, another dose of daily doom and gloom – on the TV that is. Switch to social and there's a whole host of heart-warming acts of kindness, people pulling together to help those in need and a steady stream of informative info to combat harmful rumours.
And at the heart of this, despite dealing with adversity of their own, brands, personalities and business owners are using social to give back, spread some love and keep us going through these turbulent times.
Below is a list of feel-good FRIYAY shout outs to those making a positive impact.
For those on the frontline fighting the good fight, you're not alone. From the independent restaurants to the big coffee shops, there's always a discount gesture of goodwill for those superhuman NHS workers. Greggs, Pret and LEON alike are all offering discounts; whether that be a free coffee or 50% off food:
To say thank you, have a hot drink on us. You're amazing and we salute you. Just pop into the shop and show the team your work badge – they'll serve you with a smile. For our latest statement visit https://t.co/yddo8XUT43 pic.twitter.com/9VKMBdYSjW

— Greggs (@GreggsOfficial) March 19, 2020
Meanwhile, adding to their policy to aid elderly people shopping. Tesco has added a golden hour for NHS staff so they can shop uninterrupted before the general opening hours.
From Thursday 19th March we will be implementing some changes in-store – changes to simplify what we do, create the most helpful shopping experience we can, and support our hard-working colleagues.
Together, we can do this. #EveryLittleHelps pic.twitter.com/IdZY4urH1o

— Tesco (@Tesco) March 18, 2020
And whilst we're on the subject of supermarkets, how about this for brands banding together in a time of crisis!A pledge from all supermarkets collectively, committing to looking after everyone together: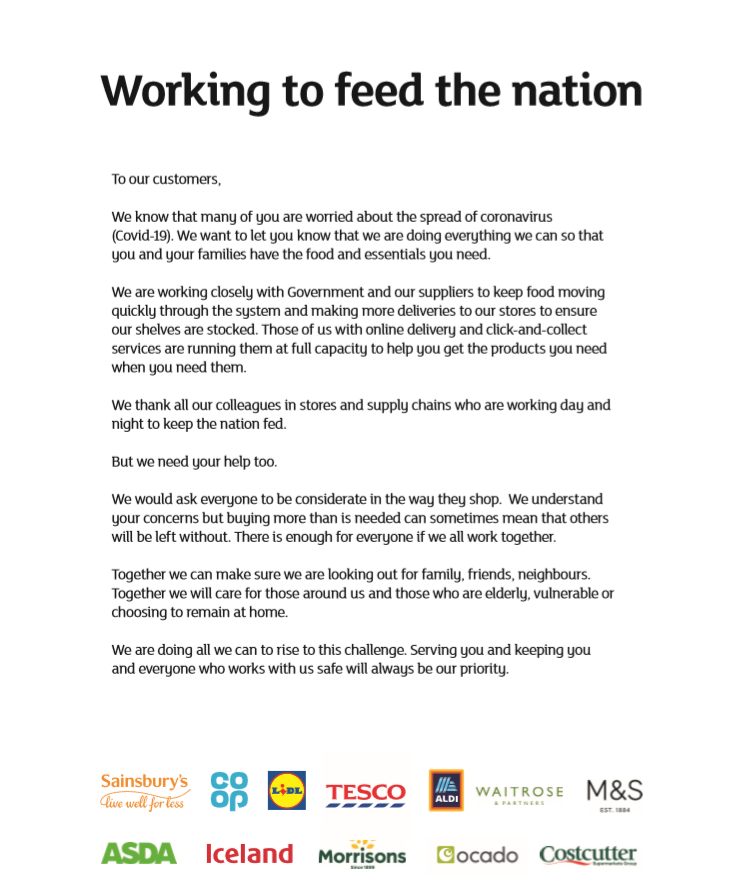 But for some other brands, it goes even further than helping out those superhuman workers…
Shortages of hand sanitiser have been an issue from the get-go. Despite losing 70% of their income overnight and fighting to keep all of their staff in employment, Brewdog has pledged to create and distribute hand sanitiser for free (although they forgot to mention it to start):
Say hello to Punk Sanitiser 🙌

To help with the shortages, we have just started working on making hand sanitiser at our distillery in Scotland. We are determined to do everything we can to try and help as many people as possible stay safe.

It's time to keep it clean. pic.twitter.com/1rNoGqdVXF

— #Punkat15 🍻 (@BrewDog) March 18, 2020
World-leading expense company, Expensify, are redirecting all charitable funds to expensify.org/hunger to help those in need of assistance purchasing essential goods during the outbreak:
Looking to help those struggling during the COVID-19 outbreak? Consider donating to the https://t.co/SzoCJvDXxE fund to help families on SNAP receive additional assistance to purchase essential groceries. Head over to https://t.co/I0tRN5zhN5 to help out your community🙌

— Expensify.org (@ExpensifyOrg) March 18, 2020
And for those worried about keeping the kids active during school shutdown. Make sure you're plugged into 'PE WITH JOE' Monday-Friday's at 9am. The Bodycoach is pledging to keep kids energised, positive and optimistic during school closures:
😀 PE WITH JOE starting Monday morning at 9am on my YOUTUBE channel: The Body Coach TV 📺 Please please share this with as many people as you can ❤️ Our kids need this more than ever. Share it on your stories, your wall, your Twitter, whatsapp and school newsletters ❤️ pic.twitter.com/ioFGeFRpuK

— Joe Wicks (@thebodycoach) March 19, 2020
These are just a handful of examples of the good brands are doing to give back during this time of crisis- trust us, we could go on for days listing them all out! But here at immediate future, we thought it was important to share some positivity in the world right now and highlight these awesome brands!
If you've come across any brands that are smashing it right now, let us know! Let's start a conversation and spread some cheer as an online community