By if-admin | June 18, 2020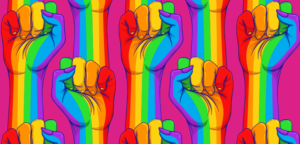 Pride months is here, and while many people will be celebrating at home, social media is once again delivering features to users that let their voices be heard digitally.
In London, the annual march that usually involves more than a million volunteers, artists and Pride-goers cannot take place. Instead, Pride has taken their theme of #YouMeWeUs online, asking supporters to individually reach out by being there for the community, celebrating others and donating to charities. The goal is to reach 30,000 acts of allyship – one for each person that would have marched in the parade. See how you can help, here.
One fantastic way to achieve this goal is to reach out to each other across social – Instagram and Facebook have already adapted their tool sets so that users can personalise and express themselves.
Instagram's range of features
Some of Instagram's features we've seen before, but others are completely new to the platform. First up is making all pride-related hashtags appear with a rainbow colour gradient in-stream – and the platform is also adding rainbow stories rings for any stories that use the hashtag.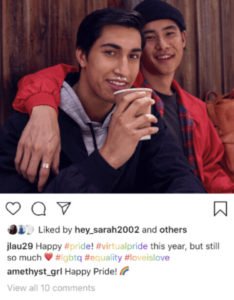 Examples of hashtags that will get the rainbow gradient treatment include: #pride2020, #lgbtq, #equalitymatters, #accelerateacceptance, or #bornperfect.
There is also a new row of stickers for Pride month – see below for what they look like: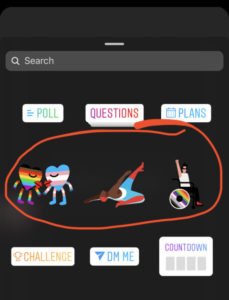 Finally, Instagram has released a brand-new Pride-related feature – rainbow AR story filters, with 12 filters available (each representing one of the various LGBTQ+ flags. Stories are massively successful on Instagram, so it makes sense that the platform is offering features for its users there as well.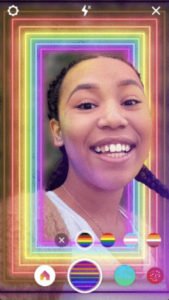 Facebook's new feed backgrounds, stickers and effects
First, a bit of bad news – themed Reactions are no more, meaning the rainbow icon isn't joining the heart, angry emoji, happy emoji and more. It's a shame, as the reaction was an easy way to show support on other people's posts.
Still, from frames to feed backgrounds, Facebook is offering a wide array of features for users. See some examples below: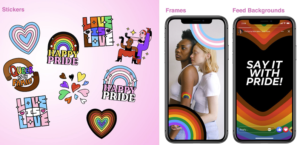 The platform also added colour gradient message panels, stickers and effects in Messenger: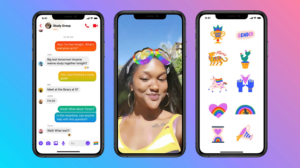 Pinterest pride 
Pinterest is taking a new approach to increasing visibility during Pride – adjusting its suggested searches results by turning all Pride relates content rainbow-coloured. See this in action below:
Pride-related searches are also being accompanied by a festive background. The platform noted an upswing in Pride-related searches (+93% for LGBTQ coming out stories), so it makes sense that the platform would try to reach its audience here.
For more updates on how social media users are celebrating Pride, stay tuned to next week's snapshot! Catch up on the latest in social, here.