By if-admin | April 3, 2014
There are now countless blogging platforms on the web that specialise in a multitude of great features but which of these features do we actually need? Some of the most innovative new blog platforms strip away the list of add-ons and focus on the basics. Now, more than ever before, they are getting it right with great design, pure form and uncomplicated function.
Ghost was founded from a collaboration from former Tumblr developers looking for a way to maintain the same customiseable blogging platform that would be versatile and accessible but maintain the freedom of their former Tumblr platform. The project was originally floated on Kickstarter appealing for $25,000 but as support rocketed the company saw a $125,000+ backing and they were able to launch the platform with real clout. The platform does require third party hosting for more savvy bloggers to download Ghost and install onto their partner hosting site of choice but the benefits of open source CMS that seamlessly integrates with current WordPress themes and a long list of others leaves little to be desired.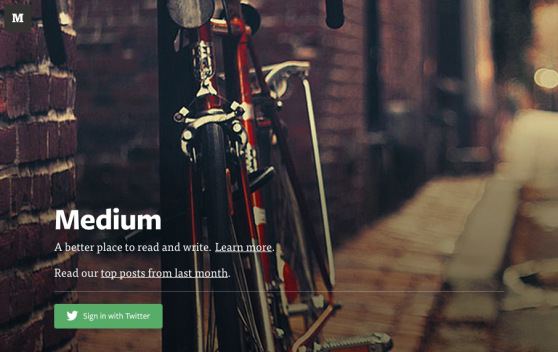 Medium came about from former Twitter founder Evan Williams' desire to create a simple and functional writing platform. The platform is free from Plug-ins or Widgets that often sidetrack or distract from editorial content and maintains focus on effective communication and sharing of ideas and experiences.  The focus of Medium is solely on writing and collaboration. Users are able to interact and discover each other's work in a uniquely integrated way for a blogging platform providing the opportunity for members to interact and collaborate based on common content themes and subjects.
Exposure is an image driven platform focused solely on communicating visually. A photographer or artists dream for being able to tell their story through a clear and high quality image display. Images displayed are not shareable so the viewers are drawn back to the original post rather than Pinterest-pinning or re-sharing the image further, maintaining integrity for the creator and upholding their intellectual rights. The impressive design and powerful but simple editing features drive Exposure as a 'go-to' platform for professional creatives taking over where other CMS such as Cargo may be left behind.
 LinkedIn publishing Not usually thought of as a place for content publishing but Linkedin have recently introduced a great new development within their professionally focused network. Previously Linkedin launched its 'influencer program'…
"Inviting the likes of Richard Branson, Bill Gates and HootSuite CEO Ryan Holmes to share industry insight with LinkedIn users". The opportunity provided thought leaders with a new audience, often of hundreds of thousands of professionals, and turned LinkedIn into a source of valued business content. Now, that publishing platform is available to take advantage of."
The new feature provides a space to publish experiences, provide unique insight into your profession and connect and follow users outside of your own network. This opportunity is a big step as network limitations are previously pinned down to industry and mutual connections. Users now have the opportunity to go beyond their network through blogging and publishing mutually beneficial content.
Whatever your discipline, photography, writing or simply sharing experiences, blogging platforms have now gone full circle from being fully integrated all 'singing and dancing' with countless features to more concise and with focus on pure communication through a singular choice of medium.