By Katy Howell | November 16, 2020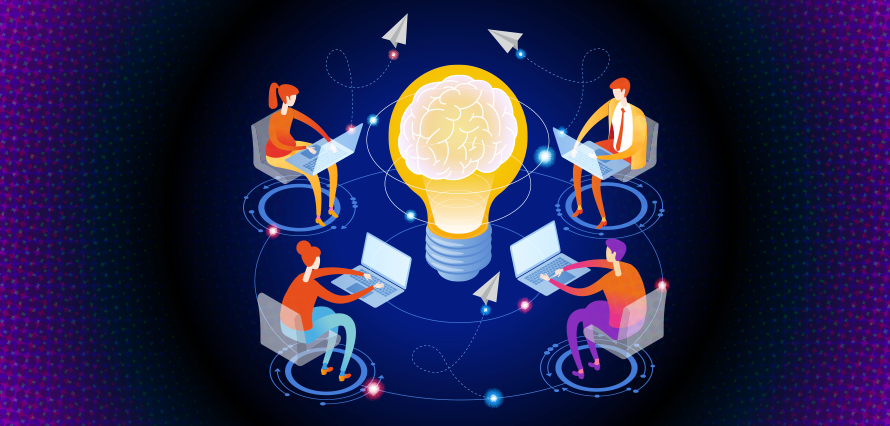 The topic for last week's Serious Social Live was brainstorming, and particularly how we can all navigate the challenges presented by brainstorming when remote working. As with all scripting, we start with crafting the questions; finding the area of resonance between the audience's need for knowledge and the insight we can provide. Usually, a short-list of questions is whittled down to just two or three. Typically, two, or three insightful answers will deliver you a segment with a runtime of between ten and fourteen minutes. Hence our usual format.
It quickly became apparent from speaking to audiences that the challenges we had experienced at IF when brainstorming through remote working, were pain points shared across the country. Virtually everyone we spoke to felt that brainstorms weren't quite like they used to be, but they couldn't put their finger on why.
Buoyed by the fact we weren't alone with these thoughts and energised from the fact we've helped to address many of the challenges, we wanted to create a segment that spoke directly to the issues and frustrations marketers are experiencing when brainstorming over Teams and Zoom. We asked everyone to share the challenges experienced. Thirteen core issues were identified. To help dialogue, we shuffled them into three topics: planning, participation and results. This is what you wanted us to address:
Planning
How can you switch people on? Meetings seem to take a bit of time to get going and participation isn't always volunteered
Should there be a specific structure for remote working brainstorms and does that differ from F2F brainstorms?
Planning and preparation time seems to have gone out the window and I find it difficult thinking on the spot, particularly when asked to brainstorm NOW! How can you help?
How do you handle note-taking in a remote scenario?
Participation
How do you bring the fun?
We're not seeing or feeling the same energy as experienced in face-to-face brainstorms. How can we inject some energy?
Can you protect against losing people on video calls? We're seeing the wrong type of digital disruption, with people drifting away to email and instant messenger distractions.
Brainstorms haven't been a positive experience and it feels like more ideas are shot down compared to when we were in the office.
It feels like we used to build ideas collaboratively (when in a room together), but over tech, we rely on a good idea being found and then stick with it
Should you limit the number of participants on a remote brainstorm?
How do you encourage people to join using video? Is it important?
Results
Is it possible to make remote working brainstorms more impactful?
What should be happening after the brainstorm? (action plan)
Thirteen fantastic questions were surfaced. I must admit to being a little unnerved upon realising that thirteen questions naturally surfaced themselves for a Serious Social Live broadcast slated for Friday 13th… WHAT was happening?…
Parking my daft superstitions and focusing on the need to help marketers, we set about sharing our knowledge on how to meet each question. Some of the answers came from time invested to specifically solve said challenges. Other solutions were stumbled upon thanks to random behaviour by IF staff. And that randomly found solution is where we start the twenty-minute long Serious Social live. For those of you who are intrigued by our questions and eager to hear our thoughts, you can view the full video here: https://fb.watch/1O1fhJNb87/
There are six key points of information that span many of the answers provided in the video: 
Brainstorms are negative free zones. No judgement. No filtering for the brief. Filter later in a separate session. In your brainstorm focus on just surfacing ideas – it does not matter if the first thought is right or wrong.
Wild and random is good! Brainstorms are about surfacing volume, and weird and wonderful is brilliant. When you build on those random and weird ideas, special things will happen.
Build on each other's ideas: 'add to it', or 'pass it on'. Have everyone arrive at the meeting with at least one idea. Have everyone read their idea, then, have other people from your team build onto the initial idea. The random building will give you nuggets of gold.
Stay on topic: focus is key. Assign one person to take notes and keep you on topic. Don't drift into a coffee catch-up.
One conversation, no talking over each other. Important in a face-to-face brainstorm, critical when in a remote brainstorm.
Be visual, use prompts. Post-it notes highlighting the brainstorms questions to solve, stuck to screens or desks, days ahead of your session, will help cultivate ideas within your team.
Brainstorming should be fun. It's the fundamental trigger to cultivating and colliding ideas to create the lava of creative ideation; thinking that will flow into your campaigns and help to both lift staff morale and deliver impressive results.
It all starts with a fun brainstorm.