July 23, 2020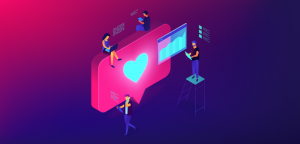 Last week, Facebook released a video on making creative impacts with text, timing and format. While focused largely on Facebook, the video has some general tips that are crucial for everyday social marketers looking to have their knowledge or current methods vindicated, and those that are trying to up their game. Let's take a look!
Small is the new large 
Facebook's creative research team confirmed what we already know – small considerations can have massive results. Something as easy as changing a title's wording or just the aspect ratio of a video can take your video from no engagement to more than you have ever seen. Here are some of the small fixes you can make at any time for your next post.
Your brand comes first: Or second, but at least early. Highlight who you are in the first three seconds clearly – brand association in that time frame is associated with conversion lift. Message efficiency is actually key for the whole ad – those that deliver their message within the first five seconds have higher ad recall and perform better.
Add captions to video ads: It sounds like extra faff but it's so crucial. 85% of people watch Facebook videos with the sound off, and when they come across a post that is just video, they keep scrolling. Add captions – it allows those at home to not bother anyone, or even people at work scrolling through Facebook to take in the messages you're putting out there. According to Facebook, it can increase view duration by 12%!
Ask questions in the post copy: Text copy is often an afterthought – the creative is what is important, right? Wrong. Both feed off the other. The creative grabs attention and immediately gets the message across but leave your text copy to ask what you want to know. It'll lead to a higher conversion lift – so experiment!
Stories ads can benefit from text: Sure, they look amazing and clean without the text, but adding key takeaways through text overlays can make it much easier for viewers to understand what you are trying to say. This can have varying results, so test accordingly. Also:
Stories benefit from fast, bite-sized scenes: Our attention spans are short, and creatives should match how quickly we begin to scroll away. Including a few fast, snappy scenes in your ads can do wonders for holding interest and getting your full message across.
It doesn't all have to be video: Campaigns that mix the formats of their assets drive better performance metrics with 86% confidence. Try telling your story through multiple formats, from stills to carousels to videos and capture the attention of your audience.
The right aspect ratio is king. This goes for all social channels. On Instagram, use 1:1 – though Stories is different, of course. In Facebook News Feed, use 1:1 or 4:5 – and make sure the CTA button appears on screen. Grab a guide and make sure you are using the right aspect ratios for all your social channels.