November 15, 2017
It's been a week since Snap's shocking (though somewhat expected) Q3 results, and yet we're already hit with some exciting news! Snapchat has rolled its advertising self-service tools onto a single platform with Ad Manager 2.0.
The new Ad Manager unifies several of Snapchat's existing ad buying and management tools, including Advanced Mode features, Snap Publisher, Business Manager and Audience Filters with a Filter auction.
What's an Audience Filter you ask? Well, it might just be Snapchat's salvation.
Previously, brands could target audiences based on location by using geofilters. The new tool lets brands target audiences based on interests, time of day, age, gender and other criteria.
Credit: Snapchat
"We've streamlined Snapchat Ads Manager so advertisers can buy, optimise, target, and measure in one simple place," said Peter Sellis, Snap's director of Revenue Product. "And we added Audience Filters to the tool, a big win for advertisers who want to run creative, targeted camera ads at an efficient price."
Another new addition to Snapchat's Ad family are Filter Auctions. These will offer advertisers targeting filters at scale for the first time on the platform, enabling advanced targeting based on a number of factors, as well as improved measurement and more efficient pricing.
This means that marketers will finally be able to run Filter-based campaigns and target audiences based on age, gender, language, location, device type or any of Snap's Lifestyle Categories. Brands can also fine-tune their posting schedule, re-engage based on users who shared their filter, and be able to see real-time metrics like paid impressions, saves, shares and spend.
The first to trial Snap's new platform was PepsiCo who ran a beta campaign for Quaker Overnight Oats. Their campaign reached mothers and working professionals with varying creative or messages based on what time of day it was.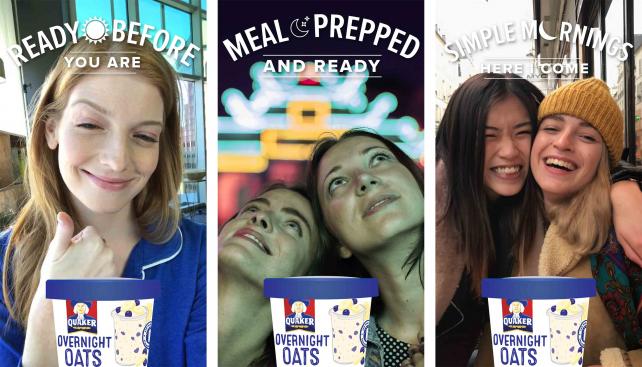 Credit: Snapchat
Well, it looks like Snapchat is trying to do more for advertisers. Although it has slowly been rolling out the ad technology it really needs to pick up pace in order to attract the kind of non-stop advertisers that power the likes of Facebook and Google businesses. Let's hope this is just the beginning of an amazing Q4.