July 8, 2020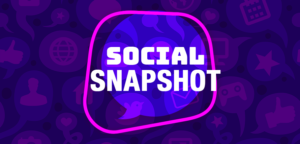 More ads on YouTube, pinned comments on Instagram – the social media landscape is ever changing, but we are here to keep you up to speed. Join us for another social snapshot:
YouTube is adding more ads
YouTube videos are usually at least 10 minutes long. That's because of the company's monetisation policy, which allows ads only at the 10 minute mark. Well, that's about to change, with an update that will see videos with 8 minutes in length now eligible for mid-roll ads.
Find out more here.
Instagram's pinned comments feature is now available to all
First testing the feature in May, Instagram started the official rollout of pinned comments – aiming to help users highlight positive replies and better moderate abusive ones.
Find out more here.
Twitter has finally promised an edit button… but only if everyone wears a face mask
Take this one with a heavy grain of salt, but Twitter users have been asking for an edit button for more than a decade now. While the company isn't likely to follow up with an actual feature, it does highlight that the company is working on one – wanting to do it "in the right way."
Find out more here.
Facebook rolls out updates for Live Producer streaming platform
Featured comments and graphic overlays could be coming your way during Facebook Live streams – some creators already have access to the potential features, seeing a dedicated 'Graphics' tab in Live Producer. Viewership of Facebook Live streams has risen by 50% since January, so this is coming at a great time for the platform and user base.
Find out more here.
TikTok launches 'TikTok for Business' platform for marketers
TikTok has launched its own 'TikTok for Business' website, including tips, notes and links to other TikTok tools. While still in the early stages, it could prove to be a valuable resource for marketers looking to maximise their TikTok efforts.
Find out more here.
Facebook adds new warning prompts to stop unintended sharing of older news articles
Facebook has become a key source of debate, discussion and a place to share news – but it's not always clear what is out of date or no longer factually correct. With the new warning prompt on older articles, Facebook is looking to curb the amount of misinformation being shared.
Find out more here.
LinkedIn adds analytics tools for company pages and a process to limit page follows
New Follower analytics for company pages, a new audio option for pronunciation on user profiles and an alternative process for limiting company page invites have all made their way onto LinkedIn – providing additional features for building your on-platform audience.
Find out more here.