September 16, 2020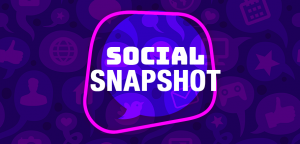 Out of time to catch up on social media news? We've done the work for you with our Social Snapshot – collating the biggest news of the week:
Oracle confirms Bytedance-TikTok partnership in US
The big news this week is Oracle confirming it has secured a Bytedance-TikTok partnership in the United States – appeasing regulators and maintaining TikTok's presence in the country.
Learn more here.
TikTok Leads Social App Downloads Again in August
TikTok was once again the most downloaded non-gaming app in August 2020, despite negotiations over its sale to a US company. Its 63.3 million installs in August represented a 1.6% increase from August 2019.
Learn more here.
Facebook Announces New Limits on How Many Ads Pages Can Run Concurrently
Facebook has now outlined exactly how its new limits on ads a business Page can run will apply, with four tiers of advertiser categories that will define how many ads each can run concurrently. The goal is to maximise ad performance.
Learn more here.
Facebook is Letting Some Users View Instagram Stories on Facebook
In a limited test, some users have reported seeing a notification stating some users can choose to view their Instagram Story from Facebook. In order to view an Instagram Story on Facebook, you have to be connected with that user on both Facebook and Instagram, and that user has to have linked their Facebook and Instagram accounts.
Learn more here.
YouTube launches its TikTok rival, YouTube Shorts, initially in India
YouTube has launched its TikTok rival in india, called YouTube Shorts. The feature will allow users, initially in India, to upload 15-second or less short-form videos using a new set of creator tools, including a multi-segment camera, similar to TikTok, speed controls and a timer and a countdown feature.
Learn more here.
Facebook introduces a co-viewing experience in Messenger, 'Watch Together'
Facebook  has introduced a new feature that will allow friends and family to watch videos together over Messenger, called "Watch Together". At launch, the co-watching experience can be used by up to eight people in a Messenger video chat on mobile, or by up to 50 people in Messenger Rooms.
Learn more here.