November 18, 2020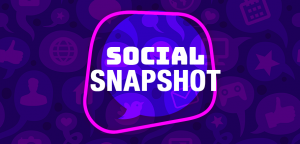 Fleets are finally here, make your Messenger chats auto-disappear and receive help from Instagram – let's take a look at it all in today's Social Snapshot:
Facebook adds new 'vanish mode' for Messenger
Facebook has announced a new 'vanish mode' for Messenger, in which your messages will disappear as soon as you leave the chat. Messenger already has a feature that sets a time limit for auto-erasing messages, but with 'vanish mode', it is slightly more user-friendly for those that want to keep their conversations private.
Find out more here.
Fleets are finally here
All Twitter users on iOS and Android will receive access to Fleets (Twitter's version of Stories) over the next couple of days. There will be a dedicated Fleets bubble along the top of your news feed, where users can share updates that disappear after 24 hours within the app.
Find out more here.
Instagram expands Guides feature to all users
Earlier this year, Instagram launched "Guides," which allowed creators to share tips, resources and other longer-form content in a dedicated tab on their user profiles. Now the format will be available to all users, and Guides will be expanded to include other types of content, as well — including Products, Places and Posts.
Learn more here.
Facebook's Messenger Kids app has had a redesign
Did you know there was a kids version of the Messenger app? Facebook has now rolled out an updated version that will make it easier for kids to interact with their friends and family, navigate the app and personalise their experience with features like custom chat bubble colours.
Learn more here.